E-book
Exposure and Lighting for Digital Photographers Only
ISBN: 978-1-118-07899-0
368 pages
June 2011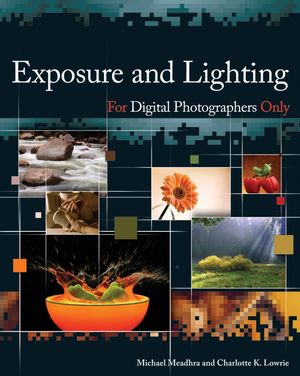 Even with digital cameras and automatic exposure, lighting and exposure remain the most difficult element to master in the quest for quality photography. This book, written by a professional photographer for photographers, provides real-world advice to help you achieve true creative control over lighting and exposure. Discover how to take your digital photos to the next level with the scores of lighting diagrams, techniques, and stunning full-color photographs. Order your copy today!
See More
About the Authors.
Credits.
Preface.
Acknowledgments.
PART I: PAINTING WITH LIGHT.
Chapter 1. The Nature of Light.
Chapter 2. The Color of Light.
PART II: WHAT'S YOUR EXPOSURE.
Chapter 3. Balancing the Elements of Exposure.
Chapter 4. Measuring Your Exposure.
Chapter 5. Making Creative Exposure Choices.
Chapter 6. Controlling Motion with Shutter Speed.
Chapter 7. Taking Control of Aperture Selection.
Chapter 8. Dealing with Digital Film.
PART III: PUT A LITTLE LIGHT ON THE SUBJECT.
Chapter 9. Lighting Tools and Approaches.
Chapter 10. Making Light Available on Location.
PART IV: LIGHTING AND EXPOSURE FOR SPECIFIC SUBJECTS.
Chapter 11. Making Pictures of People.
Chapter 12. Getting into the Action.
Chapter 13. Photographing Nature.
Chapter 14.Taking Pictures of Objects.
Chapter 15. Approaching Architectural Subjects.
Appendix A: Contributing Photographers.
Pro Glossary.
Index.
See More
Michael Meadhra
ran a commercial art studio in Nashville, TN where he built a reputation for creative lighting effects and earned several ADDY Awards from the American Advertising Federation. His writing career grew from the need to create training materials to share the skills he has perfected.
Charlotte K. Lowrie is a professional photographer and the former managing editor of editorial content for MSN Photos. Her photojournalism has been exhibited in a Midwest gallery. She is a member of the Professional Photographers of America, and she is the author of Teach Yourself Visually Digital Photography, 2nd Edition and Canon Digital Rebel Digital Field Guide.
See More