E-book
The All-New Switch Book: The Complete Guide to LAN Switching Technology, 2nd Edition
ISBN: 978-1-118-08004-7
816 pages
March 2011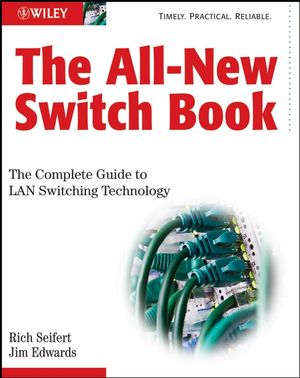 This much-needed update to the bestselling guide on the extensive changes to the local area networks (LAN) switching technologies explains why LAN switching technologies are critical to network design. This in-depth guide covers the capabilities, application, and design of LAN switches and switched internetworks and examines the significant changes that have taken place since the publication of the first edition seven years ago. You're sure to appreciate the witty writing style and easy-to-follow format on such an often-complicated subject matter.
See More
Preface xxiii
Introduction xxv
Part One Foundations of LAN Switches
Chapter 1 Laying the Foundation 3
Chapter 2 Transparent Bridges 63
Chapter 3 Bridging Between Technologies 105
Chapter 4 Principles of LAN Switches 147
Chapter 5 Loop Resolution 201
Chapter 6 Source Routing 255
Part Two Advanced LAN Switch Concepts
Chapter 7 Full Duplex Operation 305
Chapter 8 LAN and Switch Flow Control 327
Chapter 9 Link Aggregation 361
Chapter 10 Multicast Pruning 413
Chapter 11 Virtual LANs: Applications and Concepts 433
Chapter 12 Virtual LANs: The IEEE Standard 475
Chapter 13 Priority Operation 517
Chapter 14 LAN Security 547
Chapter 15 Switch Management 565
Chapter 16 Network Troubleshooting Strategies 609
Chapter 17 Make the Switch! 641
Appendix: Protocol Parsing 699
References 703
Glossary 711
Index 753
See More
Rich Seifert is President of Networks & Communications Consulting. He has contributed to the design of a wide range of products including LAN switches.
Jim Edwards is a Nortel Networks certified support specialist specializing in network architecture, specifically switching, and virtual private networks. Working in the Premium Support Group consisting of Nortel's largest Enterprise customers, he has extensive experience with switching technologies.
See More