E-book
Word 2010 Simplified
ISBN: 978-1-118-08153-2
256 pages
April 2011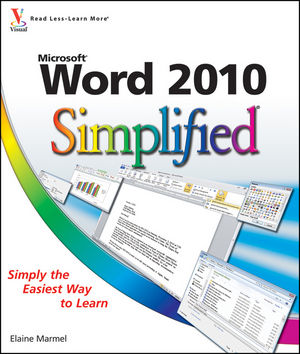 Simply the easiest way yet to get up to speed on Word 2010
Microsoft Word 2010 includes all sorts of new features and functionalities, a redesigned interface, new emphasis on collaboration, and many additional changes. Both users of previous editions and those new to the Office applications will appreciate the clear, visual instruction in this book.
With step-by-step instructions and large, full-color screen shots demonstrating dozens of Word 2010 tasks, Word 2010 Simplified gets you up and running faster than you ever thought possible.
Word is the most-used application in Microsoft Office, which holds more than 90 percent of the market for Windows-based productivity suites
The new version of Word includes many changes and new features; both newcomers to Word and users of previous editions will appreciate this clear, visual introduction to the program
A streamlined interior with large font and screenshots, makes this guide easy to follow for all users at any age
Covers the basics, document fundamentals, formatting documents and adding graphics, collaborating and sharing documents, how and when to use Office Web Applications, and much more
If you learn best when you see how things are done, or if you just want a quick and easy guide to familiarize you with the new features of Word 2010, Word 2010 Simplified fills the bill.
See More
1 Getting Familiar with Word
Open Word 4
Explore the Word Window 5
Work with Backstage View 6
Select Commands with the Keyboard 8
Select Commands with the Mouse 10
Work with the Mini Toolbar 11
Work with Context Menus 12
Launch a Dialog Box 13
Work with Commands 14
Enter Text 16
Move Around in a Document 18
Get Help 20
2 Managing Documents
Save a Document 24
Reopen an Unsaved Document 26
Save a Document to Word 97–2003 Format 28
Set the Folder Location for Saving Documents 29
Open a Word Document 30
Start a New Document 32
Switch Between Open Documents 34
Work with Document Properties 36
Close a Document 37
Convert Word Documents from Prior Versions to Word 2010 38
3 Editing Text
Insert Text 42
Delete Text 44
Insert Blank Lines 46
Undo Changes 47
Select Text 48
Mark and Find Your Place 50
Move or Copy Text 52
Share Text Between Documents 54
Move or Copy Several Selections 56
Take Advantage of Paste Options 58
Switch Document Views 60
Understanding Document Views 61
Zoom In or Out 62
Insert a Symbol 64
Set Options for Additional Actions 66
Using Additional Actions 67
4 Proofreading in Word
Search for Text 70
Substitute Text 72
Automatically Correct Mistakes 74
Automatically Insert Frequently Used Text 76
Check Spelling and Grammar 78
Disable Grammar and Spell Checking 80
Find a Synonym or Antonym with the Thesaurus 82
Add Comments to a Document 84
Track Document Changes During Review 86
Review Tracked Changes 88
Combine Reviewers' Comments 90
5 Formatting Text
Change the Font 94
Change Text Size 95
Emphasize Information with Bold, Italic, or Underline 96
Change Text Case 97
Change Text Color 98
Apply Highlighting to Text 99
Copy Text Formatting 100
Remove Text Formatting 101
Set the Default Font for All New Documents 102
6 Formatting Paragraphs
Change Text Alignment 106
Set Line Spacing Within a Paragraph 107
Set Line Spacing Between Paragraphs 108
Create a Bulleted or Numbered List 110
Display Formatting Marks 112
Hide or Display the Ruler 113
Indent Paragraphs 114
Set Tabs 116
7 Formatting Pages
Adjust Margins 122
Insert a Page Break 124
Align Text Vertically on the Page 126
Change Page Orientation 127
Insert a Section Break 128
Add Page Numbers to a Document 130
Add a Header or Footer 132
Using Different Headers or Footers Within a Document 134
8 Printing Documents
Preview and Print a Document 138
Print on Different Paper Sizes 140
Print an Envelope 142
Set Up Labels to Print 144
9 Creating Tables and Charts
Create a Table 148
Change the Row Height or Column Width 150
Add or Delete a Row 152
Add or Delete a Column 154
Move a Table 156
Resize a Table 157
Set Cell Margins 158
Add Space Between Cells 159
Combine Cells 160
Split a Table 161
Add a Formula to a Table 162
Align Text in Cells 163
Format a Table 164
Add a Chart 166
Chart Concepts 168
10 Working with Graphics
Add WordArt 172
Add a Picture 174
Add a Screenshot 176
Add a Clip Art Image 178
Add a Shape 180
Add a Text Box 182
Move or Resize a Graphic 184
Understanding Text Wrapping and Graphics 186
Wrap Text Around a Graphic 187
Work with Diagrams 188
11 Customizing Word
Control the Display of Formatting Marks 194
Customize the Status Bar 195
Hide or Display Ribbon Buttons 196
Add a Predefined Group to a Ribbon Tab 198
Create Your Own Ribbon Group 200
Create Your Own Ribbon Tab 204
Work with the Quick Access Toolbar 208
12 Mailing Documents
E-mail a Document  214
Create Letters to Mass Mail 216
Add Envelopes to Mass Mailing Letters 222
Create Labels for a Mass Mailing 224
See More
Elaine Marmel is President of Marmel Enterprises, LLC, an organization which specializes in technical writing and software training. Elaine spends most of her time writing; she has authored and co-authored over 50 books about Microsoft Project, Microsoft Excel, QuickBooks, Peachtree, Quicken for Windows, Quicken for DOS, Microsoft Word for Windows, Microsoft Word for the Mac, Windows 98, 1-2-3 for Windows, and Lotus Notes. From 1994 to 2006, she also was the contributing editor to monthly publications Peachtree Extra and QuickBooks Extra.
Elaine left her native Chicago for the warmer climes of Arizona (by way of Cincinnati, OH; Jerusalem, Israel; Ithaca, NY; Washington, D.C. and Tampa, FL) where she basks in the sun with her dog Josh, and her cats, Watson and Buddy.
See More