Earrings VISUAL Project Guide: Step-by-step instructions for 30 gorgeous designs
ISBN: 978-1-118-08344-4
256 pages
November 2012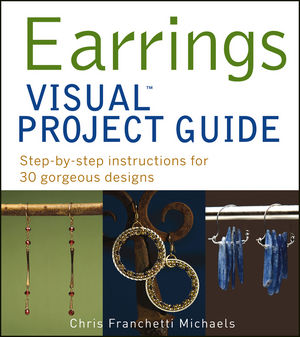 30 projects to make one-of-a-kind earrings
Earrings are the cornerstone of any woman's jewelry collection. They are among the most popular jewelry-making projects because they are quick to create and don't require a large investment in materials. From simple hoops and drops to intricate clusters and wireworked pieces, this book has earrings to suit every style.
From the author of the bestselling Teach Yourself VISUALLY Jewelry Making & Beading, Earrings VISUAL Project Guide includes 30 appealing patterns for a variety of earring styles, plus variations, each one illustrated with step-by-step photos.
Features an introductory section covering the tools, materials, and techniques involved in making earrings
Includes variations for each project so you can customize earring designs to suit your style
Stands apart from the competition by providing step-by-step photos that make it easy to follow along
If you're an advanced beginner to intermediate jewelry maker, you'll be inspired by the unique, beautiful jewelry projects in Earrings VISUAL Project Guide.
See More
CHAPTER 1 Getting Started 2
Basic Wirework  16
Design Considerations for Earrings  4
Reasons to Make Your Own Earrings  6
Project Tools and Materials  7
CHAPTER 2 Essential Techniques 14
Basic Wirework  16
Wrap Wire  28
Work with Chain  34
Beadwork  36
CHAPTER 3 Make Your Own Ear Wires 40
French Hooks  42
Bracelet-Bender Marquise Wires  49
Bail-Maker Kidney Wires  52
Beading Hoops  58
Drop Hoops  60
CHAPTER 4 Long and Linear 62
Beaded Chain Earrings  64
Clover Kite Earrings  70
Silver Archer Earrings  74
Art Glass Wand Earrings  79
Segmented Rondelle Earrings  83
CHAPTER 5 Embellished Hoops 90
Turquoise Paisley Wraps  92
Mined Gold Mosaic Hoops  97
Lace Edge Loops 104
Stacked Bead Drop Hoops 110
Pearl Flamingo Hoops 119
CHAPTER 6 Boho Inspirations 126
Pins and Leather Earrings 128
Beach Flower Earrings 131
Feather Duster Earrings 135
Ravenwood Earrings 140
Facets and Chains Earrings 145
CHAPTER 7 Rugged Details 152
Bounty Saber Chandeliers 154
Hands of Time Earrings 157
Kyanite Gem Sticks 162
Quarantine Hoops 167
Spiky Scribe Drops 173
CHAPTER 8 Retro Chic Designs 178
Gilded Posies Earrings 180
Pearls and Filigree Earrings 183
Beaded Pinwheel Clip-Ons 189
Hydrangea Clip-Ons 195
Moxy Clusters 199
CHAPTER 9 Sparkle and Glam 208
Empire Crystal Ball Earrings 210
Bejeweled Chain Earrings 213
Medallion Crystal Fringe Earrings 218
Gypsy Princess Drops 222
Zirconia Array Earrings 229
Appendix  234
Index  236
See More
Chris Franchetti Michaels is a writer and jewelry artisan with a passion for helping others express their creativity. As the Guide to Beadwork on About.com, she posts articles and hosts online discussions about all aspects of bead jewelry making. She is the author of Teach Yourself VISUALLY Jewelry Making & Beading, Teach Yourself VISUALLY Beadwork, Beading VISUAL Quick Tips, Wire Jewelry Making VISUAL Quick Tips, and More Teach Yourself VISUALLY Jewelry Making.
See More