Smart Stewardship for Nonprofits: Making the Right Decision in Good Times and Bad
ISBN: 978-1-118-08367-3
175 pages
March 2012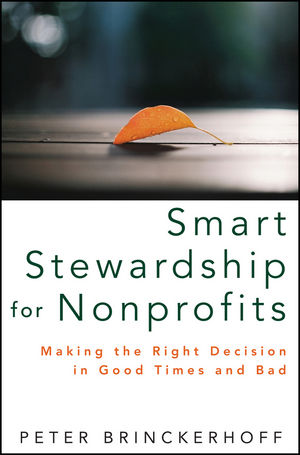 A practical guide to effective decision-making frameworks and tools for nonprofits that ensure successful stewardship
The basic tenets of decision making for nonprofits are similar, whether you're growing, shrinking, or trying to think your way out of a box. Smart Stewardship for Nonprofits provides the tools to make the best stewardship decisions in these varied, but common, situations. Coverage includes the keys to smart stewardship for your nonprofit, the smart stewardship decision tree, understanding capability and capacity, making innovation the norm, understanding the true cost of growth, going to scale, and smart stewardship in bad times.
Features tools to make the best stewardship decisions in every kind of situation
Written for executive directors of nonprofit organizations, nonprofit board members, CPAs, and other financial counsel for nonprofits, development directors
Provides a website hosting a variety of online tools and materials
Also by Peter Brinckerhoff: Mission-Based Marketing, Mission-Based Management, Social Entrepreneurship, and Faith-Based Management
With innovative organizational change initiatives to foster new growth and effectiveness, Smart Stewardship for Nonprofits offers your nonprofit the critical guidance it needs to get there.
See More
Acknowledgments xiii
CHAPTER 1 Introduction 1
Overview 1
The Need for This Book 2
Who This Book Is Written For 4
The Benefits of Reading This Book 5
A Preview of the Book 6
Chapter 1: Introduction 6
Chapter 2: The Keys to Smart Stewardship for Your Nonprofit 7
Chapter 3: The Smart Stewardship Decision Tree 7
Chapter 4: Mission and Values 7
Chapter 5: Understanding Capability and Capacity 7
Chapter 6: Understanding the True Cost of Growth 7
Chapter 7: Innovation as the Norm 8
Chapter 8: Going to Scale 8
Chapter 9: Smart Stewardship in Difficult Times 8
Chapter 10: Final Words 8
Appendix: Tools and Resources 8
Our Three Case Organizations 9
Goodwill Industries of North Georgia (GING) 9
Lakeview Christian Church (Lakeview) 9
Peckham Industries (Peckham) 10
Recap 10
CHAPTER 2 The Keys to Smart Stewardship for Your Nonprofit 13
Overview 13
It Always Starts with Your Mission 14
More Mission 15
Better Mission 15
More Effective Mission 16
More Efficient Mission 17
Your Mission Is, Far and Away, Your Most Valuable Asset 20
You're a Smart Steward of Other People's Stuff 20
Money Matters 21
Your Nonprofit Is Not a Charity. Your Nonprofit Is a Mission-based Business 21
Innovation Must Be Baked Into Your Culture 23
You Have to Engage Everyone 25
You Need a Common Strategy and Decision Process 26
Recap 27
CHAPTER 3 The Smart Stewardship Decision Tree 29
Overview 29
Why Use a Decision Tree? 30
The Smart Stewardship Decision Tree 33
Question 1: Is This Choice Consistent with Our Mission, Values, and Strategies? 36
Question 2: Is It Something We Already Do Really Well? 38
Question 3: Do We Have the Capacity We Need? 39
Question 4: What about Money Matters? 40
Question 5: Can We Protect Our Existing Services' Quality? 41
Question 6: Have We Done the Appropriate Business Analyses? 43
Question 7: Have We Consulted/Involved the Appropriate People? 44
Developing Your Own Decision Tree 45
Recap 48
CHAPTER 4 Mission and Values 51
Overview 51
Your Mission: Your Most Valuable Asset 52
Get the Mission You Want 52
Use Your Most Valuable Asset 54
Values: How You Do Your Mission 56
Create and Sustain the Culture You Want 59
Create or Amend Your Values List Together 60
Make Your Values Analog, Not Digital 60
Talk about What Your Values Mean on the Ground 61
Proclaim Your Values 62
Welcome Values-Based Criticism 62
The Mission/Values Intersection 63
Peckham Values 63
Lakeview Values 64
Creating a Culture around Your Mission and Values 65
Recap 67
CHAPTER 5 Understanding Capability and Capacity 71
Overview 71
Core Competencies: What Is Your Organization Really Good At? 72
Start with Data and Accreditation 75
Check with Your Customers 77
Finally, Take a Collaborative Vote 77
Choosing Core Competencies Going Forward 78
Story Telling 78
Embracing Technology 79
Capacity: Measuring Your Ability to Grow Your Mission 80
Are You Over Capacity Already? 82
Staff Satisfaction 82
Staff Turnover 82
Use of Sick Days 83
Use of Vacation Days 83
Remember: Cash Equals Oxygen 83
What about HR, IT, and Other Administrative Functions? 83
When Do You Add Capacity? 84
A Capacity Checklist before Growing 85
Recap 86
CHAPTER 6 Understanding the True Cost of Growth 89
Overview 89
What Growth Does to an Organization 90
GING Growth 91
Peckham Growth 91
Lakeview Growth 92
How to Run Out of Cash 92
Predicting the Cash Cost of Growth 95
An Organic Growth Tool 96
How to Run Out of Quality 97
Is a No-Growth or Slow-Growth Policy Smart Stewardship? 99
On Going to Scale 100
Recap 102
CHAPTER 7 Making Innovation the Norm 105
Overview 105
Why Does Innovation Seem So Hard? 106
Collaborative Innovation 108
Peckham Innovation 109
GING Innovation 110
Innovation Tools 114
Keep Minds Flexible 114
Book Clubs 115
Field Trips 115
Lead by Not Deciding 116
Listen for Partial Ideas 117
Ask the Ignorant 117
An Innovation/Problem-Solving Process 118
Baking Innovation into the Organization 119
Make Innovating and New Ideas as Safe as Possible 120
Embrace Innovations That Are Not Yours 121
Remember That Some Innovations Will Fail (and That's Okay) 122
Celebrate the Attempts as Well as the Successes 122
Be Patient 122
Reward Carefully 123
Recap 123
CHAPTER 8 Going to Scale 127
Overview 127
Can Your Mission-Provision Methods Be Duplicated? 129
The Truth about Models 131
What's a Reasonable Growth Curve? 134
How Much Time, Talent, and Treasure Do You Want to Invest? 135
Time 136
Talent 136
Treasure 137
Does Your Market Really Want What You Have to Offer? 138
Models for Scaling 139
Lakeview Scaling 140
Going to Scale—A Checklist 140
Recap 141
CHAPTER 9 Smart Stewardship in Difficult Times 145
Overview 145
In a Crisis, Start Here 146
Starting Questions 148
Strategic Issues/Actions 152
Tactical Issues/Actions 154
Inform Staff and Board Early and Often 156
Communicate, Communicate, and Communicate 158
Prepare for the Media 158
Leadership Issues 159
Am I Taking Care of the Leader? 159
Am I Putting Mission First? 159
Am I Leading Our Values from the Front? 160
Am I Asking the Hard Questions? 160
Do I Have All the Information I Can Get? 161
Am I Sharing Information Widely? 161
Am I Leading Optimistically? 161
Recap 162
CHAPTER 10 Final Words 165
Appendix 167
Books 167
Papers 168
Web Resources 168
Books by Peter Brinckerhoff 168
About the Author 169
Index 171
See More
PETER BRINCKERHOFF is an internationally renowned trainer, author, and consultant to nonprofit organizations. He brings years of experience in the field to his work, as a former board member of local, state, and national not-for-profits, and through his work on staff and as executive director of two regional not-for-profits. Since founding his consulting firm, Corporate Alternatives, in 1982, Mr. Brinckerhoff has helped thousands of organizations become more mission-capable. He is the author of eight books on nonprofit management, including three that have won the Terry McAdam Book Award for Best Nonprofit Book of the Year. Mr. Brinckerhoff's titles include Mission-Based Management, Third Edition; Mission-Based Management Workbook, Second Edition; Social Entrepreneurship; and Faith-Based Management, all published by Wiley.
See More