Textbook of Uncommon Cancer, 4th Edition
ISBN: 978-1-118-08373-4
1016 pages
November 2012, Wiley-Blackwell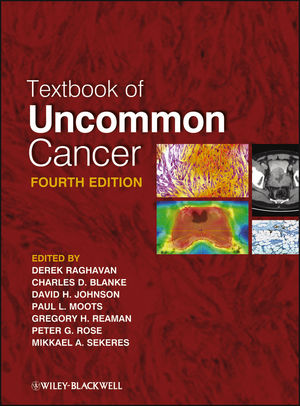 The only text dealing exclusively with rare or infrequently encountered malignancies in adults and children
Now in its Fourth Edition, Textbook of Uncommon Cancer is designed to help clinicians manage the treatment of uncommon cancers, for which, in many instances, there are few established guidelines for care. No longer does each new presentation of an uncommon cancer require extended periods of research. This unique and well-established book provides balanced, authoritative, and now, wherever possible, evidence-based guidance on how to address each malignancy.
This Fourth Edition is thoroughly revised with new material as well as a new focus on evidence-based research and clinical practice throughout. Clinicians will find guidelines for dealing with management issues, gain insight into real-world clinical decision-making, and save themselves hours of painstaking research through the use of this widely acclaimed, comprehensive guide.
Features of this new edition include:
A complete revision and update, with five new chapters and extensive revisions of more than 75 percent of the existing chapters
Over 100 new full-color illustrations and images
Contributions by multidisciplinary teams of medical oncologists, radiation oncologists, and other specialists, reflecting day-to-day decision-making and clinical practice
Textbook of Uncommon Cancer, Fourth Edition is an essential, self-contained guide for practicing oncologists who treat patients with rare or infrequently encountered malignancies. It is also an important resource for hematologists and other specialists who deal with malignancies in a particular organ system.
See More
List of Contributors, ix
Preface, xvii
List of Abbreviations, xix
Section 1 Genitourinary Cancer
1 Uncommon Tumors of the Kidney, 1
Khaled Ali, Ming Zhou, Steve Campbell, Ronald M. Bukowski, and Brian I. Rini
2 Uncommon Cancers of the Bladder, 23
Arlene O. Siefker-Radtke, Bogdan A. Czerniak, Colin P. Dinney, and Randall E. Millikan
3 Urethral Cancer, 35
Sonia L. Ali, Tanya B. Dorf, Paul G. Pagnini, and David I. Quinn
4 Uncommon Cancers of the Prostate, 47
Scott T. Tagawa, Naveed H. Akhtar, Brian D. Robinson, and Himisha Beltran
5 Rare Tumors of the Testis and Paratesticular Tissues, 77
Robert Huddart, Stephen Hazell, and Alan Horwich
Section 2 Head and Neck Cancer
6 Uncommon Tumors of the Oral Cavity and Adjacent Structures, 97
Voichita Bar-Ad, Madalina Tuluc, David Cognetti, and Rita Axelrod
7 Rare Tumors of the Larynx, 119
Kyle Mannion, Kenneth J. Niermann, Joseph M. Aulino, and Barbara A. Murphy
8 Nasopharyngeal Carcinoma in Nonendemic Populations, 131
June Corry and Bonnie S. Glisson
9 Esthesioneuroblastoma, 151
Barbara A. Murphy, Salyka Sengsayadeth, Joseph M. Aulino, Christine H. Chung, Kim Ely, Robert J. Sinard, and Anthony J. Cmelak
Section 3 Endocrine Tumors
10 Adrenal Neoplasms, 163
Alexandria T. Phan, Mouhammed A. Habbra, Elizabeth G. Grubbs, and Cesar Moran
11 Uncommon Cancers of the Thyroid, 189
Sonia Abuzakhm, Mark Bloomston, and Manisha H. Shah
12 Parathyroid Carcinoma, 201
Rodrigo Arrangoiz and John A. Ridge
Section 4 Breast Cancer
13 Metaplastic Breast Carcinoma, 211
Ingrid A. Mayer, Helenice Gobbi, and A. Bapsi Chakravarthy
14 Adenoid Cystic Carcinoma of the Breast, 217
Melinda E. Sanders, Masako Kasami,
Julie Means-Powell, and David L. Page
15 Non-Hodgkin Lymphoma of the Breast, 225
David S. Morgan and Jean F. Simpson
16 Male Breast Cancer, 233
Nicole M. Randall, Kathy D. Miller, and George W. Sledge Jr.
17 Phyllodes Tumor of the Breast, 243
Emad A. Rakha and Ian O. Ellis
18 Carcinosarcoma of the Breast, 257
Stacy L. Moulder, Bryan T. Hennessy, Michael Z. Gilcrease, Gildy Babiera, Wei Yang, Vicente Valero, and Gabriel N. Hortobagyi
19 Tubular Carcinoma, 271
Melinda E. Sanders, Ingrid A. Mayer, and A. Bapsi Chakravarthy
Section 5 Thoracic Tumors
20 Thymoma and Thymic Carcinoma, 279
Patrick J. Loehrer Sr., Mark R. Wick, and Sunil Badve
21 Primary Sarcomas of the Lung, 303
Regan M. Duffy, Amanda VanSandt, and Alan B. Sandler
22 Mesotheliomas, 319
Giuseppe Giaccone, Anish Thomas, and Arun Rajan
23 Primary Melanoma of the Lung, 335
Richard A. Scolyer, James F. Bishop, and John F. Thompson
24 Large Cell Neuroendocrine Carcinoma, 343
William D. Travis, M. Catherine Pietanza, and Inderpal (Netu) S. Sarkaria
25 Bronchioloalveolar Carcinoma of the Lung, 355
Gregory J. Riely and Vincent A. Miller
26 Primary Adenoid Cystic Carcinoma of the Lung, 365
John G. Devlin and Corey J. Langer
Section 6 Gastrointestinal Tumors
27 Uncommon Tumors of the Esophagus, 373
Lawrence Leichman and Robert Rosser
28 Uncommon Cancers of the Stomach, 389
Elizabeta Popa, Felice Schnoll-Sussman, Arun Jesudian, Govind Nandakumar, and Manish A. Shah
29 Unusual Cancers of the Pancreas, 409
Chanjuan Shi, John S. Macdonald, and Jordan D. Berlin
30 Uncommon Hepatobiliary Tumors, 423
Abby B. Siegel, Vladimir Sheynzon, and Benjamin Samstein
31 Cancers of the Small Bowel, 441
Kanwal Raghav, Matthew H. G. Katz, and Michael J. Overman
32 Unusual Tumors of the Colon, Rectum, and Anus, 453
Diane Reidy-Lagunes, Karyn Goodman, and Leonard B. Saltz
33 Gastrointestinal Stromal Tumors, 465
Margaret von Mehren, Douglas B. Flieder, and Chandrajit P. Raut
Section 7 Gynecological Cancers
34 Extraovarian Primary Peritoneal Carcinomas, 485
Alberto E. Selman and Larry J. Copeland
35 Borderline Tumors and Other Rare Epithelial
Tumors of the Ovary, 497
Ramez N. Eskander, Teresa P. Díaz-Montes, Russell Vang, Deborah K. Armstrong, and Robert E. Bristow
36 Stromal Tumors of the Ovary, 507
Jubilee Brown, Anuja Jhingran, and Michael Deavers
37 Germ Cell Tumors of the Ovary, 519
Daniela E. Matei, Jeanne M. Schilder, and Helen Michael
38 Fallopian Tube Cancer, 531
Destin Black and Richard R. Barakat
39 Nonendometrioid Endometrial Carcinomas and Uterine Sarcomas, 541
Peter G. Rose and Charles Biscotti
40 Tumors of the Cervix, 567
Krishnansu S. Tewari and Bradley J. Monk
41 Tumors of the Vulva and Vagina, 587
Joshua P. Kesterson and Shashikant B. Lele
Section 8 Hematological Malignancies
42 Rare Acute Leukemias, 601
B. Douglas Smith and Eunpi Cho
43 Unusual Myelodysplastic Syndromes and Myeloproliferative Neoplasms, 611
Eric Padron and Rami Komrokji
44 Rare B Cell Lymphoproliferative Disorders, 617
Paul M. Barr and Jonathan W. Friedberg
45 Uncommon Presentations of Plasma Cell Dyscrasias, 627
Rachid Baz and Mohamad A. Hussein
46 Rare Bone Marrow Failure Conditions, 637
Valeria Visconte and Ramon V. Tiu
47 Myeloproliferative Neoplasms: Chronic Myelogenous Leukemia, Polycythemia Vera, Essential Thrombocythemia, and Primary Myelofibrosis, 647
Raoul Tibes, Gurcharan Singh Khera, and Ruben A. Mesa
48 Rare T Cell Lymphomas, 659
Aleksandr Lazaryan and John Sweetenham
Section 9 Cutaneous Malignancies
49 Unusual Cutaneous Malignancies, 667
Sara Peters and Thomas Olencki
50 Dermatofibrosarcoma Protuberans, 685
Michael Alvarado, Jane L. Messina, Rahel Mathew, and Vernon K. Sondak
51 Unusual Melanomas, 691
Omid Hamid, Richard D. Carvajal, Donald L. Morton, and Mark Faries
Section 10 Neurological Malignancies
52 Primary Melanotic Tumors of the Central Nervous System, 709
L. Burt Nabors, Rong Li, Cheryl A. Palmer, and Philip R. Chapman
53 Langerhans Cell Histiocytosis of the Central Nervous System, 715
Rima F. Jubran and Jonathan L. Finlay
54 Chordomas, 721
Herbert B. Newton
55 Atypical and Malignant Meningiomas, 733
George A. Alexiou, Samer E. Kaba, and Athanassios P. Kyritsis
56 Primary Central Nervous System Lymphoma, 747
Lisa M. DeAngelis
57 Choroid Plexus Papilloma and Carcinoma, 759
Derek R. Johnson and Julie E. Hammack
58 Glioma and Other Neuroepithelial Neoplasms, 767
Kevin T. Palka, Brett Mobley, Stephanie Perkins, Michael Cooper, Allen K. Sills, and Paul L. Moots
59 Medulloblastoma in Adults, 795
Paul L. Moots and Anna Marie Kenney
60 Pineal Parenchymal Tumors, 813
Shota Tanaka, Stephen W. Clark, and Patrick Y. Wen
61 Craniopharyngiomas, 823
Gazanfar Rahmathulla, John J. Park, and Gene H. Barnett
62 Ophthalmic Cancers, 835
Maria M. Choudhary and Arun D. Singh
Section 11 Pediatric Malignancies
63 Introduction to Rare Cancers of Childhood, 847
Alberto S. Pappo and Gregory H. Reaman
64 Uncommon Tumors of the Gastrointestinal Tract in Children, 851
Alberto S. Pappo and Wayne L. Furman
65 Rare Pediatric Malignancies of the Head and Neck, 867
Cynthia E. Herzog, Michael E. Kupferman, Winston Huh, and Anita Mahajan
66 Uncommon Pediatric Tumors of the Thorax, 877
Yoav H. Messinger, Kris Ann P. Schultz, and Louis P. Dehner
67 Uncommon Adrenal Tumors in Children and Adolescents, 903
Raul C. Ribeiro, Carlos Rodriguez-Galindo, Emilia M. Pinto, Gerard P. Zambetti, and Bonald C. Figueiredo
68 Uncommon Pediatric Genitourinary Tumors, 915
Barbara Bambach, Hans G. Pohl, and Jeffrey S. Dome
69 Uncommon Pediatric Brain Tumors, 927
Robert C. Castellino, Matthew Schniederjan, and Tobey J. MacDonald
70 Malignant Tumors of the Skin and Subcutaneous Tissue in Children, 943
Alberto S. Pappo and Carlos Rodriguez-Galindo
Index, 959
See More
Derek Raghavan
, MD, PhD, is President of the Levine Cancer Institute of the Carolinas Healthcare System in Charlotte, North Carolina. Widely published in journals and books, Dr. Raghavan has been the editor-in-chief of
Textbook of Uncommon Cancer
since its second edition.
Charles D. Blanke, MD, is Chief of the Division of Oncology at the British Columbia Cancer Agency and Professor of Medicine at the University of British Columbia in Vancouver, Canada.
David Johnson, MD, was the longtime Director of the Division of Hematology and Oncology at Vanderbilt University in Nashville, Tennessee, and was recently appointed as Chairman of Medicine and holds the Donald W. Seldin Distinguished Chair in Internal Medicine at the University of Texas Southwestern in Dallas, Texas.
Paul L. Moots, M.D., Associate Professor of Neurology at the Vanderbilt-Ingram Cancer Center in Nashville, Tennessee.
Gregory H. Reaman, M.D., is Chair of the Children's Oncology Group at the Children's National Medical Center in Washington, DC.
Peter G. Rose, MD, is Section Head and Fellowship Director of Gynecologic Oncology in the Department of Obstetrics and Gynecology at the Cleveland Clinic.
Mikkael A. Sekeres, MD, is Director of the Leukemia Program at the Cleveland Clinic Taussig Cancer Institute.
See More