E-book
iPad 2 Portable Genius
ISBN: 978-1-118-08474-8
336 pages
April 2011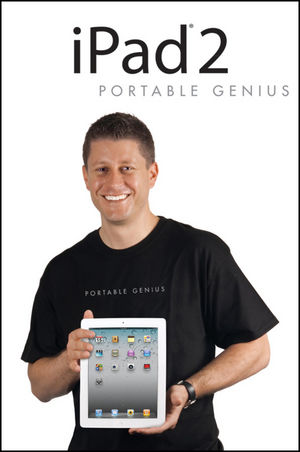 Everything you need to know about the iPad 2!
Finally decided to get the hottest device on the planet? If so, don't go far without the iPad's must-have accessory—your own copy of iPad 2 Portable Genius. This hip little guide will show you how to get the very most out of your iPad 2. Being a Portable Genius, it gives you tips and useful information in a handy, compact size, so you can carry it along as easily as your iPad—and it doesn't skimp on any of the essentials.
Zeros in on the hottest tricks and tips for the most-used features of your iPad 2
Makes sure you get the most out of the all the different things the iPad 2 can do—as an e-reader, a small computer, and a large iPod touch
Provides Genius icons to show you the smartest ways to do things
Helps you save time and avoid hassles as you get up to speed
Looks good! Full color and a clean layout makes it easy to access the information you need
Compact size makes this a very portable helper you can take with you
Collect the whole Portable Genius series and make the most of your Apple digital lifestyle.
See More
Acknowledgments.
Introduction.
Chapter 1: How Do I Connect My iPad to a Network?
Chapter 2: How Do I Keep My iPad in Sync?
Chapter 3: How Do I Configure My iPad?
Chapter 4: How Can I Get More Out of iPad Web Surfing?
Chapter 5: How Do I Make the Most of E-mail on My iPad?
Chapter 6: How Can I Have Fun with My iPad's Photos?
Chapter 7: How Do I Manage My eBook Library on My iPad?
Chapter 8: How Can I Get More Out of Listening to Audio on My iPad?
Chapter 9: How Can I Get More Out of Watching Video on My iPad?
Chapter 10: Can I Use iPad to Manage My Contacts?
Chapter 11: Can I Use iPad to Track My Appointments?
Chapter 12: How Do I Use iPad to Navigate My World?
Chapter 13: How Do I Enhance My iPad Using Apps?
Chapter 14: How Do I Fix My iPad?
Glossary.
Index.
See More
Paul McFedries is a Mac expert and full-time technical writer with more than 70 books to his credit that have sold more than four million copies worldwide. These books include Macs Portable Genius and iPhone 4 Portable Genius. Paul encourages all readers to drop by his Web site, www.mcfedries.com.
See More