Saxophone For Dummies
ISBN: 978-1-118-08487-8
384 pages
November 2011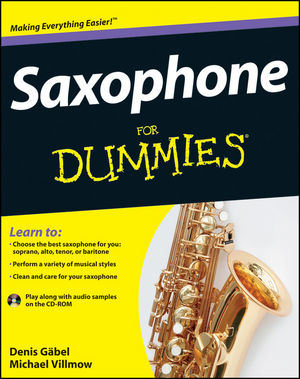 The fast and easy way to play this popular woodwind instrument
Saxophone For Dummies offers the ideal introduction to this popular and versatile instrument, whether you lack any musical experience or are picking up the sax again after a hiatus. Covering both the alto and tenor sax, this friendly guide explains how to get a good sound, how to read music, and how to play songs in a variety of styles, including classical, pop, and jazz, all accompanied by the audio samples on the enclosed CD. With tips on how to buy or rent the best saxophone, and information on how to care for the instrument, Saxophone For Dummies is a comprehensive guide to playing this popular woodwind alone or in a group setting.
Includes tips on buying or renting a new or used saxophone
Audio samples of classical, pop, and jazz music are available on the bonus CD
Advice on cleaning and maintaining a saxophone
If you're picking up a saxophone for the first time or are looking to brush up on your skills, Saxophone For Dummies gives you everything you need to appreciate, understand, and excel at playing this popular instrument.
See More
Introduction 1
Part I: Basic Information about the Saxophone 7
Chapter 1: Saxophone Basics 9
Chapter 2: Assembling and Tuning the Sax 21
Chapter 3: The Body–Saxophone Connection 33
Part II: Getting Started: From First Notes to Special Effects 45
Chapter 4: Notes, Intervals, and First Melodies 47
Chapter 5: The Language of Music: Articulation and Intonation 83
Chapter 6: Have You Got Rhythm? 99
Chapter 7: Scaling New Notes and Expanding Your Range 117
Chapter 8: Special Rhythms and Techniques 139
Part III: A Variety of Styles: The Blues, Jazz, Pop, and Classical 153
Chapter 9: Getting Down with the Blues 155
Chapter 10: Jazz — Practice Makes Perfect 171
Chapter 11: Rock 'n' Roll and Rhythm and Blues 185
Chapter 12: Getting Your Groove On: Soul and Funk 201
Chapter 13: Latin Music 213
Chapter 14: Pop Saxophone: To the Point and Straight to the Heart 231
Chapter 15: Classical Music: The World of Bach, Ravel & Co 251
Part IV: Saxophones, Accessories, Maintenance, and Practice Tips 271
Chapter 16: The Right Tools for the Job: Saxophone and Accessories 273
Chapter 17: Cleaning and Maintenance 293
Chapter 18: Practice Makes Perfect (Saxophonists) 303
Part V: The Part of Tens 309
Chapter 19: The Ten Greatest Saxophone Players You Should Know 311
Chapter 20: The Ten Most Important Sax Players and Their Best Recordings 317
Appendix A: Reading Music 323
Appendix B: Fingering Charts 333
Appendix C: About the CD 341
Index 347
See More
Denis Gabel
is an award-winning saxophonist, composer, and arranger.
Michael Villmow teaches at the Rhein Music School in Cologne, Germany, and is also a seasoned performer, bandleader, and composer.
See More