E-book
Fedora Bible 2011 Edition: Featuring Fedora Linux 14
ISBN: 978-1-118-08573-8
888 pages
March 2011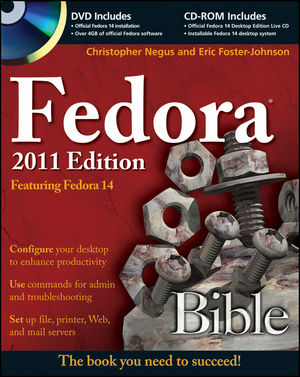 Get all the essentials of the major changes in Fedora 14
Veteran authors Christopher Negus and Eric Foster-Johnson provide you with a thorough look at the skills needed to master the latest version of Fedora and Red Hat Linux. Their step-by-step instructions walk you through a painless and simple installation of Linux; then you'll explore the major changes to the release of Fedora 14 while  also revisiting the previous version so you can see what features have been updated and revised.
Focuses on the essentials of the updated and new elements of Fedora Linux 14
Addresses using packagekit, running Windows apps, scanning images, and installing over the Internet
Touches on how to work in a Linux office with MSFT office compatible office apps
Covers new material on zarafa, xenner, deja dup, and more
Features a DVD that includes the latest distribution of Fedora Linux as well as a bootable Fedora LiveCD
Fedora 14 includes many important updates and additions -- this book gets you up to date on the most essential changes. 
See More
Preface xxxiii
Part I: Getting Started in Fedora 1
Chapter 1: An Overview of Fedora 3
Chapter 2: Installing Fedora 21
Chapter 3: Getting Productive with the Desktop 75
Chapter 4: Using Linux Commands 103
Part II: Using Fedora 149
Chapter 5: Accessing and Running Applications 151
Chapter 6: Working in a Linux Office 203
Chapter 7: Music, Video, and Images in Linux 217
Chapter 8: Using the Internet and the Web 265
Part III: Administering Fedora 305
Chapter 9: Understanding System Administration 307
Chapter 10: Setting Up and Supporting Users 363
Chapter 11: Automating System Tasks 397
Chapter 12: Backing Up and Restoring Files 435
Chapter 13: Computer Security Issues 467
Part IV: Fedora Network and Server Setup 523
Chapter 14: Setting Up Network Connections 525
Chapter 15: Connecting to the Internet 577
Chapter 16: Setting Up Printers and Printing 607
Chapter 17: Setting Up a File Server 619
Chapter 18: Setting Up a Mail Server 655
Chapter 19: Setting Up an FTP Server 683
Chapter 20: Setting Up a Web Server 695
Chapter 21: Setting Up a DHCP Server 745
Chapter 22: Setting Up a MySQL Database Server 759
Chapter 23: Setting Up Virtual Servers 793
Appendix: About the Media 809
Index 811
See More
Christopher Negus
has been working with Unix systems, the Internet, and (most recently) Linux systems for more than two decades. During that time, Chris worked at AT&T Bell Laboratories, Unix System Laboratories, and Novell, helping to develop the Unix operating system. Features from many of the Unix projects Chris worked on at AT&T have found their way into Red Hat Enterprise Linux, Fedora, and other Linux systems.
Chris is the author of all editions of what started out as the
Red Hat Linux Bible
, which because of the name changes of Red Hat's Linux projects has evolved into the book you are holding. Most recently, Chris co-authored multiple books in the Linux Toolbox series:
Fedora Linux Toolbox
,
Ubuntu Linux Toolbox
,
Mac OS X UNIX Toolbox
,
SUSE Linux Toolbox,
and
BSD UNIX Toolbox
(Wiley Publishing). Besides that, Chris authored the
Linux Bible 2009 Edition
and co-wrote the
Fedora Bible 2010 Edition
,
CentOS Bible
,
Linux Troubleshooting Bible
, and
Linux Toys II
for Wiley Publishing. Chris also authored
Live Linux CDs
and co-authored the
Official Damn Small Linux Book
, as part of the Negus Software Solutions Series.
Today, Chris works as a Linux instructor for Red Hat, Inc. and has achieved certification as a Red Hat Certified Engineer (RHCE) and Red Hat Certified Examiner (RHCX). At home, Chris enjoys spending time with his wife, Sheree, and his boys, Caleb and Seth. His hobbies include soccer, singing, and exercising with Sheree.
Eric Foster-Johnson is a veteran programmer who works daily with Linux, Mac OS X, Unix, Windows and other operating systems. By day, he writes enterprise Grails and Java software for ObjectPartners, a Minnesota consulting firm. He has authored and co-authored a number of Linux and Unix titles, including the Fedora Bible 2010 Edition, Red Hat RPM Guide, Teach Yourself Linux, Teach Yourself Unix, and Perl Modules.
See More