How China's Leaders Think: The Inside Story of China's Past, Current and Future Leaders , Revised Paperback
ISBN: 978-1-118-08590-5
Paperback
576 pages
June 2011
US $40.00

Add to Cart
This price is valid for United States. Change location to view local pricing and availability.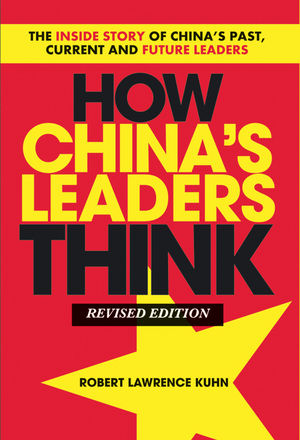 Other Available Formats:
E-book
About the Author.
Acknowledgements.
Overview: How China's Leaders Think.
PART I  GUIDING PRINCIPLES.
1. Pride.
2. Stability.
3. Responsibility.
4. Vision.
PART II  THINKING REFORM.
5. Subjugation, Humiliation, Oppression.
6. Reform's Epic Struggle.
7. Tiananmen and Thereafter.
8. What's a "Socialist Market Economy?"
9. How Communism Adopted Capital and Ownership.
10. The Hidden Power of Jiang Zemin's "Three Represents".
11. The Driving Relevance of Hu Jintao's "Scientific Perspective on Development".
12. Snapshots of Economic Reform.
13. The Countryside is Core.
14. Rebalancing Imbalances.
15. How Reform Permeates All Society.
16. Here Come the Lawyers.
17. Facing Up to Corruption.
18. Values and the New Social Contract.
PART III  DOING REFORM.
19. Provincial Pictures of Reform.
20. Regional Dragonheads: Pudong (Shanghai) and Binhai (Tianjin).
21. What to Do with State-Owned Enterprises?
22. The Private Business Revolution.
23. Banking Reform: The Largest Assets and Greatest Risks.
24. Reforming Science & Technology with Sparks & Torches.
25. Education: When Reform and Tradition Clash.
26. Healthcare and Medical Reform: One Doctor's Story.
27. Media and Publishing Reform: Hidden in Plain Sight.
28. How Telecommunications and the Internet Changed China.
29. Diversity of Culture; Question of Censorship.
30. How China's Leaders Love Film.
31. Why Religion Became Important.
32. Foreign Policy Breaks Free.
33. What does Military Reform Mean?
34. Telling China's Story to the World.
PART IV REFORM'S FUTURE.
35. China's Future Senior Leaders.
36. China's New Kind of Leaders.
37. China's Economic Future: How Far Can It Go?
38. Guangdong Visions.
39. China's Political Future: Is Reform Real?
40. China Threat or China Model?
41. China Reflections and Visions.
Index.