E-book
The Performance Pipeline: Getting the Right Performance At Every Level of Leadership
ISBN: 978-1-118-08648-3
250 pages
August 2011, Jossey-Bass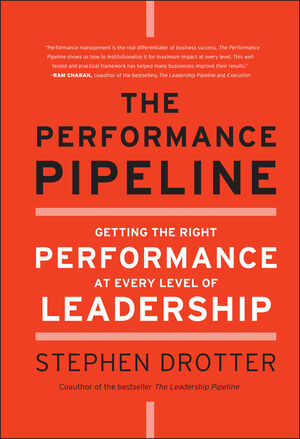 The guide that defines the results required at each organizational level to sustain business success
It's not enough to build a company full of people with leadership skills. The Performance Pipeline digs deep into the real work of executing business results at each leadership layer.
Filled with lessons and examples from the author's 40 years of experience
Shows how to set performance standards, make sure the right work is being done, and remove performance barriers
Illustrates how leaders can make the transition to the next level and achieve full performance
This book gives leaders in any industry an advantage over the competition.
See More
Preface ix
Part One The Performance Pipeline Concept
Introduction Dealing with Pervasive Uncertainty 3
1 Defining Your Performance Pipeline 21
Part Two Expected Results at Every Level of Leadership
2 Enterprise Chief Executive Officer: Perpetuating the Enterprise 47
3 Group Managers: Portfolio of Businesses 71
4 Business Managers: Short-Term and Long-Term Profit 93
5 Function Managers: Competitive Advantage 113
6 Managers of Managers: Productivity 129
7 Managers of Others: The Enablers 147
8 Self-Managers: Delivering the Products and Services 175
Part Three Successful Implementation of the Performance Pipeline
9 Creating a Context for Performance 201
10 Enabling Layer Transitions 225
11 Implementing Your Performance Pipeline 245
Tool 1: Actual Performance Pipeline from Company E 261
Tool 2: Interview Questions 279
Acknowledgments 285
The Author 287
Index 289
See More
Stephen Drotter is CEO of Drotter Human Resources, a global company that specializesin CEO succession; executive assessment, selection, and development; and enterprise-level organization design. He was one of the original designers of GE's succession planning process and ran human resources at INA Corporation and Chase Manhattan. He has a degree in economics from Amherst College. He is coauthor of The Leadership Pipeline and The Succession Planning Handbook for the Chief Executive.
See More