E-book
You've Got To Be Kidding!: How to Keep Your Job Without Losing Your Integrity
ISBN: 978-1-118-08650-6
320 pages
May 2011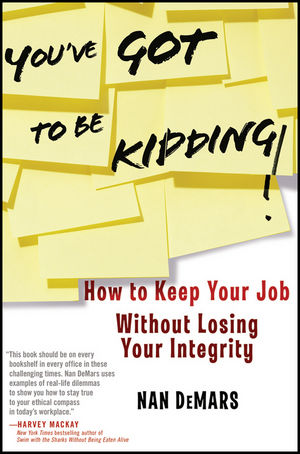 What to do when you're caught in the middle of an ethical dilemma at work
In today's super-stressed workplace, an ethical dilemma can come at you when you least expect it. Here's how to do the right thing without losing your integrity?or your job. You've GOT To Be Kidding will help you create an ethics-based workplace that's a joy to work in. This isn't the usual top-down, executive-only manual, but an approach to workplace ethics that's as relevant and accessible to employees as it is to managers and executives. From renowned workplace educator and author of You Want Me To Do What?, this book is filled with recognizable examples ripped from today's headlines that put ethical principles in concrete terms.
Filled with recognizable examples that put ethical principles in concrete terms
Covers such topics as topics as loyalty, confidentiality, security, office romance, harassment, social networking at work, harassment, workplace bullying, lying for your boss, and even Internet mischief
A practical manual for assessing, discussing, and resolving ethical dilemmas in the workplace
With employees at all levels being held more accountable than ever before, You've GOT To Be Kidding gives businesses of all types and sizes a winning set of principles and practices to do business at the highest ethical level and serves as a guide for anyone who wants to do the right thing without losing their integrity or their job.
See More
Preface xv
Introduction Why Do We Care about Ethics in the Workplace?: Are We Really That Vulnerable? More than Ever Today! xix
PART I
Take Care of Yourself
1 When Morals Become Ethics: Your Beliefs Become Your Behaviors 3
2 The Age of Accountability: The "My Boss Told Me to Do It" Defense Is No Defense! 16
3 The Twin Faces of Loyalty: The "New Loyalty" at Work Is a Two-Way Street 30
4 True Myths? It Depends!: Let's See Things as They Really Are—Not as WeWant Them to Be! 50
5 Mea Culpa—I Screwed Up!: How to Recover from a Major Goof-Up! 62
PART II
Take Care of Your Organization
6 Zip It!: A Culture of Confidentiality Is Your Goal! 73
7 Security Is Your Problem (Like It or Not)!: You Are the Gatekeeper of Company Assets 91
8 Gossip Over the Cubicle Fence: Gossip Can Tear Apart the Ethical Office 113
9 Cupid in the Cubicle: Dangers of the "Triple R" 121
10 Party Up—or Party Down?: The Worst Hangover May Come with a Lawsuit! 135
11 Trick or Treat: Vendors Can Be Tricksters, and They Wear Many Masks 141
12 Copyright or Copy Wrong?: There Are Boundaries around Intellectual Property 148
13 To Blow or Not to Blow: If You Blow the Whistle, Blow Wisely!! 158
PART III
Take Care of Your Supervisor
14 The Trouble with the Boss—Is the Boss! 169
15 The Dog Ate My Laptop: Lies, Lies—and More Lies! 185
16 The XXX Files: The Workplace Is No Place for Porn! 204
17 Abuse in the Workplace: If It Hurts, It's Abuse—and If It Happens More than Once, It's Harassment! 209
PART IV
You Can Keep Your Integrity and Your Job
18 Raises, Not Roses!: Today's Professional Assistant Has New Respect! 231
19 The Ethics of Job Hunting: How to Look for a Job While on the Job! 243
20 Start Talking!: Everyone Chooses the Ethics of Their Office—Not Just Upper Management and Obvious Victims 253
21 Doing the Right Thing Never Looked So Right!: At the End of the Day, You Go Home with  Yourself! 264
Acknowledgments 279
About the Author 281
Index 283
See More
Nan DeMars is an internationally recognized office ethics keynote speaker, seminar leader, author, and columnist. She is President of Executary Services, a consulting firm providing workplace ethics training and C-Suite assistant search. Her office ethics columns for OfficePro magazine are its most read feature. She has also served as international president of the International Association of Administrative Professionals (IAAP), for which she authored its first-ever Code of Ethics.
See More