Your Retirement Income Blueprint: A Six-Step Plan to Design and Build a Secure Retirement
ISBN: 978-1-118-08752-7
256 pages
July 2011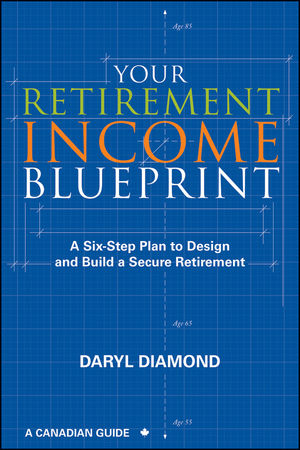 As more and more Canadian boomers are approaching retirement, the transition from accumulating assets in their working years to creating a reliable stream of income in retirement is becoming a top-priority issue for a huge segment of the population.
Your Retirement Income Blueprint
is an antidote for Canadians who are generally ineptly advised, under-serviced, and over-charged by advisors on planning retirement income. Based on the author's specialized experience in retirement income planning, this book will help readers to work through the many stages of their retirement and adapt their income plans to account for constantly changing health and family issues. The book will help you to:
Combine government and personal sources of income most efficiently
Determine which assets to use first and which to defer
Preserve government benefits and entitlements that are in many cases needlessly wasted or lost
Create results that are more survivor- and estate-friendly than traditional approaches
Greatly reduce taxes on retirement income and to the aggregate estate.
Your Retirement Income Blueprint lays out a six-step process for "taking apart" accumulated assets, making the most out of what you have taken a lifetime to save, and creating an income that lasts as long as you do.
See More
Preface: The Evolution of a Book and of a Demographic ix
Introduction 1
PART ONE: Considerations in Creating Your Blueprint
Chapter 1: Talking 'Bout My Generation 7
Chapter 2: Key Concepts for an Efficient Blueprint 17
PART TWO: Building Your Income Plan with the Six-Step Plan
Chapter 3: Laying the Foundation for Your Income Plan 31
Chapter 4: Putting Your Money to Work 57
PART THREE: The Building Materials
Chapter 5: Government Sources of Income 91
Chapter 6: Corporate Sources of Income 105
Chapter 7: Personal Sources of Income 131
PART FOUR: Essential Tax Considerations
Chapter 8: It's Floodin' Down in Taxes 151
Chapter 9: Tax Planning 163
PART FIVE: Special Tools and Strategies
Chapter 10: With a Little Help from My Friends 177
Chapter 11: Insuring Your Building 201
PART SIX: Concluding Thoughts
Chapter 12: Making This Book Work for You 221
Appendix: Life Income Fund (LIF) Comparison by Province 226
Acknowledgements 231
Index 233
See More
Daryl Diamond is a recognized leader in the financial services industry. His practice, Diamond Retirement Planning Ltd., focuses on advising pre-retirement and retirement clients on the income structures, investment strategies, and estate conservation issues that are unique to those groups. He is active in educating advisors and their clients on retirement planning. He runs seminar programs and has designed training programs for three large Canadian financial institutions-Standard Life, Dynamic Mutual Funds, and the Royal Bank-to educate advisors on retirement income planning.
See More