E-book
Student's Vegetarian Cookbook For Dummies
ISBN: 978-1-118-08908-8
360 pages
May 2011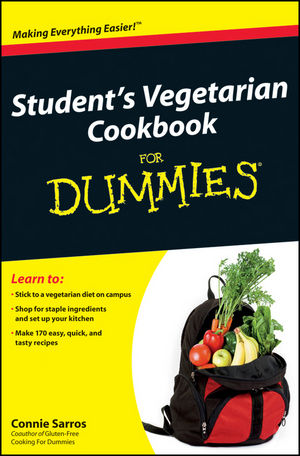 The easy way to eat vegetarian on campus
Vegetarianism is growing rapidly, and young adults?including college students?are leading the charge as more and more of them discover the many benefits to adopting a vegetarian lifestyle. However, there are limited resources for budget-conscious students to keep a vegetarian diet.
Student's Vegetarian Cookbook For Dummies offers the growing population of vegetarian students with instruction and recipes for fast and fun vegetarian cooking. Personalized for students, it comes with quick-fix recipes, a variety of creative meal ideas, and money-saving tips.
Plain-English explanations of cooking techniques and nutritional information
More than 100 recipes for making vegetarian dishes that are quick, easy, and tasty
Budget-conscious shopping tips
When dining halls are inadequate and restaurants become too expensive, Student's Vegetarian Cookbook For Dummies has you covered!
See More
Introduction.
Part I: Living the Vegetarian Lifestyle.
Chapter 1: Vegetarian Cooking 101.
Chapter 2: Understanding Types of (and Reasons for) Vegetarianism.
Chapter 3: Jumping Over Health Hurdles.
Chapter 4: Handling Sticky Social Situations.
Chapter 5: Shopping with Savvy.
Chapter 6: Setting the Scene for Vegetarian Cooking.
Part II: Vegetarian Vittles.
Chapter 7: Five Minutes or Less: Grab 'n' Go Breakfasts.
Chapter 8: 20 Minutes till Mealtime: Breakfasts.
Chapter 9: Five Minutes or Less: Grab 'n' Go Lunches.
Chapter 10: 25 Minutes till Mealtime: Lunches.
Chapter 11: Ten Minutes or Less: Grab 'n' Go Suppers.
Chapter 12: 30 Minutes till Mealtime: Suppers.
Part III: Beyond Three Squares.
Chapter 13: Serving Up Snacks, Appetizers, and Baked Goodies.
Chapter 14: Dishing Up Decadent Desserts.
Chapter 15: Changing Recipes and Resurrecting Leftovers.
Part IV: The Part of Tens.
Chapter 16: Nearly Ten Tips for Creating a Vegetarian Feast for Guests.
Chapter 17: Nearly Ten Ways to Make Any Recipe Vegetarian-Friendly.
Appendix: Metric Conversion Guide.
Index.
See More
Connie Sarros is a nationally recognized and trusted speaker, writer, and advocate for healthy eating and nutrition. She's the coauthor of Gluten-Free Cooking For Dummies, and her work has appeared in Cooking Light, the Chicago Tribune, and other publications.
See More