Multimedia-based Instructional Design: Computer-based Training, Web-based Training, Distance Broadcast Training, Performance-based Solutions, 2nd Edition
ISBN: 978-1-118-08915-6
488 pages
April 2004, Pfeiffer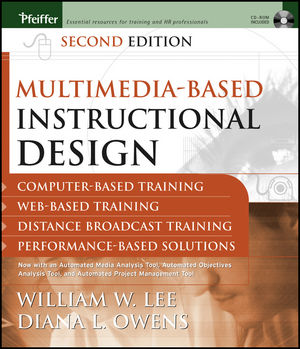 Multimedia-Based Instructional Design is a thoroughly revised and updated second edition of the best-selling book that provided a complete guide to designing and developing interactive multimedia training. While most training companies develop their training programs in many different technological delivery media—computer-based, web-based, and distance learning technologies—this unique book demonstrates that the same instructional design process can be used for all media. Using just one process reduces cycle time for course development—and also reduces costs.
See More
List of Figures and Tables xiii
Acknowledgments xvii
Introduction: Getting the Most from This Resource xix
PART ONE Multimedia Needs Assessment and Analysis 1
1 Introduction to Multimedia Needs Assessment and Front-End Analysis 3
2 Needs Assessment 6
3 Front-End Analysis 15
4 Audience Analysis 18
5 Technology Analysis 22
6 Situational Analysis 28
7 Task Analysis 31
8 Critical Incident Analysis 36
9 Issue Analysis 39
10 Objective Analysis 42
11 Media Analysis 55
12 Extant Data Analysis 73
13 Cost Analysis 77
14 Rapid Analysis Method 81
PART TWO Multimedia Instructional Design 91
15 Introduction to Multimedia Instructional Design 93
16 Project Schedule 104
17 Project Team 109
18 Media Specifications 116
19 Content Structure 129
20 Configuration Control 153
PART THREE Multimedia Development and Implementation 159
21 Introduction to Multimedia Development 161
22 Common Development Components 171
23 Developing Computer-Based Learning Environments 181
24 Developing Internet, Intranet, Web-Based, and Performance Support Learning Environments 190
25 Developing Interactive Distance Broadcast Environments 214
PART FOUR Multimedia Evaluation 221
26 Introduction to Multimedia Evaluation 223
27 Purpose of Evaluation 227
28 Evaluation Strategy 232
29 Evaluation Plan 235
30 Measures of Validity 245
31 Instrument Development 252
32 Collecting and Analyzing Data 265
APPENDIX A Project Management and Xegy Case Studies 269
APPENDIX B Assessment and Analysis 286
APPENDIX C Development and Implementation 319
APPENDIX D Evaluation 322
APPENDIX E Tools 342
References 429
Index 433
About the Authors 443
See More
William W. Lee
is director of educational research and development at the National Headquarters of the American Heart Association in Dallas, Texas, providing leadership and consulting in the integration of technology into training as well as the design, development, and evaluation of training. Dr. Lee teaches at the University of Texas at Dallas in the Department of Management and Professional Development and the University of Oklahoma in its Professional Development Department. He is a well-known speaker at regional, national, and international conferences and was the 1997 recipient of the Distinguished Achievement Award from the Dallas, Texas, chapter of ASTD and the Penn State University College of Education Alumni Association Leadership and Service Award for his writing and speaking.
Diana L. Owens is a consultant and principle owner of Training Consulting Softek, an independently owned company specializing in multimedia training development that has worked with clients such as Verizon Telecommunications, EDS, American Airlines, Blockbuster Video, and TGI Friday's Corporation, among others. Owens was previously employed by EDS, Action Systems, Multimedia Learning, Inc., CAE Link, and the U.S. Air Force.
See More