E-book
Writing Young Adult Fiction For Dummies
ISBN: 978-1-118-09290-3
384 pages
June 2011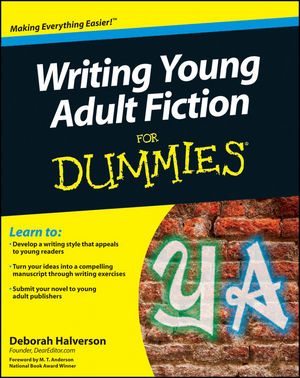 Your hands-on, friendly guide to writing young adult fiction
With young adult book sales rising, and bestselling authors like J.K. Rowling and Stephenie Meyer exploding onto the scene, aspiring YA writers are more numerous than ever. Are you interested in writing a young adult novel, but aren't sure how to fit the style that appeals to young readers?
Writing Young Adult Fiction For Dummies gives you tricks of the trade and proven tips on all the steps to write a YA book, from developing an idea to publication.
Unique writing exercises to help you find your own authentic teen voice
Tips to avoid when submitting manuscripts
How to break into the flourishing young adult market
With the help of this step-by-step guide, you'll have all the skills to write an inspiring and marketable young adult novel.
See More
Foreword.
Introduction.
Part I: Getting Ready to Write Young Adult Fiction.
Chapter 1: The Lowdown on YA Fiction.
Chapter 2: Targeting Teen Readers.
Chapter 3: Managing Your Muse.
Part II: Writing Riveting Young Adult Fiction.
Chapter 4: Writing the Almighty Hook.
Chapter 5: Creating Teen-Friendly Characters.Chapter 6: Building the Perfect Plot.
Chapter 7: Creating Teen-Driven Action.
Chapter 8: Setting Is More than Somewhere to Be.
Chapter 9: Crafting a Narrative Voice Teens Will Listen To . . . and Love.
Chapter 10: Talking Like a Teen.
Part III: Editing, Revising, and Formatting Your Manuscript.
Chapter 11: Editing and Revising with Confi dence.
Chapter 12: The Finishing Touches: Formatting and Finalizing.
Part IV: Getting Published.
Chapter 13: Strategizing and Packaging Your Submissions.
Chapter 14: Self-Publishing: Is It for You?
Chapter 15: Mastering Marketing
Part V: The Part of Tens.
Chapter 16: Ten Common Pitfalls in Writing YA Fiction.
Chapter 17: Ten Facts about Book Contracts.
Chapter 18: Ten Ways to Make the Most of a Conference.
Index.
See More
Deborah Halverson founded the writer's advice website DearEditor.com and was a veteran editor for young adult and children's fiction before picking up a pen and writing the teen novels Big Mouth and Honk If You Hate Me.
See More