E-book
Nutrition For Dummies, 5th Edition
ISBN: 978-1-118-09303-0
408 pages
July 2011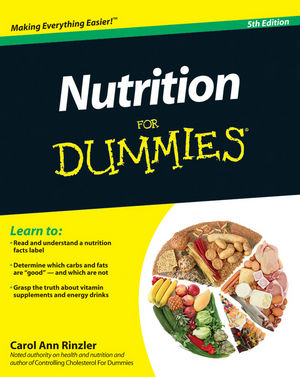 Get the facts on good nutrition, slim down, and feel great
You've been hearing it since you were a little kid: "You are what you eat." But unlike most adages you've long since debunked, this wise saying is true! Good nutrition is the key to achieving and maintaining a healthy weight and lifelong good health?no matter how you slice it.
Nutrition For Dummies is a one-size-fits-all guide to nutrition for anyone who may have fallen asleep in health class, wants to brush up on what they already know, or is looking to keep up-to-speed on the latest guidelines and research. It shows you how to manage your diet so you get the most bang (nutrients) for your buck (calories) and gives you the skinny on how to put together a healthy shopping list, how to prepare foods that are good for the body and soul, and ten easy ways to cut calories.
More than 20% new and updated information for this edition, including the truth about feeding your brain, vitamin D supplements, and energy drinks
Coverage of the new 2010 Dietary Guidelines For Americans report
Other titles by Rinzler: Controlling Cholesterol For Dummies
An apple a day may not necessarily keep the doctor away, but with the simple guidance of Nutrition For Dummies, you can be on your way to living a happier, healthier ever after.
See More
Introduction 1
Part I: The Basic Facts about Nutrition 7
Chapter 1: What's Nutrition, Anyway? 9
Chapter 2: Digestion: The 24/7 Food Factory 21
Chapter 3: Calories: The Energizers 29
Chapter 4: Big, Bigger, Biggest: The Growing American Body 39
Chapter 5: How Much Nutrition Do You Need? 53
Chapter 6: A Supplemental Story 63
Part II: What You Get from Food 73
Chapter 7: Powerful Protein 75
Chapter 8: Facing Facts on Fat and Cholesterol 85
Chapter 9: Carbohydrates: A Complex Story 99
Chapter 10: Alcohol: Another Form of Grape and Grain 115
Chapter 11: Vigorous Vitamins 127
Chapter 12: Mighty Minerals 149
Chapter 13: Water Works 167
Part III: Healthy Eating 179
Chapter 14: Why You Eat When You Eat 181
Chapter 15: Why You Like the Foods You Like 191
Chapter 16: Building a Healthful Diet 203
Chapter 17: Making Wise Food Choices 215
Chapter 18: Eating Smart When Eating Out 229
Part IV: Food Processing 239
Chapter 19: What Is Food Processing? 241
Chapter 20: Cooking and Nutrition 253
Chapter 21: What Happens When Food Is Frozen, Canned, Dried, or Zapped 269
Chapter 22: Better Eating through Chemistry 279
Part V: Food and Medicine 291
Chapter 23: When Food Gives You Hives 293
Chapter 24: Brain Food 303
Chapter 25: Food and Drug Interactions 323
Chapter 26: Using Food as Medicine 333
Part VI: The Part of Tens 345
Chapter 27: Ten or So Nutrition Web Sites 347
Chapter 28: Ten or So Superstar Foods 355
Chapter 29: Ten Terrifi c Foods Starting with the Letter P 363
Chapter 30: Ten Easy Ways to Cut Calories 371
Index 375
See More
Carol Ann Rinzler is a noted authority on health and nutrition and is the author of more than 20 books on food and health, including Controlling Cholesterol For Dummies. She has contributed to The New York Times, Redbook, Family Circle, and the New York Daily News.
See More