E-book
WordPress Web Design For Dummies
ISBN: 978-1-118-09382-5
384 pages
May 2011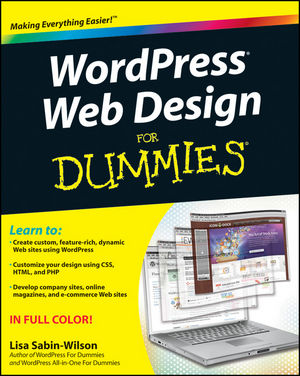 Learn how WordPress can help you create a unique, customized Web site
Once only a platform for bloggers, WordPress is gaining popularity as a tool for creating individualized Web sites. WordPress expert Lisa Sabin-Wilson makes it easy for anyone with a basic knowledge of the WordPress software to create a custom site using complimentary technologies including CSS, HTML, and PHP. This easy-to-follow, full-color guide helps you identify the tools and technologies you need to create the site you envision, build a user-friendly navigation system, select colors and layouts, work with existing WordPress themes, and even develop your own theme to personalize your site.
WordPress offers a versatile tool for building customized Web sites; this full-color book walks you through the process, explains the complimentary technologies involved, and shows you how to select colors, fonts, and themes
Case studies illustrate the process and the effects that can be achieved
Shows how to incorporate WordPress templates, graphic design principles, HTML, CSS, and PHP to build a truly one-of-a-kind Web site
If you know how to use WordPress software to create a blog, WordPress Web Design For Dummies will enable you to quickly and easily construct a unique Web site for your business, organization, or personal use.
See More
Introduction.
Part I: Establishing a WordPress Foundation.
Chapter 1: Exploring Web Design with WordPress.
Chapter 2: Understanding WordPress Requirements.
Chapter 3: Installing WordPress on Your Web Server.
Chapter 4: Managing Content with WordPress.
Part II: Choosing the Right Tools.
Chapter 5: Exploring Editors, Browsers, and FTP.
Chapter 6: Choosing Graphics and Software Resources.
Chapter 7: Choosing Colors and Fonts.
Chapter 8: Planning Your Design Strategy.
Part III: Working with WordPress Themes.
Chapter 9: Finding and Installing a WordPress Theme.
Chapter 10: Working with the Default Theme: Twenty Ten.
Chapter 11: Dissecting Themes and Templates.
Chapter 12: Displaying Content with Widgets and Template Tags.
Chapter 13: Understanding Parent and Child Themes.
Part IV: Building Your Custom Web Site.
Chapter 14: Using Basic CSS and HTML to Customize Your Site Design.
Chapter 15: Designing for WordPress as a CMS.
Chapter 16: Enhancing Your Web Site with Plugins.
Part V: The Part of Tens.
Chapter 17: Ten Powerful Plugins for WordPress.
Chapter 18: Ten Well-Designed Sites That Use WordPress as a CMS.
Index.
See More
Lisa Sabin-Wilson is founder and Creative Director of E.Webscapes Design Studio. Lisa is a frequent public speaker at events like SXSW Interactive, Blog World Expo, and various WordCamps on the topics of WordPress, design, and social media. She's been designing Web sites with WordPress since 2003.
See More