Whistleblowers: Incentives, Disincentives, and Protection Strategies
ISBN: 978-1-118-09403-7
272 pages
December 2011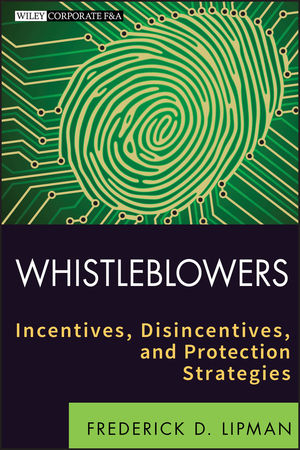 Solid guidance for managing whistleblower policies in light of the new Dodd-Frank Act provisions
In July 2010, President Obama signed the Dodd-Frank Wall Street Reform and Consumer Protection Act that greatly expanded whistleblower bounties in connection with violations of federal securities laws, including the Foreign Corrupt Practices Act. Discussing business protection strategies and best practices in dealing with whistleblowers, Whistleblowers will appeal to board members, executives, corporate compliance personnel, attorneys for whistleblowers and defense attorneys, as well as potential employee whistleblowers.
Case studies of GlaxoSmithKline, Pfizer and other high profile whistleblower incidences
Examines new Dodd-Frank incentives to whistleblowers
Recommends best practices for corporations in light of new whistleblowing incentives
Explores other federal and state statutory incentives to whistleblowing
Timely and comprehensive, Whistleblowers emphasizes the disincentives to whistleblowing, reviewing the academic studies of whistleblowers with the idea of developing best practices in working with whistleblowers.
See More
Foreword xiii
Acknowledgments xv
Introduction 1
PART I: THE WHISTLEBLOWERS AND THE DODD-FRANK INCENTIVES
Chapter 1: The Dramatic Expansion of Whistleblower Awards under Dodd-Frank 11
Whistleblower Provisions of Dodd-Frank 13
What Is "Original Information"? 14
What Are Violations of the Federal Securities Laws? 15
Rule 10b-5: Market Manipulation 19
Violating the Accounting Standards 20
False Financial Statements by Public Companies 20
Other Securities Laws 22
Protections for Whistleblowers 23
Commodity Exchange Act 23
Notes 25
Chapter 2: The Remarkable Story of Cheryl Eckard and the $96 Million Bounty under the False Claims Act 27
Who Is Cheryl Eckard? 27
Eckard's Post-termination Activities 28
Eckard's Superiors 29
Background Allegations 30
Alleged Violations 31
Timeline of Eckard's Alleged Activities 33
The Lessons of Glaxo 40
Notes 42
Chapter 3: The Pfi zer Whistleblowers Who Collected Over $100 Million under the False Claims Act 45
John Kopchinski 46
Bextra 47
The Complaint 48
Pfizer Lessons 51
Notes 53
PART II: DISINCENTIVES AND FACTORS MOTIVATING PUBLIC DISCLOSURE
Chapter 4: Disincentives to Internal Whistleblowers 57
Financial Disincentives 58
Nonfi nancial Disincentives 59
Contractual Commitments and Fiduciary Duties 60
Ethics Resource Center Survey 61
Reinstatement as a Remedy 62
Empirical Study 65
Notes 67
Chapter 5: Women as Whistleblowers: Factors Motivating Public Whistleblowing 69
Sherron Watkins 69
Cynthia Cooper 71
Coleen Rowley 71
External Reporting by Internal Whistleblowers 72
Whistleblower Anonymity 74
Notes 74
PART III: ORGANIZATIONAL BEST PRACTICES
Chapter 6: Why Should Organizations Adopt a Robust Whistleblower System? 79
Diminishment of Shareholder Wealth 80
Boards of Directors 81
We Were Duped! 82
Executive Whistleblowers 84
Why Independent Directors Cannot Rely Solely on Independent or Internal Auditors 86
Legal Standard 89
Caremark 90
Recommended Strategy 91
Criminal Liability of an Organization 92
Responsible Corporate Officer Doctrine 93
The Acme Markets Case 94
The U.S. Department of Justice Criminal Guidelines 96
The Disadvantages of a Robust Whistleblower System 97
Notes 98
Chapter 7: Establishing a Robust Whistleblower System 103
Problems with the Current Whistleblower System 104
Initial Steps 107
Elements of a Robust Whistleblower Policy 108
Independent Directors Must Be in Charge 109
The Whistleblower Program Must Be Independently Administered 111
Whistleblower Complaints Should be Investigated by Independent Counsel Reporting Directly to the Independent Directors 113
There Should Be No Presumption that Anonymous Complaints Are Less Deserving of Investigation 117
Motivations and Personality of the Whistleblower Are Not Relevant to the Truth of the Allegations 118
Absolute Protection of Whistleblowers' Identity Is Essential 119
Assess the Effectiveness of Hotlines and Provide Employee Compliance Training 123
Independent Counsel Should Report the Status and Results of the Investigation 124
Internal Whistleblowers Should Receive Meaningful Monetary Rewards 125
The Whistleblower Policy Must Be Communicated Effectively 127
There Should Be Milder Sanctions for Whistleblowers Involved in Illegal Group Activity 130
Retaliation Claims Should Be Independently Investigated 131
The Director of Corporate Compliance Should Become the Eyes and Ears of the Independent Directors 132
Major Dos and Don'ts for CEOs 134
Notes 135
PART IV: STATUTORY INCENTIVES AND SEC AWARD REGULATIONS
Chapter 8: The False Claims Act: Qui Tam Cases 141
What Is a False Claim? 142
False Claims Act Bounties 144
U.S. Department of Justice Memorandum 146
Statute of Limitations 149
Notes 150
Chapter 9: IRS Whistleblowers 153
Section 7623(b): Mandatory Whistleblower Awards 155
Reduction of Award Percentage 156
Section 7623(a): Discretionary Awards 157
Form 211 158
IRS Whistleblowers Awards 159
IRS Award Determinations 160
Award Administrative Proceedings 162
Appeal to Tax Court 164
Duration of Process and Award Payment 164
Confi dentiality of Whistleblower 165
Right to Counsel 165
IRS Contracts 165
Disqualifi cation of U.S. Treasury Department Federal Employees 166
Notes 167
Chapter 10: Other Statutory Incentives and Protections for Whistleblowers 169
Act to Prevent Pollution from Ships 169
False Patent Marking Statute 170
U.S. Tariff Act of 1930 172
State False Claims Statutes 173
Whistleblower Protections 179
Barker v. UBS 180
Other Statutory Whistleblower Protections 185
Notes 186
Chapter 11: A Step-by-Step Guide to SEC Whistleblowers Awards under Dodd-Frank 189
Summary 190
SEC Investor Protection Fund 194
Does the Whistleblower Need an Attorney? 195
Step-by-Step Guide 196
Determining Whether the Over $1 Million Threshold Is 202
Satisfied Determining the Amount of an Award 202
Must an Employee Comply with the Company's Internal Compliance Program? 204
Confidentiality 205
Nonwaiver of Whistleblower Rights 205
Appeals 205
Anti-retaliation Provision 206
Notes 206
Appendix 1: IRS Form 211 207
Appendix 2: SEC Form TCR: Tip, Complaint or Referral 211
Appendix 3: SEC Form WB-APP: Application for Award for Original Information Submitted Pursuant to Section 21F of the Securities Exchange Act of 1934 229
Appendix 4: SEC Whistleblower Rules 239
About the Author 265
Index 267
See More
Frederick D. Lipman is a partner with the international law firm of Blank Rome LLP and is also the president of the Association of Audit Committee Members, Inc. He has more than fifty years of experience in the areas of corporate governance, mergers and acquisitions, private equity, and IPOs. He has appeared on CNBC, CNN, Bloomberg, and Chinese television as a national commentator on business topics and has been quoted in the Wall Street Journal, the New York Times, USA Today, Forbes, and other business publications.
See More