E-book
The Trainer's Handbook of Leadership Development: Tools, Techniques, and Activities
ISBN: 978-1-118-09439-6
336 pages
August 2011, Pfeiffer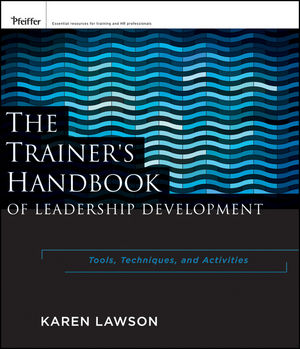 The Trainer's Handbook of Leadership Development offers facilitators, human resource professionals, and consultants a wide-variety of tools and techniques for developing leadership competencies and characteristics. Drawing on research from such giants in the leadership field as Warren Bennis, Ken Blanchard, James Kouzes, and Barry Posner, the book's thought-provoking activities are designed to create real and lasting behavior change.
"The Trainer's Handbook of Leadership Development features the proven activities and tools that will involve and inspire participants to develop the skills and characteristics that will equip them to lead us into the future. Karen has brought together a powerful collection of tools, competency models, exercises, and training necessary for developing leaders in today's workplace. I recommend this book for anyone who is implementing a leadership development program within their organization. It could easily be used to build the entire program from scratch."—Louis Carter, CEO, Best Practice Institute
"What a gem of a book Karen Lawson has written! Drawing on research by leadership gurus, Karen presents 45 competencies and characteristics critical to leadership excellence. She mines each of these facets for a solid definition and the significance of each. Although many authors shy away from discussing leadership qualities such as authenticity and empathy, Karen deals with them directly. She presents activities that future leaders can use to explore personal leadership qualities. This book is 24kt gold. If you are a leadership development professional, this book is sure to become your gold standard when searching for creative yet practical ways to help develop others into outstanding leaders of the future."—Elaine Biech, editor, The ASTD Leadership Handbook and author, The Business of Consulting
"Developing the complex skills of leadership is critical for personal and organizational success. If you are responsible for helping others build these skills, this book deserves a spot on your bookshelf—or maybe your desk—because you will use it often!"—Kevin Eikenberry, author, Remarkable Leadership: Unleashing Your Leadership Potential One Skill at a Time
See More
About the Author ix
1 introduction 1
2 leadership competencies and characteristics 5
3 designing a leadership development program 23
Chapter Three Activities A Checklist for Effective Leadership 31
Nature or Nurture? 33
Traits of Effective Leaders 34
Words to Lead By 36
4 increasing awareness—self and others 37
Chapter Four Activities Being Real 38
Developing Courage 40
Developing Cultural Intelligence 43
Doing It Differently 47
Do the Right Thing 49
Fired Up! 53
Heroes and Heroines 56
Living Your Values 59
Mirror, Mirror 64
Modeling the Way 68
Permission or Forgiveness? 71
Risk Attitudes Inventory 73
The Balancing Act 79
Values Collage 84
What Is It Like? 86
Who Am I? 91
5 communicating and influencing 97
Chapter Five Activities Active Listening Responses 98
Active Observation 101
Common Ground 103
Confl icting Agendas 109
Giving Feedback 114
Listening Self-Awareness Assessment 118
Mixed Messages 124
Picture This 130
The Art of Asking Questions 132
The Art of Infl uencing 135
What Do You Mean? 137
6 motivating and engaging 141
Chapter Six Activities Embracing Change 142
Empowering Others 144
Fair or Equal? 148
How to Present Change to Employees 150
Leading Change 155
Make Them Laugh 158
Showing Appreciation 162
Tell Me a Story 164
What Do Your Employees Value? 167
7 developing and managing 171
Chapter Seven Activities Applying Your Coaching Skills 172
Creating a Team Identity 175
Delegation Case Study 177
Delegating Effectively Self-Assessment 181
Delegation Process 185
Describing Behavior 192
Performance Management Skills Checklist 194
Stopping the Blame Game 198
Team Models 201
The Magic of Mentoring 205
What Do You Expect? 207
What Mentors Do 212
8 increasing leadership effectiveness 217
Chapter Eight Activities Bouncing Back 218
Distinguishing Behaviors 220
Employee Development Decisions 223
Figure It Out 227
Innovation or Creativity? 230
Into the Future 232
Making the Right Call 235
Networking Checklist 239
On Target 242
Setting Priorities 247
Things We Have in Common 250
Trust Me 252
References 255
Index 257
See More
Karen Lawson is a consultant, speaker, author, and founder and president of Lawson Consulting Group, Inc., specializing in organization and management development as well as executive coaching. She is a professor at Arcadia University in the International MBA program. She regularly presents at professional conferences in the United States, Asia, and Europe.
See More