Banding Together for a Cause: Proven Strategies for Revenue and Awareness Generation
ISBN: 978-1-118-09736-6
232 pages
December 2011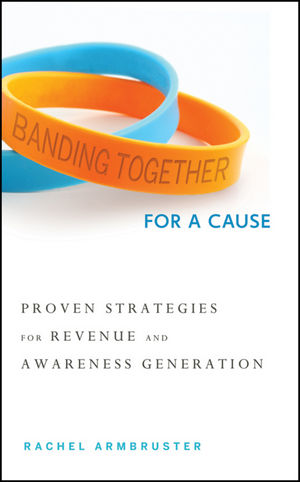 Experience the yellow wristband campaign from the beginning and learn how to position your nonprofit for success
Passionate and inspiring, Banding Together for a Cause will help you identify ways to generate funds for your programs and missions through valuable and meaningful partnerships. In it, author Rachel Armbruster dissects the LIVESTRONG campaign, from timing and brand, to partners and visionary thinking.
Engaging and informative, this reliable guide contains interviews and insights with key executives at both LIVESTRONG and Nike. Along the way, this remarkable book takes you behind-the-scenes of the spectacularly successful Lance Armstrong Foundation campaign. It starts with a simple big idea, the yellow wristband, and examines how you can find similar success within your own nonprofit.
Focuses on this unforgettable fundraising campaign from a nonprofit perspective
Offers the strategy as well as the tactics for nonprofits to feel that success is within reach
Presents a variety of perspectives from the wildly successful LIVESTRONG campaign
Learn from the yellow wristband. Banding Together for a Cause shows you how.
See More
Preface xi
Acknowledgments xix
Chapter 1 The Importance of Time in Moving Your Mission Forward 1
Are Your Policies Flexible? 4
Embracing Growth through Experience 8
Generating Big Ideas 15
Recognizing Your Time as a Valuable Resource 16
Knowing Yourself and Your Constituents 20
Prioritizing Your Time 22
Respecting Other People's Time 25
Chapter 2 Refl ecting the Essence and Spirit of Your Organization through Branding 27
Finding the Perfect Name 28
Refi ning the Brand 31
Being Authentic and the Long-Term Value of Your Brand 33
Keeping It Simple 35
Positioning Your Brand as an Authority 37
Recognizing and Allowing Evolution 39
Building and Maintaining Brand Ownership 42
Knowing Your Audience 44
Marketing without a Budget 47
Chapter 3 The Right Partnerships 51
Making the Sum of All Parts Unique
Relying on Others 53
Being Selective 55
Pinpointing Where Real Engagement Happens 57
Learning from Conflicts 59
Building Strong Connections 60
Being Genuine by Showing Your True Self 62
Engaging and Equipping Champions 64
Welcoming Variety 65
The Science of Selection 66
Leveraging Organizational Structure and Interactions 68
Fostering Evolution 71
Chapter 4 Pinpointing Experts and Utilizing Their Strengths 75
Leveraging Your Partners 76
Gaining Expertise in Merchandise 78
Leveraging Your Leadership 82
Combining the Right People 85
Documenting Your Journey 87
Finding and Giving Feedback, and Knowing What to Filter 89
Chapter 5 The Role of Strategic Planning in Your Mission's Success 93
Making Time to Plan 95
The Planning Process 100
Gearing Up for the Planning Process 101
Determining the Appropriate Planning Process for Your Organization 105
Creating a Roadmap: You Are Here 108
Identifying Key Drivers 112
Tools for Finding Out "Why" 114
No Department (or Colleague) Left Behind 120
Pinpointing the Decision Points 122
Don't Stop (Especially When Things Are Going Well) 124
Chapter 6 Assembling the Perfect Team 131
Board of Directors 134
A Leader of Leaders 136
Recognizing Red Flags 139
Maintaining a Dialogue 143
Chapter 7 Strategies for Integrating and Mobilizing 149
On Integrating: A Few Lessons Learned 151
On Mobilizing: A Few Lessons Learned 161
Chapter 8 Creating Feedback Mechanisms 167
Capturing Information, Assessing Your Work, and Considering the Future
Opportunities for Feedback 168
Using Metrics 173
Knowing Your Priorities 175
Social Media, Loyalty, and Growth 176
Chapter 9 What It Takes to Be a Visionary 181
Sharing Your Story 184
Communicating Your Vision 188
Listening To and Filtering Input 191
Are You a Visionary? 193
Epilogue Living the Dream 197
Exercises and Notes 203
Partnership Self-Test 205
Conversation Starters for Partnerships and Various Interactions 207
Getting Ready for Success! 208
Creating Experiences that Become Meaningful Moments 211
Resources 219
About the Author 223
Index 227
See More
Rachel Armbruster is an executive nonprofit strategist and founder of Armbruster Consulting. She has provided realistic solutions to hundreds of organizations in need of assistance actualizing goals, including program management, development and training, department integration, and corporate partnership program development, to heighten organizations' abilities and productivity. Formerly the director of development at the Lance Armstrong Foundation, Rachel was responsible for growing and diversifying revenue, as well as building the development team and partnership management including the Nike relationship. Rachel speaks at many special training and development conferences each year. She currently lives with her husband and two sons in Austin, Texas, and serves on the Fertility Advisory Committee at LIVESTRONG.
See More