E-book
A Guide to Success for Technical Managers: Supervising in Research, Development, and Engineering
ISBN: 978-1-118-09773-1
318 pages
March 2011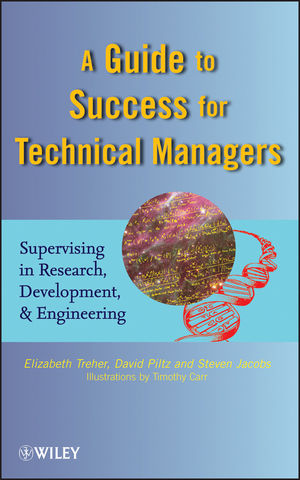 Supervisory Skills for the Technical Manager: A Guide to Success
focuses exclusively on the dynamics of being a technical manager such as a scientist, programmer, or engineer. An R&D environment demands modified management techniques and this book explores how to do so. 
Drawing of years of experience to provide technical managers with various tools and ways to apply them in supervisory situation, this essential title includes exercises, templates and checklists to accelerate their uses and applications on the job.  In addition, case studies are included throughout to thoroughly explain and explore the concepts discussed.
Key topics include handing the transition to supervising others in research and development, the characteristics needed to motivate personnel in a R&D environment as compared to other areas of business are detailed.  The pitfalls and challenges of managing technical personnel, how delegating can build an effective team that can produce superior results, and how to monitor the work of previously independent personnel are also discussed.
See More
PREFACE.
CHAPTER 1 TIPS ON TRANSITIONS FOR TECHNICAL MANAGERS.
Transition Situations.
Manager or Scientist? An Attribute Inventory.
Manager–Scientist Inventory Score Sheet.
Interpretation.
Questions to Ask Yourself.
Transition Situations—Solutions.
References.
Bibliography.
CHAPTER 2 ADVICE ON CREATING A MOTIVATING CLIMATE.
Motivation Situation.
What Motivates You?
Why Is Motivation Important?
Diagnosing Motivation.
Applying Theories about Motivation.
Motivation Situation—Solution.
References.
Bibliography.
CHAPTER 3 HINTS TO INCREASE INTERPERSONAL EFFECTIVENESS.
Interpersonal Effectiveness—My Story.
The Myers–Briggs Type Indicator.
Using Type Effectively.
Applying Characteristics of Type.
Role of Emotions and Trust.
References.
Bibliography.
CHAPTER 4 CLUES ABOUT COMMUNICATION PITFALLS AND STRATEGIES.
Communication Situation.
Communication Patterns and Factors.
The AIDR Technique.
Focusing on Others—A Development Experiment.
Ask Questions.
Challenge Assumptions.
Email.
Email Guide.
Applying the MBTI.
Planning a Personal Communication Strategy.
Communication Situation—Suggestions.
References.
Bibliography.
CHAPTER 5 SECRETS TO MANAGING PERFORMANCE.
Performance Situation.
Setting Expectations and Goals.
Consider Personal Styles—Both Yours and Your Employee's.
Managing Performance.
Performance Problem Solving.
Dealing with Performance Issues.
Managing a Performance Issue.
Distinguishing between Observations and Conclusions.
Performance Conversation Checklist.
Tackling Recurring Problems.
Performance Issue Linked to Technical Problems.
Managing Managers.
Suggested Answers for Distinguishing between Observations and Conclusions.
References.
Bibliography.
CHAPTER 6 INCREASING EFFECTIVENESS THROUGH DELEGATION.
Delegation Situation.
Delegation Choices.
Delegation Benefits.
Delegation Analysis.
Delegation Profile.
Planning for Delegation.
Styles of Delegation.
Relation of U/E to Delegation Style.
Delegation Checklist.
Delegation Using Type.
Temperaments.
Applying New Concepts and Skills.
Delegation Situation—Solution.
Delegation Choices—Suggestions.
References.
Bibliography.
CHAPTER 7 POINTS FOR SUCCEEDING AS A COACH.
Coaching Success.
Building Connections.
How Do Star Performers Network?
Group Social Networks.
Challenging the Status Quo.
Looking Forward.
Suggestions for Development Activities.
Coaching Success—Solution.
References.
Bibliography.
CHAPTER 8 TECHNIQUES TO MANAGE GROUPS, TEAMS, AND MEETINGS.
Facilitation Situation.
Building Collaboration.
Role Clarifi cation Activity.
Goal Clarifi cation Activity.
Group Operating Principles or Norms.
Increasing Meeting Effectiveness.
Individual Autonomy versus Group Interdependence.
Decision Making.
Meeting Management Techniques.
Application: Your Own Meeting.
Facilitation Situation—Suggestions.
References.
Bibliography.
CHAPTER 9 CLUES TO FOSTER CREATIVITY AND INNOVATION.
Sam's Dilemma.
Social and Educational Input on Creativity.
Raising the Bar for Creativity and Innovation.
Definitions: Creativity and Innovation.
Sam's Dilemma—Resolved.
References.
Bibliography.
CHAPTER 10 POINTERS ON MANAGING PROJECTS AND DECISIONS.
Project Support.
So, What Can You Do?
Learn the Basics of Project Management.
Understand and Take Advantage of Different Approaches to Project Planning.
Challenge What Does Not Make Sense.
Consider the Difference between Risk and Uncertainty.
Look for Ways to Improve Communication in Your Project.
Avoid Going for the Big Bang—Prioritize and Proceed Incrementally.
Be Assertive and Work to Kill a Project That Should Die.
Use Consensus Wisely and Make Timely Decisions.
Project Support—Suggestions.
References.
Bibliography.
CHAPTER 11 SUGGESTIONS FOR MANAGING UP.
Managing Up Stories.
Build Your Relationship.
Manage Communication.
Guidelines to Approach Your Boss.
Guidelines for Receiving Feedback.
Managing Up Stories—Resolved.
References.
Bibliography.
CHAPTER 12 LET'S USE IT RIGHT: A SUMMARY OF SUGGESTED APPROACHES.
References.
FIFTY-TWO-WEEK LEADERSHIP JOURNAL.
INDEX.
See More
Elizabeth Treher
, PhD, has held technical leader roles in industry, government, and academia and has more than seventy publications and patents, including two books:
The Pharmaceutical Business
and
Strategic Partnering
. For the last twenty years, as CEO of The Learning Key, she has consulted with technology-based companies to develop curricula to build managerial and project leadership skills.
David Piltz has over fifteen years' experience in training managers and supervisors, both technical and non-technical. David has developed and designed over seventy-five modules on communication, management and supervision, facilitation, and delegation. He has also worked with numerous managers and executives on increasing their supervisory effectiveness.
Steven Jacobs is a consultant to biotech and pharmaceutical companies. He trains and coaches international clinical development teams to avoid and mitigate cultural problems and delays due to communication and conflict, and has also helped companies improve clinical supplies team dynamics, process efficiencies, and overall delivery performance. His senior roles have included those of COO and CEO.
See More