E-book
Windows 7 eLearning Kit For Dummies
ISBN: 978-1-118-09904-9
304 pages
November 2011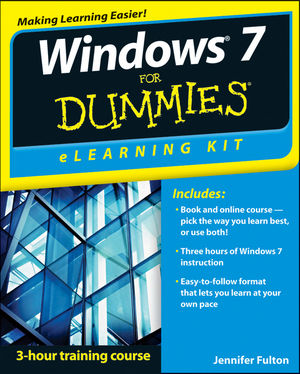 Self-motivators will get moving with Windows 7 using this interactive eLearning course!
Windows 7 is the number one operating system in the world and if you're eager to get started using all it has to offer, this value-packed eLearning kit is essential to your learning process. A complete Microsoft Windows 7 course, it includes a full-color printed book and a Dummies interactive eLearning course on CD. Each lesson opens with an introduction to the content and explains the importance and potential uses for every task described.
Featuring both written and animated step-by-step how-tos, practice labs, helpful videos, numerous examples, and a host of Dummies hints and tips, this package makes your learning process easier. Follow the material sequentially or jump in and out as you wish?it's set up so you can learn at your own pace. Throughout, you will benefit from illustrations, animations, voiceover explanations, and the option of closed captioning if you find you learn better when you can read the instructions.
Helps self-motivated learners get familiar with the most popular operating system in the world: Windows 7
Includes an easy-to-follow, full-color book and an interactive Dummies eLearning Course that corresponds with the book on CD
Allows you to follow the material sequentially or choose separate sections at your own time and pace
Offers chapter summaries, practice exercises, discussions of concepts and essential terms, and much more
Windows 7 eLearning Kit For Dummies is the ultimate guide to a productive and flexible learning experience.
NOTE: CD-ROM/DVD and other supplementary materials are not included as part of the e-book file, but are available for download after purchase.
See More
Introduction 1
About This Kit 1
How This Book Is Organized 2
How This Book Works with the Electronic Lessons 3
Conventions Used in This Book 3
Foolish Assumptions 3
Icons Used in This Kit 4
Class Is In 4
Lesson 1: Getting Started with Windows 7 5
Logging In and Off Windows 7
Types of user accounts 8
Making a good password your key 11
Making Windows more usable 11
Logging on to your account 13
Logging off your computer 14
Logging off automatically 18
Managing Accounts 19
Giving your account a new face 20
Changing your password 21
Giving your account a new name 22
Adding new accounts 23
Setting Up a Good Work Environment 24
Say hello to Windows! 24
Adjusting your monitor(s) so you can see 26
Adjusting the size of stuff onscreen 27
Setting the right date and time 29
Arranging, hiding, and removing icons 31
Making the boring desktop just a little less so 33
Fine-Tuning Your Desktop 34
Turning on ClearType to read more easily 35
Hooking up two monitors 36
Adding and removing gadgets 38
Taking the mouse cursor out of hiding 40
Getting Control of All Those Windows 41
Mastering the mouse or mouse replacement 42
The altered states of windows 43
Controlling a window's size and position 44
Scrolling a window's contents 45
Snapping a window in place 46
Arranging multiple windows 48
Getting all windows out of the way 49
What's the deal with dialog boxes? 50
What you find in application windows 52
Summing Up 52
Know This Tech Talk 53
Lesson 2: Playing with Programs, Folders, and Files 55
Launching Programs 57
Launching a program from the Start menu 58
Pinning and re-arranging programs on the Start menu 58
Launching programs from and pinning programs to the taskbar 60
Using jump lists in the taskbar 62
Switching among open programs 63
Finding a program to start (or a fi le to open) 64
Organizing Your Files 67
Opening Windows Explorer (the file manager) 68
Figuring out what to do with a file manager 69
Finding out what's where 70
Creating a new folder 73
Searching for files 74
Deleting files via the Recycle Bin 76
Managing Libraries 78
Rearranging a library 79
Adding a folder to an existing library 80
Creating a new library 81
Accessing libraries via the Start menu 82
Adding links to more libraries 86
Summing Up 89
Know This Tech Talk 90
Lesson 3: Organizing Your Pictures, Movies, and Music 91
Wrangling Windows Media Player 93
Understanding Digital Media 94
Maintaining your privacy 94
Shopping where you like 96
Deciphering media file formats 96
Knowing your usage rights 98
Setting Up Windows Media Player 98
Watching and Listening to Files in WMP 103
Watching DVDs 104
Playing video files 106
Playing audio CDs 107
Assembling playlists 107
Editing an existing playlist 112
Burning your own mixes 112
Ripping tracks from audio CDs 114
Playing with Your Photos 116
Adding pictures to the Pictures library 116
Browsing your photos 118
Printing a photo 120
Using a Windows Live Account to Share Photos 122
Getting a Windows Live account 123
Establishing your Windows Live profi le 126
Creating and sharing photo albums 130
Installing Windows Live Essentials 132
Sharing Photo Gallery Albums with Windows Live 135
Summing Up 136
Know This Tech Talk 137
Lesson 4: Networking Your PCs 139
Assessing Your Network Connectivity 141
Setting Up a Home Network 144
Securing your file sharing fi rst 144
Introducing your router 148
Planning for better wireless accessibility 149
Managing your router from any PC 152
Comprehending how routers map addresses 154
Setting up your router 157
Managing Your Windows Connections 163
Setting the network connection profile 163
Manually establishing a Wi-Fi connection 165
Manually setting Windows' IP address 169
Verifying the connection status 173
Restarting the network from Windows 174
Building a Homegroup 175
Getting the homegroup started 177
Sharing files and printers with a homegroup 179
Summing Up 184
Know This Tech Talk 185
Lesson 5: Playing on the Internet 187
Navigating the Web with Internet Explorer 9 189
Making sense of the address bar 190
Back and Forward 193
Setting your starting point 195
Managing your browsing history 195
Marking, recalling, and managing Favorites 198
Working with multiple tabs 201
E-Mailing Friends, Relatives, and Everyone on the Planet 203
Adding one or more accounts 204
Reading messages 206
Replying to and sending messages 208
Sending and receiving messages with attachments 210
Wading through junk (and not junk) e-mail 212
Sort messages into folders 214
Summing Up 215
Know This Tech Talk 215
Lesson 6: Staying Safe and Secure 217
What Is User Account Control? 219
How UAC works and why 219
Setting up an administrator account 222
Taking Care of Everyday Maintenance 224
Getting familiar with Task Manager 225
Removing a wayward application or process from memory 227
Seizing control of Windows Update 229
Applying updates judiciously 232
Uninstalling faulty updates 236
Backing up data 237
Setting Up Security and IE9's Protections 241
Using Windows Firewall 242
Installing Security Essentials 245
Using a virus scan to quarantine and remove a suspect file 247
Keep out what you don't want in 249
Managing How Your Kids Use the PC 252
Setting strict time limits 253
Restricting the use of specifi c programs 254
Restricting games your kids play 256
Setting up Family Safety 257
Blocking and allowing sites 261
Examining an activity report 264
When Disaster Strikes 265
Running your PC in Safe Mode 265
Repairing Windows 7 Startup 268
Summing Up 271
Know This Tech Talk 272
Appendix: About the CD 275
System Requirements 275
Launch Instructions 275
Operation 276
Troubleshooting 277
Index 279
See More
Jennifer Fulton is an experienced computer consultant and trainer with more than 20 years in the business. In addition to Windows, her areas of expertise include Microsoft Office, Paint Shop Pro, and Photoshop Elements. She is also the bestselling author of more than 100 computer books.
See More