Natural Products in Chemical Biology
ISBN: 978-1-118-10117-9
436 pages
July 2012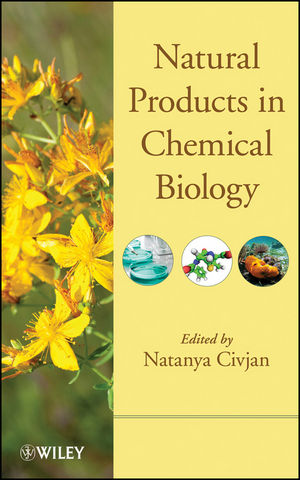 Based on the award winning Wiley Encyclopedia of Chemical Biology, this book provides a general overview of the unique features of the small molecules referred to as "natural products", explores how this traditionally organic chemistry-based field was transformed by insights from genetics and biochemistry, and highlights some promising future directions. The book begins by introducing natural products from different origins, moves on to presenting and discussing biosynthesis of various classes of natural products, and then looks at natural products as models and the possibilities of using them in medicine.
See More
Preface vii
Contributors ix
PART I CHEMICAL DIVERSITY OF NATURAL PRODUCTS 1
1 Plant Natural Products 3
A. Leslie Gunatilaka
2 Marine Natural Products 31
Nobuhiro Fusetani
3 Microbial Natural Products 65
Sergio Sanchez, Silvia Guzma´n-Trampe, Mariana A´valos, Beatriz Ruiz, Romina Rodr´ęguez-Sanoja, and Manuel Jim´enez-Estrada
PART II BIOSYNTHESIS OF NATURAL PRODUCTS 109
4 Nonribosomal Peptides 111
Georg Schoenafinger and Mohamed A. Marahiel
5 Plant Terpenoids 127
Christopher I. Keeling and J¨org Bohlmann
6 Polyketides in Fungi 143
Thomas J. Simpson and Russell J. Cox
7 Modular Polyketide Synthases 163
Tonia J. Buchholz, Jeffrey D. Kittendorf, and David H. Sherman
8 Polyketide Polyethers 189
Alison M. Hill
9 Alkaloids 209
Sarah E. O'Connor
10 Cofactors 239
Ilka Haase, Markus Fischer, Adelbert Bacher, Wolfgang Eisenreich, and Felix Rohdich
11 Antibiotics 269
Sergey B. Zotchev
PART III NATURAL PRODUCTS IN MEDICINE 287
12 Pharmaceuticals: Natural Products and Natural Product Models 289
Sheo B. Singh
13 Natural Products as Anticancer Agents 325
David G. I. Kingston and David J. Newman
14 Plant-Derived Natural Products Research in Drug Discovery 351
Kuo-Hsiung Lee, Hideji Itokawa, Toshiyuki Akiyama, and Susan L. Morris-Natschke
Index 389
See More
NATANYA CIVJAN, PhD, is a freelance editor with a doctorate in biochemistry. Formerly with John Wiley & Sons, she has developed and edited the Wiley Encyclopedia of Chemical Biology and was part of the team responsible for the Wiley Interdisciplinary Reviews, which won top prizes in publishing from the American Publishers Awards for Professional and Scholarly Excellence.
See More