Chemical Biology: Approaches to Drug Discovery and Development to Targeting Disease
ISBN: 978-1-118-10118-6
524 pages
October 2012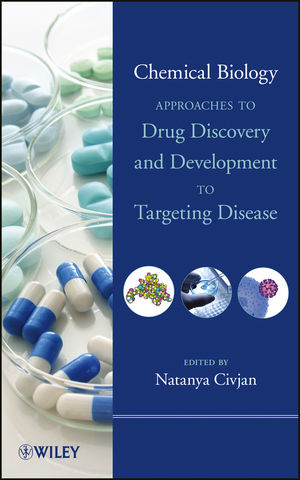 An authoritative look at the application of chemical biology in drug discovery and development
Based on the award-winning Wiley Encyclopedia of Chemical Biology published in 2008, this book explores the role of chemical biology in drug discovery and development. The first part of the book reviews key principles and techniques used in the design and evaluation of drug candidates. The second part elucidates biological mechanisms of certain diseases, illuminating approaches to investigate and target these diseases.
Comprising carefully selected reprints from the Encyclopedia as well as new contributions from leading scholars in the field, this book provides researchers in academia and industry with important information to aid in the development of novel agents to treat disease. Self-contained articles cover a variety of essential topics, including:
The design, development, and optimization of drug candidates
The pharmacokinetics and properties of drugs
Drug transport and delivery
Natural products and natural product models as pharmaceuticals
Biological mechanisms underlying health and disease
Treatment strategies for a range of diseases, from HIV to schizophrenia
Chemical Biology is a top-notch guide and reference for anyone working in the areas of drug discovery and development, including researchers in chemical biology and other fields such as biochemistry, medicine, and pharmaceutical sciences.
See More
Contributors xi
PART I DRUG DISCOVERY AND DEVELOPMENT 1
1 The Role of Chemical Biology in Drug Discovery 3
Andrew J. Pope
2 Computational Approaches to Drug Discovery and Development 23
Honglin Li, Mingyue Zheng, Xiaomin Luo, Weiliang Zhu, and Hualiang Jiang
3 Design and Selection of Small Molecule Inhibitors 41
Jianwei Che, Yi Liu, and Nathanael S. Gray
4 Lead Optimization in Drug Discovery 65
Craig W. Lindsley, David Weaver, Thomas M. Bridges, and J. Phillip Kennedy
5 Pharmacokinetics of Drug Candidates 83
Ronald E. White
6 ADME Properties of Drugs 101
Li Di and Edward H. Kerns
7 Drug Transport in Living Systems 115
Yael Elbaz and Shimon Schuldiner
8 Blood-Brain Barrier: Considerations in Drug Development and Delivery 133
David S. Miller and Brian T. Hawkins
9 Pharmacokinetic Considerations: Methods and Systems of Controlled Drug Delivery 147
Zhong Zuo and Vincent H. L. Lee
10 Pharmaceuticals: Natural Products and Natural Product Models 165
Sheo B. Singh
PART II CHEMICAL BIOLOGY TO UNDERSTAND AND TARGET DISEASE 203
11 The Role of Chemical Biology in Understanding and Treating
Disease—Are Small Molecule "Correctors" the Way of the Future? 205
David Selwood
12 Anxiety Disorders 215
Miklos Toth
13 Chronic Obstructive Pulmonary Disease (COPD) 245
Peter J. Barnes
14 Depression 267
Glen B. Baker and Nicholas D. Mitchell
15 Osteoarthritis 293
Marjolaine Gosset, Jeremie Sellam, Claire Jacques, nd Francis Berenbaum
16 Human Immunodeficiency Virus (HIV) 331
Joseph P. Vacca
17 Allergy and Asthma 341
Garry M. Walsh
18 Schizophrenia 357
Ferenc Martenyi
19 Protein Misfolding and Disease 379
Johanna C. Scheinost, Grant E. Boldt, and Paul Wentworth
20 Protein Trafficking Diseases 401
Heidi M. Sampson and David Y. Thomas
21 Metabolic Diseases 419
Cynthia M. Arbeeny
22 Mitochondrial Medicine 445
Richard J. T. Rodenburg and Jan A. M. Smeitink
23 Lysosomal Disorders 461
Doug A. Brooks and Maria Fuller
Index 483
See More
NATANYA CIVJAN, PhD, is a freelance editor with a doctorate in biochemistry. Formerly with John Wiley & Sons, she developed and edited the Wiley Encyclopedia of Chemical Biology and was part of the team responsible for the Wiley Interdisciplinary Reviews, which won top prizes in publishing from the American Publishers Awards for Professional and Scholarly Excellence.
See More