Textbook
Baldrige User's Guide: Organization Diagnosis, Design, and Transformation, 5th Edition (Updated for 2011 and 2011)
ISBN: 978-1-118-10148-3
Paperback
644 pages
May 2011, ©2011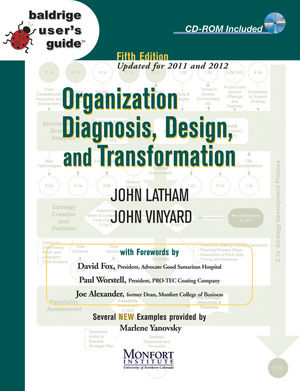 This title is out-of-print and not currently available for purchase from this site.
"I wholeheartedly endorse "The Baldrige User's Guide" written extremely well by John Latham and John Vinyard. They have taken a systems approach and have provided a visual version of the Baldrige Criteria and made it simple enough for even beginners to understand. We have used this book as a guide in driving Business Excellence in our organization. I recommend this book to every manager who is committed to organizational excellence. A must on every desktop."
G. Jagannathan, Executive Vice President, Global Head of Business Excellence, and Leadership and Governance Process Design
Tata Consultancy Services Limited
"Infosys has used the Baldrige Criteria as a business model and improvement approach for over 10 years. The Baldrige User's Guide is helpful to understand this model, whether you are just starting out or are a seasoned user. This book provides explanations, methods, and real-life examples to help you make improvements that will move your organization towards world class performance."
Satyendra Kumar, Senior Vice President
Infosys Technologies Ltd.
"The Malcolm Baldrige National Quality Award (MBNQA) provides us with the most rigorous and holistic criteria for performance excellence. We have used the Baldrige Users Guide in concert with MBNQA because it provides excellent examples how organizations translate the criteria and practical tools to identify performance gaps that help guide our journey of continuous improvement."
John C. Timmerman, former Corporate Vice President, Operations
The Ritz-Carlton Hotel Company, L.L.C., 1992 & 1999 Baldrige Recipient
"The Baldrige Users Guide is a great resource for any organization that is using the Baldrige Criteria as their business model. We used it at Poudre Valley Health System during our journey, and are proud that examples of several of our approaches are used in this edition."
Priscilla Nuwash, MBA, Director, Process Improvement
Poudre Valley Health System, 2008 Baldrige Recipient
"The Baldrige User's Guide has enabled us to adopt a critical systems approach. This disciplined framework helped us better understand the criteria linkages, identify gaps, and prioritize opportunities for improvement fostering our organizational excellence journey."
Eric Franks, Manager, Technology & Quality Assurance
PRO-TEC Coating Company, 2007 Baldrige Recipient
"This Baldrige user's guide gives a visual and plain English version of the Baldrige Criteria for Excellence. It is enormously helpful in understanding what the Baldrige Examiners are looking for and in giving examples of how other organizations have answered these requirements."
Nancy G. Pratt, RN, MS, Senior Vice President of Clinical Effectiveness
Sharp HealthCare, 2007 Baldrige Recipient
"For us at SSM Health Care, Baldrige has provided three essential things: a focus, a framework, and discipline. We now focus on the things that matter most to our patients. We look at our organization through the broad framework of Baldrige. And we have the discipline to stop doing things just because we've always done them. This book will be an enormous help to organizations that are truly interested in improving the work they do. It is an outstanding resource for any organization that is pursuing performance excellence."
Sister Mary Jean Ryan, FSM, President/CEO
SSM Health Care, 2002 Baldrige Recipient
"Quality New Mexico endorses the Baldrige User's Guide. Through their book John Vinyard and John Latham have made the Baldrige criteria understandable to the novice. Quality New Mexico has used it as a reference in its development of workshops and materials."
Julia Gabaldon, President/CEO
Quality New Mexico