E-book
Linguistics For Dummies
ISBN: 978-1-118-10159-9
384 pages
February 2012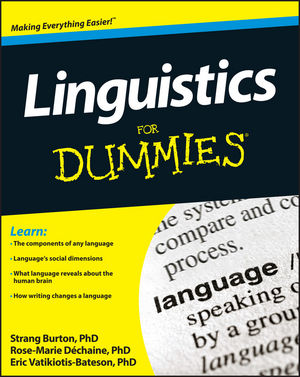 The fascinating, fun, and friendly way to understand the science behind human language
Linguistics is the scientific study of human language. Linguistics students study how languages are constructed, how they function, how they affect society, and how humans learn language. From understanding other languages to teaching computers to communicate, linguistics plays a vital role in society. Linguistics For Dummies tracks to a typical college-level introductory linguistics course and arms you with the confidence, knowledge, and know-how to score your highest.
Understand the science behind human language
Grasp how language is constructed
Score your highest in college-level linguistics
If you're enrolled in an introductory linguistics course or simply have a love of human language, Linguistics For Dummies is your one-stop resource for unlocking the science of the spoken word.
See More
Introduction 1
Part I: Looking at Language through the Lens of Linguistics 7
Chapter 1: Knowing a Language Versus Knowing What Language Is 9
Chapter 2: Communicating with Language: The Design Features 21
Part II: The Building Blocks of Language 33
Chapter 3: Building Sounds: Phonetics 35
Chapter 4: Putting Sounds Together: Phonology 57
Chapter 5: Building Words: Morphology 77
Chapter 6: Creating Sentences: Syntax 95
Chapter 7: Making Sense of Meaning: Semantics 117
Chapter 8: Using Language in Conversation: Pragmatics 133
Part III: The Social Life of Language 151
Chapter 9: Living with Language Variation: Sociolinguistics 153
Chapter 10: Finding Family Relations: Historical Linguistics 171
Chapter 11: Cataloguing Differences: Linguistic Typology 189
Chapter 12: Beginning and Ending: Language Birth and Language Death 205
Part IV: Your Brain on Language: Learning and Processing Language 221
Chapter 13: Learning Language 223
Chapter 14: Perceiving Language 245
Chapter 15: Producing Language 259
Chapter 16: Locating Language in the Brain: Neurolinguistics 277
Part V: Getting from Speaking to Writing 293
Chapter 17: Writing Down Language 295
Chapter 18: Writing Changes You 307
Part VI: The Part of Tens 321
Chapter 19: Ten Myths about Language Busted by Linguistics 323
Chapter 20: Ten Unsolved Problems in Linguistics 331
Chapter 21: Top 10 Jobs for Linguists 337
Index 343
See More
Strang Burton is a linguist with the Stolo nation and has taught linguistics at a number of universities. Rose-Marie Déchaine and Eric Vatikiotis-Bateson are professors of linguistics at the University of British Columbia.
See More