E-book
Doris Inc.: A Business Approach to Caring for Your Elderly Parents
ISBN: 978-1-118-10164-3
256 pages
January 2012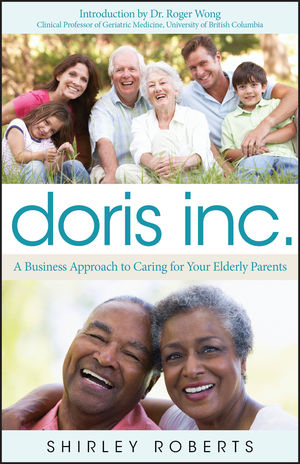 Keep your life in balance while maximizing the quality of life of an elderly loved one
When Shirley Roberts' father passed away, her life and career were put on hold as she focused on the demands of caring for her ailing mother, Doris. Drawing on their extensive business experience, Shirley and her brother devised a solution that they called Doris Inc. They applied management practices to caregiving to ensure that their mother received top-notch care, and they could still have lives of their own.
In Doris Inc. Shirley Roberts shares the strategies that worked so well for her family including:
Concrete advice about making tough decisions

Help navigating the health-care maze

Financial pitfalls and ways to avoid them

How to get help in a crisis

Tips on planning for your own golden years . . .
Praise for Doris Inc.
"I was thrust into a caregiving role for my parents without much support or guidance. It was a grueling and life-altering experience. I know just how significant a contribution Doris Inc. will make to the lives of caregivers and their loved ones."— Christine Lasky, Vice President, Strategic Initiatives, The Princess Margaret Hospital Foundation, Toronto
"Doris Inc. has empowering insights that will help family caregivers lower their fear and stress and approach their role in a prepared, informed and proactive way."— Kathi Colwell, RN, Program Manager, Physical Medicine and Rehabilitation, Providence Care Hospital, Kingston
See More
Acknowledgments vii
Introduction 1
Chapter 1: My Heart-Wrenching Caregiving Dilemma 3
Chapter 2: Creating Doris Inc. to Take Better Care of Mom and Me   19
Chapter 3: Finding Balance in My Life  39
Chapter 4: Planning for the Stages of Decline  59
Chapter 5: Financial Planning for Senior Decline  77
Chapter 6: Elder Proofi ng to Reduce Preventable Crises  111
Chapter 7: Navigating the Health-Care Maze and Advocating for Mom  127
Chapter 8: Choosing the Right Type of Living Arrangements 149
Chapter 9: Finding the Best Retirement Residence with Mom 173
Chapter 10: Finding a Good Nursing Home for Mom 185
Chapter 11: Dealing with Dementia  205
Chapter 12: The Last Life of Doris 233
Appendix: Caregivers' Palliative-Care Guide  249
Index 253
See More
Shirley Roberts is a graduate of the Ivey School of Business. She ran her own consulting firm, Market-Driven Solutions Inc., before becoming a published author and a consumer trend-spotter, whose research and advice were sought by media and large corporations. Shirley was a board member of Parkinson Society Canada from 2006-2009 and was the primary caregiver of her mother for seven years.
See More