E-book
Lead-Free Solder Process Development
ISBN: 978-1-118-10274-9
E-book
284 pages
March 2011, Wiley-IEEE Press
US $89.99

Purchase This E-book
This price is valid for United States. Change location to view local pricing and availability.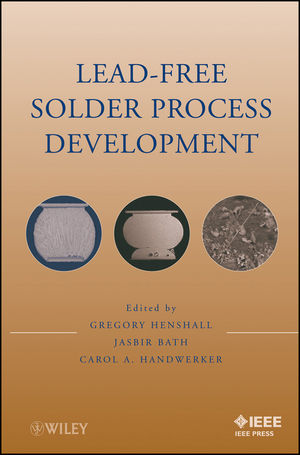 Adobe e-books are read using Adobe Digital Editions. Install Adobe Digital Editions on your PC in order to read or transfer your e-book.
Technical Reviewers.
Preface.
Introduction.
Contributors.
1. Regulatory and Voluntary Drivers for Environmental Improvement: Hazardous Substances, Lifecycle Design and End of Life (John Hawley).
1.1 Introduction.
1.2 Substances of Environmental Concern.
1.3 Design for Environment/Energy Efficiency.
1.4 Recycling and Take-back.
1.5 Summary.
1.6 References.
2. Lead-free Surface Mount Technology (Jasbir Bath, Jennifer Nguyen and Sundar Sethuraman).
2.1 Introduction.
2.2 No-clean and Water-soluble Lead-free Pastes.
2.3 Solder Paste Handling.
2.4 Board and Stencil Design.
2.5 Screen Printing and Printability of Lead-free Solder Pastes.
2.6 Paste inspection.
2.7 Component Placement (Paste Tackiness).
2.8 Reflow Soldering and the Reflow Profile.
2.9 Effect of Nitrogen versus Air Atmosphere during Lead-free Reflow.
2.10 Head-in-Pillow Component Soldering Defect.
2.11 Solder Joint Visual Inspection.
2.12 AOI (Automated Optical Inspection).
2.13 X-ray Inspection.
2.14 ICT/Functional Testing.
2.15 Conclusions.
2.16 Future Work.
2.17 Acknowledgements.
2.18 References.
3. Lead-free Wave Soldering (Dennis Barbini and Jasbir Bath).
3.0 Introduction.
3.1 Wave soldering process boundaries.
3.2 Soldering temperatures on the chip and main soldering waves.
3.3 Alloys for Lead-free Wave Soldering.
3.4 The function of nitrogen in wave soldering.
3.5 The effect of PCB Design on wave solder joint formation.
3.6 Standards related to wave soldering.
3.7 Conclusions.
3.8 Future work.
3.9 Acknowledgements.
3.10 References.
4. Lead-free Rework (Alan Donaldson).
4.1 Introduction.
4.2 Surface Mount Technology (SMT) Hand Soldering/Touch-up.
4.3 BGA/CSP Rework.
4.4 BGA Socket Rework.
4.5 X-ray.
4.6 Through-hole Hand Soldering Rework.
4.7 Through-hole Mini-pot/Solder Fountain Rework.
4.8 Best Practices and Rework Equipment Calibrations.
4.9 Conclusions.
4.10 Future Work.
4.11 References.
5 Lead-Free Alloys for BGA/CSP Components (Gregory A. Henshall).
5.1 Introduction.
5.2 Overview of New Lead-Free Alloys.
5.3 Benefits of New Alloys for BGAs and CSPs.
5.4 Technical Concerns .
5.5 Management of New Alloys.
5.6 Future Work.
5.7 Summary and Conclusions.
5.8 Acknowledgements.
5.9 References.
6 Growth Mechanisms and Mitigation Strategies of Tin Whisker Growth (Peng Su).
6.1 Introduction.
6.2 Role of stress in whisker growth.
6.3 Understanding standard acceleration tests.
6.4 Plating process optimization and other mitigation strategies.
6.5 Whisker growth on board-mounted components.
6.6 Summary.
6.7 References.
7. Testability of Lead-Free Printed Circuit Assemblies (Rosa D.Reinosa and Aileen M. Allen).
7.1 Introduction.
7.2 Contact Repeatability of Lead-Free Boards.
7.3 Probe Wear and Contamination.
7.4 Board Flexure.
7.5 Conclusions.
7.6 Acknowledgments.
7.7 References.
8. Board-Level Solder Joint Reliability of High Performance Computers under Mechanical Loading (Keith Newman).
8.1 Introduction.
8.2 Establishing PWB Strain Limits for Manufacturing.
8.3. SMT Component Fracture Strength Characterization.
8.4 PWB Fracture Strength Characterization.
8.5 PWB Strain Characterization.
8.6. Solder Joint Fracture Prediction – Modeling.
8.7. Fracture Strength Optimization.
8.8 Conclusions.
8.9 Acknowledgments.
8.10 References.
9. Lead-Free Reliability in Aerospace/Military Environments (Thomas A. Woodrow and Jasbir Bath).
9.1 Introduction.
9.2 Aerospace/Military Consortia.
9.3 Lead-Free Control Plans for Aerospace/Military Electronics.
9.4 Aerospace/Military Lead-Free Reliability Concerns.
9.5 Summary and Conclusions.
9.6 References.
10. Lead-Free Reliability in Automotive Environments (Richard D. Parke).
10.1 Introduction to Electronics in Automotive Environments.
10.2 Performance Risks and Issues.
10.3 Legislation Driving Lead-Free Automotive Electronics.
10.4 Reliability Requirements for Automotive Environments.
10.5 Failure Modes of Lead-free Joints.
10.6 Impact to Lead-free Component Procurement and Management.
10.7 Change versus Risks.
10.8 Summary and Conclusions.
References.
Index.