Exchange-Traded Funds For Dummies, 2nd Edition
ISBN: 978-1-118-10424-8
384 pages
December 2011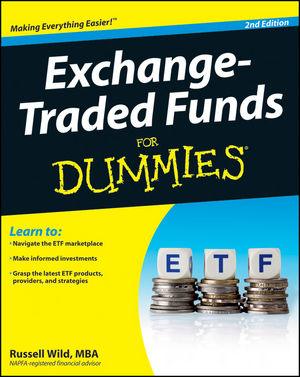 The fast and easy way to get a handle on ETFs
Exchange-traded funds (ETFs) have a strong foothold in the marketplace, because they are less volatile than individual stocks, cheaper than most mutual funds, and subject to minimal taxation. But how do you use thisfinancial product to diversify your investments in today's fast-growing and ever-changing market?
Exchange-Traded Funds For Dummies shows you in plain English how to weigh your options and pick the exchange-traded fund that's right for you. It tells you everything you need to know about building a lean, mean portfolio and optimizing your profits. Plus, this updated edition covers all of the newest ETF products, providers, and strategies, as well as Commodity ETFs, Style ETFs, Country ETFs, and Inverse ETFs.
Create the stock (equity) side of your portfolio
Handle risk control, diversification, and modern portfolio theory
Manage small, large, sector, and international investments
Add bonds, REITs, and other ETFs
Invest smartly in precious metals
Work non-ETFs into your investment mix
Revamp your portfolio to fit life changes
Fund your retirement years
Plus, you'll get answers to commonly asked questions about ETFs and advice on how to avoid mistakes that many investors—even the experienced ones—make. It provides forecasts of the future for ETFs and personal spending and also provides a complete list of ETFs and Web resources to assist your investment. With Exchange-Traded Funds For Dummies, you'll soon discover what makes ETFs the hottest investment on the market.
See More
Introduction 1
Part I: The ABCs of ETFs 9
Chapter 1: The (Sort of Still) New Kid on the Block 11
Chapter 2: What the Heck Is an ETF, Anyway? 23
Chapter 3: Getting to Know the Players 45
Part II: Building the Stock (Equity) Side of Your Portfolio 69
Chapter 4: Risk Control, Diversification, and Some Other Things You Need to Know 71
Chapter 5: Large Growth: Muscular Money Makers 91
Chapter 6: Large Value: Counterintuitive Cash Cows 103
Chapter 7: Small Growth: Sweet Sounding Start-ups 111
Chapter 8: Small Value: Diminutive Dazzlers 121
Chapter 9: Going Global: ETFs without Borders 127
Chapter 10: Sector Investing: ETFs According to Industry 147
Chapter 11: Specialized Stock ETFs 165
Part III: Adding Bonds, REITs, and Other ETFs to Your Portfolio 183
Chapter 12: For Your Interest: The World of Bond ETFs 185
Chapter 13: Real Estate Investment Trusts (REITs): Becoming a Virtual Landlord 211
Chapter 14: All That Glitters: Gold, Silver, and Other Commodities 219
Chapter 15: Working Non-ETFs and Active ETFs into Your Investment Mix 235
Part IV: Putting It All Together 249
Chapter 16: Sample ETF Portfolio Menus 251
Chapter 17: Exercising Patience: The Key to Any Investment Success 271
Chapter 18: Exceptions to the Rule (Ain't There Always)  285
Chapter 19: Using ETFs to Fund Your Golden Years 303
Part V: The Part of Tens 321
Chapter 20: Ten FAQs about ETFs 323
Chapter 21: Ten Mistakes Most Investors (Even Smart Ones) Make 329
Chapter 22: Ten Forecasts about the Future of ETFs and Personal Investing 333
Part VI: Appendixes 339
Appendix A: Great Web Resources to Help You Invest in ETFs 341
Appendix B: Glossary 347
Index 353
See More
Russell Wild, MBA, is a NAPFA-certified financial advisor and principal of Global Portfolios, an investment advisory firm. His writing has appeared in many national magazines and numerous professional journals. He is also the author of Bond Investing For Dummies and Index Investing For Dummies.
See More