Ecoliterate: How Educators Are Cultivating Emotional, Social, and Ecological Intelligence
ISBN: 978-1-118-10457-6
Paperback
192 pages
August 2012, Jossey-Bass
US $24.95

Add to Cart
This price is valid for United States. Change location to view local pricing and availability.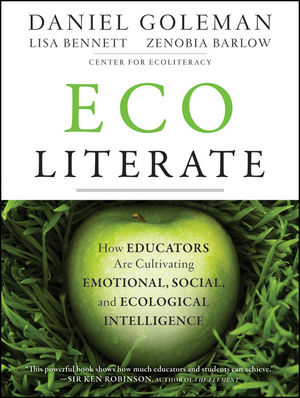 Other Available Formats:
E-book
September 26, 2012
Ecoliterate: How Educators Are Cultivating Emotional, Social, and Ecological Intelligence
Connect with Wiley Publicity
With a growing scarcity of fresh drinking water, the decline of healthy soil for growing food, and global climate change, the world's population faces unprecedented ecological challenges. According to Lisa Bennett, Zenobia Barlow, and Daniel Goleman, authors of ECOLITERATE: How Educators Are Cultivating Emotional, Social, and Ecological Intelligence (Jossey-Bass, August 2012), an important key for meeting these challenges is helping young people develop a strong ecological sensibility. In ECOLITERATE, they show how educators are awakening knowledge and empathy, and empowering youth to make a positive difference in the world.
Goleman is the bestselling author of Emotional Intelligence and Ecological Intelligence. Bennett is the communications director and Barlow the executive director at the Center for Ecoliteracy – which for nearly two decades has supported education for sustainable living through its work advancing school gardens, healthy school meals, and integrating ecological principles into school curricula.
In ECOLITERATE, they present examples of educators, students, and community leaders engaged in sustainability efforts in communities as diverse as the mountains of Appalachia, a small village in the Arctic, the deserts of New Mexico, the coast of New Orleans, the streets of Oakland, California, and the hills of Spartanburg, South Carolina. Through these examples, the authors lay out five key practices of emotionally and socially engaged ecoliteracy, including:
•Developing Empathy for All Forms of Life – "The ability to feel empathy toward all forms of life often stems from a deep understanding that humans are part of a broader community that includes all living beings," explain the authors. By keeping live plants and animals in the classroom; taking field trips to nature areas, zoos, botanical gardens, and animal rescue centers; and involving students in field projects like habitat restoration, children's natural empathy for other beings is cultivated and sustained.
•Embracing Sustainability as a Community Practice – "By learning the wondrous ways that plants, animals, and other living things are interdependent, students are inspired to consider the role of interconnectedness within their communities and see the value in thinking and acting cooperatively," the authors write. For example, they discuss how high school students in New Orleans are working to transform their school system so that it models sustainable living – offering more locally sourced food in the cafeteria; reducing waste and committing to recycling; and eliminating the use of incandescent light bulbs.
•Making the Invisible Visible – Unlike a homesteading family that would quickly experience flooding and soil erosion following the total clearing of trees, most people do not immediately feel the myriad impact of their actions. Among other examples, ECOLITERATE describes how a group of Spartanburg, South Carolina students set out on a "Power Trip" to see firsthand the devastation caused by mountaintop coal mining, and then shared what they learned after returning home.
•Anticipating Unintended Consequences – "Many of the environmental crises that we face today are the unintended consequences of human behavior," the authors declare.
They point to suburban sprawl, pollution, international conflicts, and climate change based on our dependence on fossil fuels. In ECOLITERATE, they detail how industrialized agriculture has brought about a host of new problems – from soil and groundwater contamination to the loss of biodiversity to air pollution – and describe how a group of young adults in one of the poorest parts of New Mexico is seeking to meet these challenges by transforming the way people in their community nourish themselves.
•Understanding How Nature Sustains Life – Emotionally and socially engaged ecoliterate people live in ways that reflect an understanding of how nature sustains life, the authors assert. In ECOLITERATE, for instance, they discuss the Gwich'in people of northern Alaska who, for thousands of years, have observed a way of life rooted in a deep appreciation of the interconnectedness of life and nature. Today, the Gwich'in have made protecting the Arctic National Wildlife Refuge from oil drilling their community's first priority.
The survival of the earth demands that we find innovative solutions to ecological crises and make major changes in the way we live. Through inspiring stories, practical guidance, and an exciting new model of education, ECOLITERATE aims to foster the kind of learning that meets the critical needs of the twenty-first century – and offers an antidote to the fear, anger, and hopelessness that can result from inaction.