Office 365 in Business
ISBN: 978-1-118-10504-7
312 pages
July 2011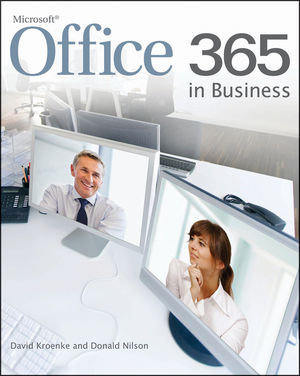 Discover the Office option every business can afford
Now your business can benefit from sophisticated communication and collaboration services fully integrated with Microsoft Office products. Once limited to companies large enough to afford data centers and the expensive IT staff to support them, these services can now be yours, and this book shows you how. Each chapter begins with a common business problem you've most likely faced, followed by the Office 365 solution. You'll learn to share documents, secure your communications, manage and share calendars and tasks, conduct video meetings, and give your business the edge it deserves.
Teaches you how your business, large or small, can benefit from Office 365
Explains how to take advantage of Exchange Online, Lync Online, and SharePoint Online
Shows you what makes Office 365 so affordable and why it doesn't require an IT staff
Highlights what constitutes successful collaboration and how to facilitate it
Explores specific Office 365 solutions for familiar business issues
Addresses how to conduct video conferences, schedule meetings, set up discussions, and make remote PowerPoint presentations with Office 365
With this book, you'll discover how Office 365 can benefit your business every day of the year!
See More
Introduction.
Part I Introduction to Office 365 in Business.
Chapter 1 Why Consider Office 365?
Chapter 2 What is Office 365?
Part II Sharing Documents.
Chapter 3 Sharing Documents via Lync.
Chapter 4 Sharing Documents via SharePoint.
Chapter 5 Sharing (Only) What You Want.
Part III Coordinating Work.
Chapter 6 Coordinating Work with Tasks Lists.
Chapter 7 Managing Calendars and Tasks in Outlook.
Chapter 8 Keeping Track of Things with SharePoint.
Chapter 9 Controlling Workflow.
Part IV Sharing Knowledge.
Chapter 10 R emote Whiteboard Sessions with Lync.
Chapter 11 Sharing Team Knowledge.
Chapter 12 Remote Presentations Using Lync.
Glossary.
Index.
See More
David Kroenke
is the author of many books on the use of information technology in business. Known for his easy-to-read, understandable, and humorous text, he's worked in the industry and academics and has twice been selected as Educator of the Year in the United States.
Donald Nilson is a Certified Public Accountant and worked as a program manager for Microsoft for 10 years. Don currently works for a small company where he is planning the implementation of Office 365 to address the need for online collaboration among employees. He has been a pioneer in the accounting profession and in computer information systems for 40 years.
See More