The Deliberative Democracy Handbook: Strategies for Effective Civic Engagement in the Twenty-First Century
ISBN: 978-1-118-10510-8
336 pages
July 2005, Jossey-Bass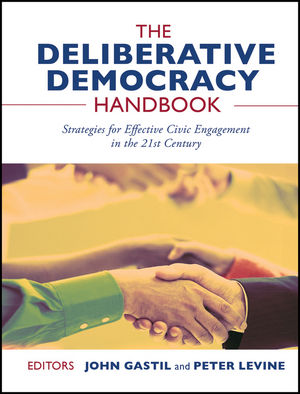 The Deliberative Democracy Handbook is a terrific resource for democratic practitioners and theorists alike. It combines rich case material from many cities and types of institutional settings with careful reflection on core principles. It generates hope for a renewed democracy, tempered with critical scholarship and political realism. Most important, this handbook opens a spacious window on the innovativeness of citizens in the U.S. (and around the world) and shows how the varied practices of deliberative democracy are part of a larger civic renewal movement.
See More
Tables and Figures xi
Preface xiii
John Gastil, Peter Levine
About the Editors xvii
About the Contributors xix
PART ONE: BACKGROUND 1
1 A Nation That (Sometimes) Likes to Talk: A Brief History of Public Deliberation in the United States 3
John Gastil, William M. Keith
2 What Can We Learn from the Practice of Deliberative Democracy? 20
Mark Button, David Michael Ryfe
PART TWO: DELIBERATION AND PUBLIC JUDGMENT 35
3 National Issues Forums: A Network of Communities Promoting Public Deliberation 37
Keith Melville, Taylor L. Willingham, John R. Dedrick
4 Electoral Deliberation and Public Journalism 59
Michelle Charles, Harris Sokoloff, Chris Satullo
5 Deliberative Polling*: From Experiment to Community Resource 68
James Fishkin, Cynthia Farrar
6 Consensus Conferences and Planning Cells: Lay Citizen Deliberations: 80
Carolyn M. Hendriks
7 Citizens Juries: Creating a Trustworthy Voice of the People 111
Ned Crosby, Doug Nethercut
8 Adapting and Combining Deliberative Designs: Juries, Polls, and Forums 120
Lyn Carson, Janette Hartz-Karp
PART THREE: DELIBERATIVE GOVERNANCE 139
9 Bringing the Public and the Government Together Through On-Line Dialogues 141
Patricia A. Bonner, Robert Carlitz, Rosemary Gunn, Laurie E. Maak, Charles A. Ratliff
10 A Town Meeting for the Twenty-First Century 154
Carolyn J. Lukensmeyer, Joe Goldman, Steven Brigham
11 Collaborative Learning and the Public's Stewardship of Its Forests 164
Antony S. Cheng, Janet D. Fiero
12 Participation and Public Policies in Brazil 174
Vera Schattan P. Coelho, Barbara Pozzoni, Mariana Cifuentes Montoya
13 Deliberative City Planning on the Philadelphia Waterfront 185
Harris Sokoloff, Harris M. Steinberg, Steven N. Pyser
PART FOUR: COMMUNITIES AND DELIBERATIVE CULTURE 197
14 Study Circles: Local Deliberation as the Cornerstone of Deliberative Democracy 199
Patrick L. Scully, Martha L. McCoy
15 e-thePeople.org: Large-Scale, Ongoing Deliberation 213
G. Michael Weiksner
16 Learning Democracy Centers: Where the Public Works 228
Carole J. Schwinn, John T. Kesler, David R. Schwinn
17 Disagreement and Consensus: The Importance of Dynamic Updating in Public Deliberation 237
Christopher F. Karpowitz, Jane Mansbridge
18 Growing Governance Deliberatively: Lessons and Inspiration from Hampton, Virginia 254
William R. Potapchuk, Cindy Carlson, Joan Kennedy
PART FIVE: CONCLUSION 269
19 Future Directions for Public Deliberation 271
Peter Levine, Archon Fung, John Gastil
Recommended Reading 289
Index 301
See More
John Gastil
is associate professor of communication at the University of Washington. He has collaborated with members of the Deliberative Democracy Consortium (DDC), the National Coalition of Dialogue and Deliberation (NCDD), AmericaSpeaks, and the Kettering Foundation's National Issues Forums. He is the author of
Democracy in Small Groups
and
By Popular Demand
.
Peter Levine is deputy director of the Center for Information and Research on Civic Learning and Engagement (CIRCLE) and a research scholar at the Institute for Philosophy and Public Policy, both housed in the University of Maryland's School of Public Affairs. He is a cofounder of the Deliberative Democracy Consortium and author of The New Progressive Era: Toward a Fair and Deliberative Democracy.
See More