Personal Finance Workbook For Dummies, 2nd Edition
ISBN: 978-1-118-10625-9
312 pages
February 2012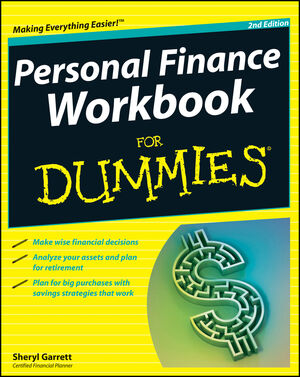 Hands-on tools and strategies to boost your financial fitness
From analyzing assets to planning for retirement, this new edition of Personal Finance Workbook For Dummies gives you the information and resources you need to get your finances under control.
Personal Finance Workbook For Dummies walks you through a private financial counseling session, using worksheets, checklists, and formulas for assessing financial health, providing for day-to-day financial management, making wise financial decisions, and investing for financial growth.
Addresses the latest changes in tax and credit laws and regulations
Strong focus on behavioral finance and how these issues impact decision-making with regard to personal money management
Tips to plan for big-ticket purchases
Expanded coverage on building and managing wealth
Information on how effective asset allocation can help reduce volatility and/or increase opportunity
Websites and ideas on how to get the most bang for your buck in everyday household expenditures
From budgeting and cutting expenses to getting out of debt and planning for retirement, Personal Finance Workbook For Dummies is a solution for those looking to avoid bankruptcy as well as those looking for something to help them plan for a successful financial future.
See More
Introduction 1
Part I: Getting on the Road to Financial Fitness 5
Chapter 1: Exploring Money in Your Life 7
Chapter 2: Getting Your Financial House in Order 21
Chapter 3: Analyzing Your Cash Flow 35
Chapter 4: Turning Your Dreams into Realities 51
Part II: Getting the Most Out of Your Money 69
Chapter 5: Using Credit Wisely 71
Chapter 6: Spending Thoughtfully 83
Chapter 7: Involving Your Family in Personal Finance 97
Chapter 8: Minimizing Taxes 107
Part III: Thinking about the Future 115
Chapter 9: Planning for Big-Ticket Purchases 117
Chapter 10: Saving for Retirement 137
Chapter 11: Funding Your Kids' College Education 151
Chapter 12: Thinking about When You're Gone: Estate Planning 165
Part IV: Building and Managing Wealth 175
Chapter 13: Evaluating Your Current Portfolio 177
Chapter 14: Maximizing Investment Strategies 187
Chapter 15: Finding and Hiring the Right Advisor (If You Need One) 199
Part V: Protecting Your Assets 209
Chapter 16: Managing Risk with Insurance 211
Chapter 17: Exploring Your Health Insurance Options 219
Chapter 18: Figuring Out What Life Insurance You Need 233
Chapter 19: Insuring Your Property 241
Chapter 20: Protecting Your Privacy 253
Part VI: The Part of Tens 261
Chapter 21: Ten Easy Ways to Boost Your Savings 263
Chapter 22: Ten Tips on Getting Organized 267
Chapter 23: Ten Scams to Avoid 271
Chapter 24: Ten or So Types of Insurance You Don't Need to Buy 277
Index 281
See More
Sheryl Garrett is a Certified Financial Planner professional and founder of The Garrett Planning Network, Inc.
See More