Primer on Posttraumatic Growth: An Introduction and Guide
ISBN: 978-1-118-10678-5
256 pages
August 2012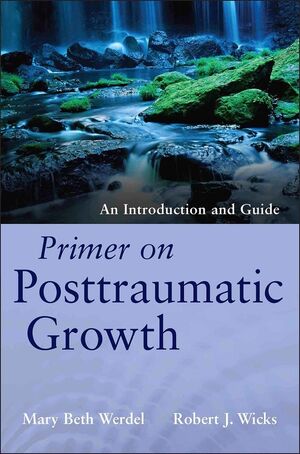 "From the inspiring chapter quotes, to relevant historical and current research, to practical clinical directions, Primer on Posttraumatic Growth takes a giant step toward both grounding us and moving us ahead with strong hope for adjustment and growth in the post-trauma/loss world. This is a comprehensive, practical, and readable work that should be at hand for any mental health clinician, pastoral care professional, or student preparing for these professions."
—J. Shep Jeffreys, EdD, FT, author of Helping Grieving People—When Tears Are Not Enough: A Handbook for Care Providers, Second Edition
A guide for helping your clients overcome negative events, based on the latest research on posttraumatic growth
Drawing on the growing empirical and theoretical material on posttraumatic growth—an outgrowth of the positive psychology movement—Primer on Posttraumatic Growth provides insight, depth, and treatment recommendations for both the clinicians who work with those who have experienced dramatic negative events in their lives and for other professionals who support victims of trauma and extreme stress.
This essential primer examines:
The connections between meaning and growth
The impact of cognitive processing on posttraumatic growth
Positive emotion and posttraumatic growth
Posttraumatic growth and an "open" personality
The human drive to be in positive and important interpersonal relationships
Forgiveness: can it be extended towards all areas of posttraumatic growth?
Posttraumatic growth and religious and spiritual variables
Wisdom and posttraumatic growth
See More
Acknowledgments ix
Introduction xi
1 ? Posttraumatic Growth: Concise History, Definitions, and Implications 1
2 ? Posttraumatic Growth: Truth or Myth? 35
3 ? Meaning 57
4 ? Cognitive Processing 77
5 ? Positive Emotions and Growth 95
6 ? Personality and Personal Attributes 113
7 ? Relationships 129
8 ? Forgiveness 145
9 ? Faith, Suffering, and Religious Coping 159
On the Road to Wisdom: Being a Mindful Companion on the Path to Posttraumatic Growth: An Epilogue 179
References 199
Subject Index 221
Author Index 227
See More
MARY BETH WERDEL, PhD, is an assistant professor at Fordham University. She writes and lectures on the relationships between posttraumatic growth and both positive and negative aspects of spirituality. Dr. Werdel is also a Licensed Professional Counselor and family therapist, skilled in working with families from a variety of cultural and experiential backgrounds.
ROBERT J. WICKS, PsyD, is a clinical psychologist and a professor at Loyola University Maryland, where he teaches in the largest CACREP-approved counseling program of its type in the world. The author of more than forty-five books, Wicks is a recognized expert in the prevention of secondary stress. He has addressed thousands of educators and professionals, including students at the FBI Academy and caregivers in China, Vietnam, Northern Ireland, and South Africa.
See More