E-book
BIM in Small-Scale Sustainable Design
ISBN: 978-1-118-10682-2
312 pages
November 2011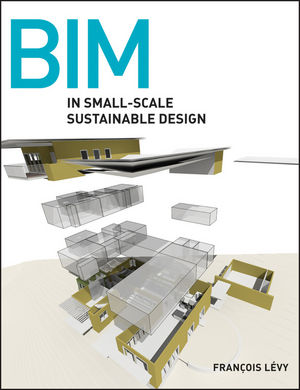 "Any architect doing small or medium scaled projects who is also vested in sustainable design but is not yet doing BIM will enjoy this book's overall focus."-Architosh.com
This work is the leading guide to architectural design within a building information modeling (BIM) workflow, giving the practitioner a clear procedure when designing climate-load dominated buildings. The book incorporates new information related to BIM, integrated practice, and sustainable design, as well information on how designers can incorporate the latest technological tools. Each chapter addresses specific topics, such as natural ventilation for cooling, passive solar heating, rainwater harvesting and building hydrology, optimizing material use and reducing construction waste, and collaborating with consultants or other building professionals such as engineers and energy modelers.   
See More
Acknowledgments vii
Introduction ix
Building Information Models and Modeling ix
The cost of buildings ix
See, change x
BIM for the rest of us xi
What this book is, and isn't xii
A word on the case studies xiii
1 BIM and Sustainable Design 1
The emergence of Building Information Modeling 1
BIM for design 6
High-performance architecture 16
Case study: Moonrise Ranch 23
2 Design Software 29
BIM applications 29
Complementary software 38
Further reading 49
Case Study: Parameterized Hauer Curtain Wall 49
3 Site Analysis 55
Developing a site model 57
Analyzing the site 65
Case Study: House in Sonoma 74
4 Massing Analysis 79
Creating massing models 79
Perimeter/volume ratios: optimizing for envelope quantity 83
Confi rming desirable and undesirable views 85
Preliminary cost and feasibility analysis 87
Preliminary passive heating and cooling design data 89
Case Study: New High School 100
5 Solar Geometry and Daylighting 105
Shade from the sun 106
Daylighting 116
Case Study: Ross Street House 128
6 Passive Cooling 133
Appropriate responses for local climates 135
Rules of thumb and sizing guidelines for cooling strategies 139
Case Study: Hadlow College Rural Regeneration Centre 153
7 Passive Heating 159
Rules of thumb and sizing guidelines for heating strategies 160
Whole-building heat loss 162
Whole-building heat gain 170
Case Study: Battelle Darby Creek Environmental Center 177
8 Onsite Energy Systems 183
Solar photovoltaics 185
Azimuth and elevation 192
Solar thermal systems 192
Wind turbines 197
Case Study: Cascadia Center for Sustainable Design and Construction 200
9 Building Hydrology 205
Site design for water 206
Rainwater harvesting 209
Plumbing fi xture effi ciency 214
Sizing constructed wetlands 215
Gutter sizing 220
Case Study: Bee Ranch 221
10 Materials and Waste 225
Material takeoffs and cost calculations 225
Advanced framing 232
Sheet materials 237
Preliminary life cycle analysis 239
LEED material calculations 243
Case Study: Loblolly House 245
11 Collaboration 249
Imported backgrounds 249
Exporting fi les 251
Project coordination 264
Case Study: Paisano Senior Housing 272
Afterword 275
Bibliography and References 279
Index 283
See More
François Lévy, AIA, AIAA,is a registered Texas architect and researcher. He holds an MArch and an MS in architectural engineering from The University of Texas at Austin, where he has been lecturing since 1998. Mr. Lévy has been practicing architecture since 1993, and established his own firm in 1997. His architectural projects have attracted regional and national press, including Dwell magazine and HGTV. In addition to leading CAD and BIM seminars to professionals, his areas of research interest are sustainable architecture, cooling through passive ventilation, and space architecture.
See More