E-book
Wiley CPA Examination Review, Volume 1, Outlines and Study Guides, 38th Edition 2011-2012
ISBN: 978-1-118-10719-5
1331 pages
July 2011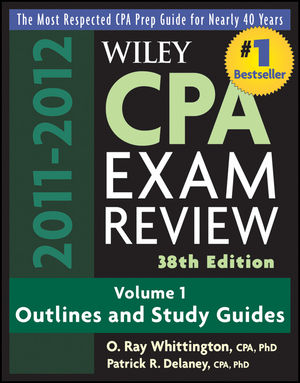 Complete coverage of the new CBT-e format for the newly revised CPA Exam
With 2011 bringing the greatest changes to the CPA exam in both form and content, Wiley CPA Exam Review 38th Edition is completely revised for the new CBT-e CPA Exam format. Containing more than 2,700 multiple-choice questions and including complete information on the new Task Based Simulations, these books provide all the information needed to pass the uniform CPA examination.
Covers the new addition of IFRS material into the CPA exam
Features multiple-choice questions, new AICPA Task Based Simulations, and written communication questions, all based on the new CBT-e format
Covers all requirements and divides the exam into 45 self-contained modules for flexible study
Offers nearly three times as many examples as other CPA exam study guides
Published annually, this comprehensive two-volume paperback set provides all the information candidates need to master in order to pass the new Uniform CPA Examination format.
See More
1 BEGINNING YOUR CPA REVIEW PROGRAM 1
2 EXAMINATION GRADING 17
3 THE SOLUTIONS APPROACH 19
4 TAKING THE EXAMINATION 31
5 AUDITING AND ATTESTATION 35
Professional Responsibilities 57
Engagement Planning, Obtaining an Understanding of the Client and Assessing Risks 84
Understanding Internal Control and Assessing Control Risk 96
Responding to Risk Assessment: Evidence Accumulation and Evaluation 136
Reporting 167
Accounting and Review Services 198
Audit Sampling 222
Auditing with Technology 240
Outlines of Professional Standards 247
6 FINANCIAL ACCOUNTING AND REPORTING 361
Basic Theory and Financial Reporting 361
A. Basic Concepts 369
B. Error Correction 391
C. Accounting Changes 394
D. Financial Statements 401
Inventory 420
Fixed Assets 432
Monetary Current Assets and Current Liabilities 451
Present Value 468
A. Fundamentals 468
B. Bonds 476
C. Debt Restructure 481
D. Pensions 486
E. Leases 500
Deferred Taxes 520
Stockholders' Equity 536
Investments 555
Statement of Cash Flows 568
Business Combinations and Consolidations 578
Derivative Instruments and Hedging Activities 602
Miscellaneous 616
A. Personal Financial Statements 616
B. Interim Reporting 617
C. Segment Reporting 619
D. Partnership Accounting 623
E. Foreign Currency Translation 631
Governmental (State and Local) Accounting 638
Not-for-Profit Accounting 682
Outlines of Accounting Pronouncements 696
7 REGULATION EXAM CONTENT 781
8 PROFESSIONAL RESPONSIBILITIES AND BUSINESS LAW 789
Professional and Legal Responsibilities 792
Federal Securities Acts 810
Business Structure 824
Contracts 849
Sales 871
Commercial Paper 883
Secured Transactions 900
Bankruptcy 907
Debtor-Creditor Relationships 920
Agency 930
Regulation of Business Employment, Environment, and Antitrust 937
Property 958
9 FEDERAL TAXATION 975
Individual Taxation 980
Transactions in Property 1040
Partnerships Taxation 1057
Corporate Taxation 1070
Gift and Estate Taxation 1101
10 BUSINESS ENVIRONMENT AND CONCEPTS 1111
Corporate Governance, Internal Control, and Enterprise Risk Management 1119
Information Technology 1134
Economics, Strategy, Globalization 1165
Financial Risk Management and Capital Budgeting 1195
Financial Management 1219
Performance Measures 1244
Cost Measurement 1261
Planning, Control, and Analysis 1277
INDEX 1301
See More
Ray Whittington
, PhD, CPA, CMA, CIA, is the dean of the College of Commerce at DePaul University. Prior to joining the faculty at DePaul, Professor Whittington was the Director of Accountancy at San Diego State University. From 1989 through 1991, he was the Director of Auditing Research for the American Institute of Certified Public Accountants (AICPA), and he previously was on the audit staff of KPMG. He previously served as a member of the Auditing Standards Board of the AICPA and as a member of the Accounting and Review Services Committee and the Board of Regents of the Institute of Internal Auditors. Professor Whittington has published numerous textbooks, articles, monographs, and continuing education courses.
Patrick R. Delaney, deceased, was the dedicated author and editor of the Wiley CPA Exam Review books for twenty years. He was the Arthur Andersen LLP Alumni Professor of Accountancy and Department Chair at Northern Illinois University. He received his PhD in Accountancy from the University of Illinois. He had public accounting experience with Arthur Andersen LLP and was coauthor of GAAP: Interpretation and Application, also published by John Wiley & Sons, Inc. He served as Vice President and a member of the Illinois CPA Society's Board of Directors, and was Chairman of its Accounting Principles Committee; was a past president of the Rockford Chapter, Institute of Management Accountants; and had served on numerous other professional committees. He was a member of the American Accounting Association, American Institute of Certified Public Accountants, and Institute of Management Accountants. Professor Delaney was published in The Accounting Review and was a recipient of the Illinois CPA Society's Outstanding Educator Award, NIU's Excellence in Teaching Award, and Lewis University's Distinguished Alumnus Award. He was involved in NIU's CPA Review Course as director and instructor.
See More