E-book
Eating Clean For Dummies
ISBN: 978-1-118-10772-0
384 pages
July 2011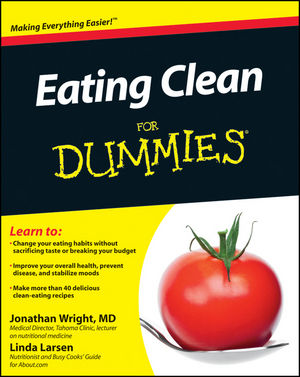 The fast and easy way to eat clean
Clean foods are natural; free of added sugars, hydrogenated fats, trans-fats, and anything else that is unnatural and unnecessary. Used as a way of life, clean eating can improve overall health, prevent disease, increase energy, and stabilize moods.
Whether you've lived on white bread and trans fats all your life and are looking to clean-up your diet, or are already health conscious, Eating Clean For Dummies embraces this lifestyle and provides you with an easy-to-follow guide to a clean-eating diet, recipes, and budgeting.
The foundation of the clean eater's diet
More than 40 clean-eating recipes
Tips on how to change your eating habits without sacrificing taste or breaking your budget
Tips to bring the whole family (even kids) on the path to a clean lifestyle
If you're part of the growing population of consumers coming to the realization of the harmful impacts that highly processed and unnatural foods have on your body, or are taking preventive measures to avoid metabolic syndromes and diabetes, this is your hands-on, friendly guide to clean-eating diet, recipes, and budgeting.
See More
Introduction.
Part I: Eating Clean: It Does a Body Good.
Chapter 1: Eating Clean for a Healthier Body, Mind, and Soul.
Chapter 2: Applying Eating Clean Principles to Daily Living.
Chapter 3: Nutrition Basics: You Really Are What You Eat.
Chapter 4: More about Nutrition: Phytochemicals, Water, and Fiber.
Chapter 5: Eat More, Eat Often!
Part II: Meeting Your Eating Clean Goals.
Chapter 6: Eating Clean for a Longer, Healthier, and More Active Life.
Chapter 7: Eating Clean to Prevent Disease.
Chapter 8: Eating Clean to Manage Diseases.
Part III: Planning and Preparing Your Eating Clean Adventure.
Chapter 9: Planning and Stocking the Eating Clean Kitchen.
Chapter 10: Incorporating Organic Food into Your Eating Clean Plan.
Chapter 11: Preparing Clean Foods.
Part IV: Adapting the Eating Clean Plan to Fit Your Life.
Chapter 12: Eating Clean on the Go and in Social Situations.
Chapter 13: Getting Your Family on the Bandwagon.
Chapter 14: Meeting Special Dietary Considerations.
Part V: Morning to Evening Recipes.
Chapter 15: Waking Up to Great Food: Satisfying Breakfast Recipes.
Chapter 16: Refueling Your Body with Some Smart Lunches.
Chapter 17: Sprucing Up Supper Time with Some Delicious Dinner Recipes.
Chapter 18: Enjoying the Fun Stuff: Desserts and Snacks.
Part VI: The Part of Tens.
Chapter 19: Ten Ways to Tell If Your Eating Clean Diet Is Working.
Chapter 20: Ten Foods to Always Put in Your Shopping Cart.
Index.
See More
Dr. Jonathan Wright
, MD, America's Top Holistic Doctor, is the author of several books, publishes the monthly newsletter
Nutrition and Healing
(with a subscriber base of over 100,000) and hosts the radio show
Green Medicine
.
Linda Larsen is a nutritionist, recipe creator, and the author of 29 books.
See More