E-book
Amway Forever: The Amazing Story of a Global Business Phenomenon
ISBN: 978-1-118-10777-5
224 pages
July 2011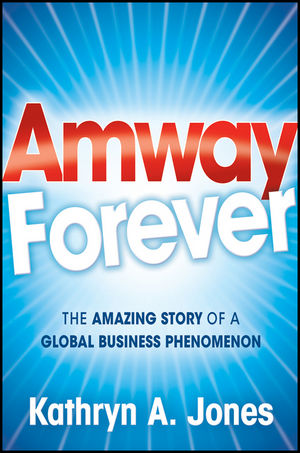 A fascinating look at five decades of Amway's innovation
Amway started in 1959 as a way for people to earn extra money selling soap and cosmetics. Today, it has recaptured the public's attention largely because of an extensive print and broadcast campaign featuring the Quixtar name-with ads saying "you know us as Amway."
Amway Forever chronicles the amazing inside story of this global business phenomenon. Page by page, it explores the history of Amway and its remarkable resurgence around the world. From how the company began and its growing pains in the 70's and 80's to its recent online revival, this book explores how Amway has survived and thrived over the past fifty years.
Delves into how innovation has led to Amway's growth into an international powerhouse
Reveals Amway's pioneering marketing tactics and sales strategies
Offers an historic perspective, as well as a contemporary look, at how the company has evolved
Engaging and informative, Amway Forever is a must-read for anyone interested in this company's unique business model and buzzworthy emergence into a global success.
See More
Acknowledgments ix
Introduction: Selling a Dream xi
Chapter 1: Capitalism and Controversy 1
Chapter 2: An Adventurous Partnership 15
Chapter 3: Taking Flight and Sailing Away 25
Chapter 4: Sell Something Everybody Needs 35
Chapter 5: Unveiling "The Plan" 45
Chapter 6: Toppling the Pyramid 57
Chapter 7: Retooling the Machine 77
Chapter 8: Diamonds, Rubies, Emeralds, and Pearls 91
Chapter 9: Clash of the Soap Titans 107
Chapter 10: Friends in High Places 119
Chapter 11: West Meets East 131
Chapter 12: The Biggest Market Ever 145
Chapter 13: New Heart, New Identity 153
Chapter 14: Amway Redux 163
Chapter 15: The Way Ahead 177
Notes 183
Selected Bibliography 203
About the Author 213
Index 215
See More
Kathryn A. Jones is an experienced business writer and editor. A freelance writer for the New York Times where she has written for the Business, Money, National, and Travel sections, and a former writer-at-large and current contributing editor for Texas Monthly, she has also written for Time, Life, The Dallas Morning News, and numerous other news outlets.
See More