E-book
Shift and Reset: Strategies for Addressing Serious Issues in a Connected Society
ISBN: 978-1-118-10782-9
368 pages
July 2011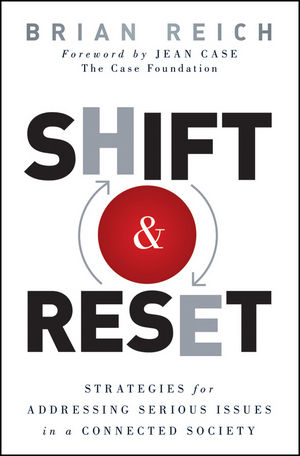 Essential strategies the nonprofit community can use to take advantage of rapidly changing technologies and new communication methods in our ultra-connected society
In these challenging economic times, it is more important than ever for nonprofits to focus on shaping policy, building capacity, developing talent, improving their marketing and promotion, fundraising, and developing partnerships/collaboration for organizational success. Shift & Reset: Strategies for Supporting Causes in a Connected Society teaches the nonprofit/social change/philanthropy/cause community how to take advantage of rapidly changing technologies and new communication ecosystem that exist in our connected society.
Addresses the most critical challenges facing the nonprofit/social change/philanthropy/cause community Re-envisions how we support causes and address serious issues in our connected society
Outlines how organizations must operate—and what happens when they don't re-think their work
Features interviews with over twenty-five leading thinkers/authors/organizational leaders
Innovative and right on time, Shift & Reset equips nonprofit professionals with a set of three core principles, a five-step checklist of immediate action items, as well as a list of ten "must-read" items.
See More
Foreword ix
Preface xiii
Introduction Knocking the Meteorite Off Its Course 1
Chapter 1 Starting the Shift and Reset Process 7
Chapter 2 Embracing a New Approach: Mission and Measurement 19
Chapter 3 Knowing (Your Audience) Is Half the Battle 55
Chapter 4 Shift Your Language or Get Left Behind 81
Chapter 5 Shift Your Awareness and Really Support Your Mission 109
Chapter 6 Shift Your Education and Leverage Everyone's Passions 141
Chapter 7 Shift Your Engagement: It's about Being Active, Not Just Being Present 171
Chapter 8 Shift Your Mobilization Efforts and Perform the Right Actions 201
Chapter 9 Shift Your Game Plan in Supporting Big Issues 235
Chapter 10 The Franken-org: Ways to Increase the Functionality of an Organization and Its Staff (to Drive the Mission) 267
Chapter 11 Stop Doing These Four Things 299
Chapter 12 Once You Have Shifted . . . Now Reset and Think Bigger! 313
Chapter 13 After Impact 331
Notes 341
About the Author 355
Contributor Biographies 365
Acknowledgments 383
Index 387
See More
BRIAN REICH is Senior Vice President–Global Editor for Edelman Digital, where he provides editorial vision and strategy for the company's digital practice around the world. He is well known for his expertise in new media, Web 2.0, social networks, mobile, community, ecommerce, brand marketing, cause branding, and more. Reich is the author of Media Rules!: Mastering Today's Technology to Connect With and Keep Your Audience (Wiley). He blogs at www.shiftandreset.com and contributes as a Fast Company expert; hosts a regular podcast discussion about the impact of media and technology on society; and teaches consumer behavior and marketing strategy in the Graduate School of Communications at Columbia University.
See More