E-book
The Ultimate Financial Plan: Balancing Your Money and Life
ISBN: 978-1-118-10796-6
288 pages
August 2011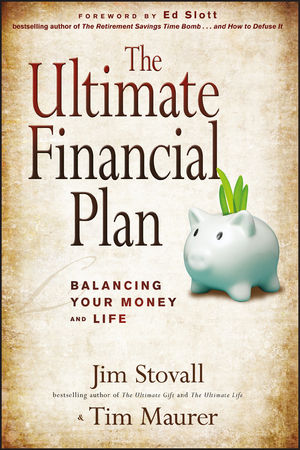 How to build a financial plan that really blends into your life
The latest volume in the bestselling Ultimate series, Jim Stovall and Tim Maurer's The Ultimate Financial Plan: Balancing Your Money and Life is a one-stop, comprehensive, personal financial planning book exploring the intersection of money and life. The Ultimate Financial Plan examines the connection between actions, thoughts, and feelings when it comes to all things financial. The key to getting the most out of your wealth, the authors argue, is certainly found in the wise utilization of tools, like budgets, bank accounts, 401(k)s, IRAs, Roth IRAs, education savings plans, and real estate, as well as home, auto, business, health, disability, and long term care insurance, but even more so in the contentment found in balancing money's influence in our lives with personal values and goals.
An insider's look into the recently humbled "Big 3"—the banks, brokerage firms, and insurance companies—and the inner workings that often set their proprietary goals and objectives above all
A critical examination of the role of various financial sales people, advisors, planners, and consultants
A guide to navigating Economic Bias—a conflict of interest involving money—and how it affects every financial decision we make
The Ultimate Financial Plan is the application of the resources at your disposal for the purpose of living your life to the fullest, and this book will show you the quickest route to getting started on the path to ultimate success.
See More
Foreword xi
Preface xv
Acknowledgments xix
Introduction xxi
Chapter 1 The Gift of Money: Money 101 1
The Value of Money 3
Money Beliefs 4
Chapter 2 The Gift of Purpose: Personal Principles and Goals 7
Personal Principles 7
Goals 10
Chapter 3 The Gift of Discipline: Household Cash Flow 17
Personal Financial Statements 17
Financial Crises 25
Chapter 4 The Gift of Enough: Debt and Financial Freedom 27
Financial Freedom 28
The Danger of Discontent 29
Emergency Reserves 32
Bad Debt 35
Better Debt 39
Economics and Emotions 41
The Cure for More 43
Chapter 5 The Gift of Discernment: Risk Management Decisions 45
The Accident 47
Risk Management Techniques 48
How Insurance Works 50
Chapter 6 The Gift of Security: Life Insurance 55
Life Insurance: Why? 55
Life Insurance Needs 59
Life Insurance: How? 62
Life Insurance Wants 67
Different Types of Life Insurance 70
Purchasing Life Insurance 73
Chapter 7 The Gift of Certainty: Auto, Home, and Liability Insurance 77
Auto Insurance 79
Homeowner's Insurance 82
Excess Liability (Umbrella) Insurance 84
Chapter 8 The Gift of Health: Health, Disability Income, and Long-Term Care Insurance 87
Health Insurance 89
Types of Plans 89
HSAs and FSAs 90
Recent Health Insurance Changes 93
Disability Income Insurance 95
DI Moving Pieces 96
Social Security, Medicaid, and Medicare 99
Long-Term Care Insurance 100
LTC Moving Pieces 101
Chapter 9 The Gift of Clarity: Investing and Portfolio Management 107
Stocks and Bonds 109
All Things Considered Equal? 111
Mutual Funds 112
Economic Analysis 115
Market Valuation Analysis 117
Technical Market Analysis 118
Efficient or Not? 119
Passive versus Active 119
Investing with "Style" 121
Relative Return versus Absolute Return 123
Index Huggers, Return Chasers, and Risk Managers 126
Decisions, Decisions 128
Chapter 10 The Gift of Transparency: Annuities 131
Immediate Annuities 134
Fixed Annuities 136
Variable Annuities 137
Equity Indexed Annuities 140
Annuity Disadvantages 141
Annuity Advantages 143
Chapter 11 The Gift of Preparation: Tax Planning 147
Tax Myths 150
Tax Rules 155
Chapter 12 The Gift of Learning: Education Planning 159
Family Education Policy 162
Having The Talk (no, not that talk) 166
Education Savings Plan 169
The 50 Percent Rule 172
Chapter 13 The Gift of Fulfillment: Retirement Planning 175
Retirement Past 179
Retirement Present 180
Retirement Future 180
Employer-Sponsored Retirement Plans 181
401k Rollovers 182
Traditional IRAs 184
Roth IRAs 185
Traditional versus Roth 186
Roth IRA Conversions 187
Fulfillment Planning 189
Retirement Makeover 193
Chapter 14 The Ultimate Gift: Estate Planning 197
Wills 200
Durable Powers of Attorney 205
Advance Directives 206
Beneficiary Designations 208
Probate 212
Estate Tax 214
Chapter 15 The Gift of Discretion: Choosing a Financial Advisor 217
"The Big Three" 222
Financial Planner Compensation 224
Finding a Professional Planner 228
Chapter 16 The Gift of Action: Your Plan for Money and Life 233
Fundamental and Practical Change 234
Reprise 235
Stay Connected 238
Notes 241
About the Web Site 245
About the Authors 247
Index 249
See More
Jim Stovall
is among today's most sought-after motivational speakers. The author of fifteen books, including the bestselling
The Ultimate Gift and The Ultimate Life
, both of which have been made into major motion pictures by 20th Century Fox, he has been a champion Olympic weightlifter, a successful investment broker, and an entrepreneur. He is the cofounder and President of the Emmy Award–winning Narrative Television Network, which makes movies and television accessible for America's thirteen million blind and visually impaired people and their families. In June 2000, Stovall was selected as the International Humanitarian of the Year.
Tim Maurer is a financial planner, educator, and blogger. He is Vice President of the Financial Consulate, a Fee-Only financial management firm in Hunt Valley, Maryland. He teaches financial planning at his alma mater, Towson University, and educates through his blog, TimMaurer.com. Maurer has been a frequent guest on CNBC and featured on ABC's Nightline. The co-host of Money, Riches & Wealth, a weekly Baltimore radio show, he has contributed to the Wall Street Journal, the New York Times, the Washington Post, and Money magazine, among other leading publications.
See More