E-book
The Hedge Fund Book: A Training Manual for Professionals and Capital-Raising Executives
ISBN: 978-1-118-10797-3
208 pages
April 2011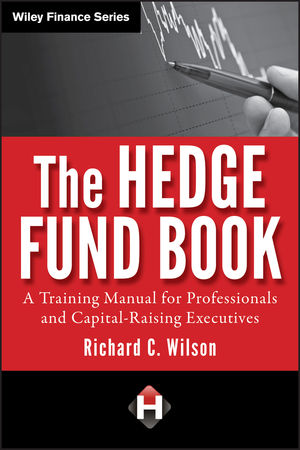 An accessible guide to effectively operating in the hedge fund arena
Hedge funds are now in the news more than a thousand times a day and yet it is hard to find clear, factual information about how they operate, raise capital, and invest. The Hedge Fund Book provides real-world case studies of various hedge fund managers providing a solid foundation in specialized hedge fund knowledge for both financial professionals and those aspiring to enter this field.
It provides an analysis of funds within different phases of their life cycles and investment processes, and examines each cycle in ways that would be informational for marketers as well as investors, bankers, and financial professionals who would like to learn more about day-to-day hedge fund operations
Addresses everything you need to know about this popular segment of the financial industry within a case study format
Each chapter contains several types of investment and situational analyses, insights and best practices along with a review and "test your knowledge section"
Written by a successful hedge fund consultant and head of one of the largest hedge fund networking groups in the industry with more than 30,000 members
This book is required reading for participants within the hedge fund industry's leading designation program, the CHP Designation
If you're looking to gain a better understanding of hedge funds, look no further than The Hedge Fund Book.
See More
Preface xi
My Story xii
Disclosure of Financial Interests xiii
Acknowledgments xv
Introduction 1
CHAPTER 1: Hedge Fund Fundamentals 5
Hedge Fund Mechanics and Statistics 6
History of Hedge Funds 8
Media Portrayal of Hedge Funds 9
Hedge Fund Ecosystem 10
Future of the Hedge Fund Industry 13
Chapter Summary 13
Review Questions 14
CHAPTER 2: Institutionalization and Operations 17
Stephen Abrahams, Vice President of Marketing for a London-Based Hedge Fund 18
Bob Pardo, CEO and President, Pardo Capital Limited 19
Vinod Paul, Managing Director of Service and Business Development, Eze Castle Integration 21
Nakul Nayyar, Quantitative Trading/Support, Quad Capital 24
Hendrik Klein, CEO, Da Vinci Invest Ltd. 26
Sheri Kanesaka, Associate, Michelman & Robinson, LLP 29
Eric Warshal, CEO, Fund Associates 30
Lance Baraker and William Katts, Senior Managing Directors, TradeStation Prime 32
Chapter Summary 36
Review Questions 36
CHAPTER 3: Hedge Fund Marketing Pro 39
Bad News 40
Public Relations Management 41
Educational Marketing 42
Forget about Contacting More Investors 43
E-Mail Marketing Best Practices 45
Copy Writing 49
Case Profile 50
Stephen Abrahams, Vice President of Marketing for a London-Based Hedge Fund 54
Pratik Sharma, Managing Director, Atyant Capital 55
Hendrik Klein, CEO, Da Vinci Invest Ltd. 59
Chapter Summary 60
Review Questions 61
CHAPTER 4: The Shooting Star 63
18 Lessons from Shooting Star Hedge Funds 63
Rick Nummi, Partner and General Counsel, Accounting and Compliance International (ACI) 65
Thomas Powell, Chief Executive Officer, ELP Capital 72
Chapter Summary 74
Review Questions 74
CHAPTER 5: Hedge Fund Start-Up Guru 77
Top Five Tips for Starting a Hedge Fund 78
Hedge Fund Pitch Book Creation 80
Syed Ali, CEO, Saturn Partners, LLC 81
Nakul Nayyar, Quantitative Trading/Support, Quad Capital 86
Chapter Summary 89
Review Questions 90
CHAPTER 6: Dedicated to Due Diligence 93
Scott Freund, President, GCC Family Wealth Management 94
Brian Reich, President and Founder, Atrato Advisors LLC 95
Richard Wilson, Hedge Fund Group, CHP Designation, HedgeFundBlogger.com 98
Due Diligence Effects on Hedge Funds 102
Chapter Summary 105
Review Questions 106
CHAPTER 7: Giant Hedge Funds 109
Best Practices from $1 Billion-Plus Hedge Funds 109
Richard Zahm, Portfolio Manager, Second Angel Fund 111
Scott Cohen, President and CEO, Hedge Solutions 117
Chapter Summary 119
Review Questions 120
CHAPTER 8: Governance Best Practices 123
Andrew Main, Managing Partner, Stratton Street Capital LLP 124
David R. Koenig, CEO of the Governance Fund, LLC 130
Chapter Summary 134
Review Questions 134
CHAPTER 9: Frequently Asked Hedge Fund Questions 137
Hedge Funds 101 137
Hedge Fund Operations 139
Hedge Fund Marketing and Sales 142
Hedge Fund Careers 156
APPENDIX A: Bonuses of $1,779 169
APPENDIX B: Example Due Diligence Questions 171
Questionnaire 171
APPENDIX C: Top Hedge Fund Web Sites 177
Glossary 179
About the Author 185
Index 187
Contact the Author 191
See More
RICHARD C. WILSON is a hedge fund consultant and head of the Hedge Fund Group, the largest hedge fund networking group in the industry. He is also the creator of the successful Web site HedgeFundBlogger.com. Wilson writes a daily article on the hedge fund industry for the site, as well as straightforward educational pieces on hedge fund strategies, terms and definitions, trends, interviews, videos, and book reviews. He also founded and holds two 100% online training sessions for the Certified Hedge Fund Professional (CHP) Designation Program, a professional certification program catering to professionals in the hedge fund industry.
See More