Textbook
Fundamentals of Engineering Thermodynamics, Appendices , 7th Edition
ISBN: 978-1-118-10801-7
112 pages
June 2011, ©2012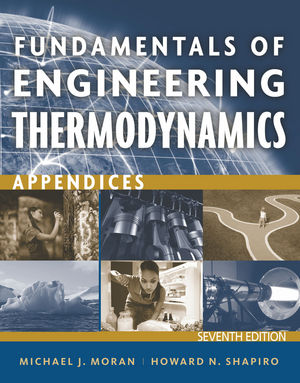 This leading text in the field maintains its engaging, readable style while presenting a broader range of applications that motivate engineers to learn the core thermodynamics concepts. Two new coauthors help update the material and integrate engaging, new problems. Throughout the chapters, they focus on the relevance of thermodynamics to modern engineering problems. Many relevant engineering based situations are also presented to help engineers model and solve these problems.
See More
Modern and forward-thinking real world applications.
An increased emphasis on how thermodynamics principles are related to some of the most important issues of today and the coming decade around energy resource use and environmental engineering.
Integrated coverage of contemporary applications for thermodynamics in the fields of biomedicine and bioengineering.
New animation-based demonstrations reinforce the concepts in real-world situations.
Two new coauthors, Daisie Boettner and Margaret Bailey, bring their rich backgrounds of success in teaching and research in thermodynamics to the text.
Emphasis on energy storage, an area of explosive growth, integrated throughout, including a new introductory section (sec. 2.7), feature on thermal energy storage (chap. 3), followed by a section on energy storage coverage of pumped energy by hydro and compressed storage (sec. 4.8).
New coverage of the configuration of power plants (chap. 8).
A wealth of new and revised homework problems (approximately 30%), refreshing the extensive selection of problems in every chapter, organized to help students develop engineering skills in three modes: conceptual, skill building, and design/open ended problems.
Focus on design concepts, which are interwoven through the book along with a set of newly revised and augmented questions on design and open-ended issues that are part of each set of end of chapter problems.
See More
Strong pedagogical structure to enhance student learning, starting each chapter with learning outcomes followed by both in-text and formal examples, then a self-quiz for immediate feedback on understanding. Each chapter ends with a chapter summary to review the topics and prepare for examinations.
Flexible coverage of application areas in chapters 8-14, including power and refrigeration cycles, psychrometrics, and combustion. Instructors can choose various levels of coverage ranging from short introductions to in-depth studies.
Class-tested and proven approaches on key thermodynamics concepts, including: the second law of thermodynamics, featuring the entropy balance (Chap. 6) and exergy analysis (Chaps. 7 and 13).
Integrates the use of computational software tools to enhance problem-solving and to deepen learning by indicating which end of chapter problems are appropriate for these methods.
Encourages flexibility in the use of units through support for either an SI or mixed SI/English presentation of the course, as well as an emphasis on the systematic application of unit conversion factors.
See More