Common Core Curriculum Maps in English Language Arts, Grades 9-12
ISBN: 978-1-118-10820-8
288 pages
October 2011, Jossey-Bass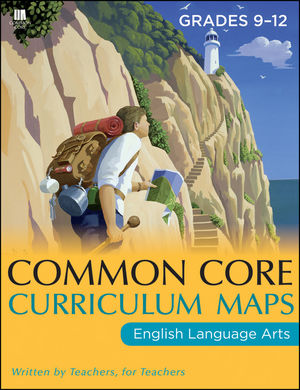 The first books to present specific guidance for teaching the Common Core State Standards
Forty-three states plus the District of Columbia and the U.S. Virgin Islands have signed on to adopt the Common Core State Standards (CCSS). The need for curriculum guides to assist teachers in helping students meet these standards has become imperative. Created by teachers, for teachers, the research-based curriculum maps in this book present a comprehensive, coherent sequence of thematic units for teaching the skills outlined in the CCSS for English language arts in Grades 9-12. Teachers can use the maps to plan their year and craft their own more detailed lesson plans.
Each grade is broken down into six units that include focus standards, suggested works, sample activities and assessments, lesson plans, and more
The maps address every standard in the CCSS, yet are flexible and adaptable to accommodate diverse teaching styles
Any teacher, school, or district that chooses to follow the Common Core maps can be confident that they are adhering to the standards.
See More
Foreword by Carol Jago
vii
Written by Teachers, for Teachers xi
Introduction by Lynne Munson xiii
How to Use the Common Core Curriculum Maps xvii
Grade 9 1
Unit 1 Literary Elements and the Short Story 3
Unit 2 The Novel—Honor 13
Unit 3 Poetry—Beauty 23
Unit 4 Drama—Fate 37
Unit 5 Epic Poetry—Heroism 47
Unit 6 Literary Nonfiction—Reflection (the Memoir, the Essay, and the Speech) 57
Grade 10 67
Unit 1 World Literature: Latin and Central America 69
Unit 2 World Literature: Asia 81
Unit 3 World Literature: Africa and the Middle East 95
Unit 4 World Literature: Russia 107
Grade 11 119
Unit 1 The NewWorld 121
Unit 2 A New Nation 129
Unit 3 American Romanticism 139
Unit 4 A Troubled Young Nation 151
Unit 5 Emerging Modernism 163
Unit 6 Challenges and Successes of the Twentieth Century 173
Grade 12 185
Unit 1 European Literature: Middle Ages 187
Unit 2 European Literature: Renaissance and Reformation 201
Unit 3 European Literature: Seventeenth Century 211
Unit 4 European Literature: Eighteenth and Early Nineteenth Century 221
Unit 5 European Literature: Nineteenth Century 231
Unit 6 European Literature: Twentieth Century 243
Appendix: Scoring Rubric 255
About Common Core 257
Acknowledgments 259
Index of Suggested Works 261
See More
Common Core is a non-profit organization formed in 2007 to advocate for a content-rich liberal arts education in America's K-12 schools. To improve education in America, Common Core creates curriculum tools and also promotes programs, policies, and initiatives at the local, state, and federal levels that provide students with challenging, rigorous instruction in the full range of liberal arts and sciences. Common Core is not affiliated with the Common Core State Standards Initiative. For more information, go to www.commoncore.org.
See More
Learn more about