Common Core Curriculum Maps in English Language Arts, Grades K-5
ISBN: 978-1-118-10822-2
464 pages
October 2011, Jossey-Bass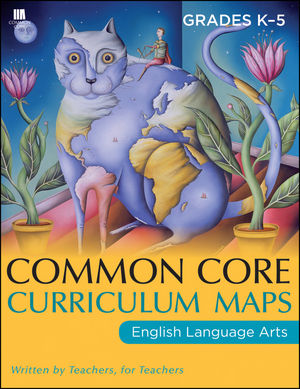 The first books to present specific guidance for teaching the Common Core State Standards
Forty-three states plus the District of Columbia and the U.S. Virgin Islands have signed on to adopt the Common Core State Standards (CCSS). The need for curriculum guides to assist teachers in helping students meet these standards has become imperative. Created by teachers, for teachers, the research-based curriculum maps in this book present a comprehensive, coherent sequence of thematic units for teaching the skills outlined in the CCSS for English language arts in Grades K-5. The maps address every standard in the CCSS, yet are flexible and adaptable to accommodate diverse teaching styles.
Each grade is broken down into six units that include focus standards, suggested works, sample activities and assessments, lesson plans, and more
Teachers can use the maps to plan their year and craft their own more detailed lesson plans
Any teacher, school, or district that chooses to follow the Common Core maps can be confident that they are adhering to the standards.
See More
Foreword by Carol Jago
vii
Written by Teachers, for Teachers xi
Introduction by Lynne Munson xiii
How to Use the Common Core Curriculum Maps xvii
Kindergarten 1
Unit 1 A Colorful Time with Rhythm and Rhyme 3
Unit 2 Tell a Story, 1-2-3 13
Unit 3 Exploring with Friends in the Neighborhood 21
Unit 4 America: Symbols and Celebrations 31
Unit 5 The Great Big World 39
Unit 6 Wonders of Nature: Plants, Bugs, and Frogs 49
Grade 1 57
Unit 1 Alphabet Books and Children Who Read Them 59
Unit 2 The Amazing AnimalWorld 67
Unit 3 Life Lessons 77
Unit 4 Winds of Change 87
Unit 5 American Contributions 97
Unit 6 Around the World with a Glass Slipper 107
Grade 2 115
Unit 1 A Season for Chapters 117
Unit 2 The Wild West 129
Unit 3 Building Bridges with Unlikely Friends 139
Unit 4 A Long Journey to Freedom 149
Unit 5 Hand-Me-Down Tales from Around theWorld 157
Unit 6 Taking Care of Ourselves 167
Reading Foundations: A Pacing Guide for Reading Instruction 175
Grade 3 207
Unit 1 Stories Worth Telling Again and Again 209
Unit 2 Inspired by the Sea 219
Unit 3 Creative, Inventive, and Notable People 229
Unit 4 The People, the Preamble, and the Presidents 239
Unit 5 A Feast ofWords on a Planet Called Earth—and Beyond 249
Unit 6 Fantastic Adventures with Dragons, Gods, and Giants 259
Grade 4 267
Unit 1 Tales of the Heart 269
Unit 2 Literature Settings: Weather or Not 281
Unit 3 Animals Are Characters, Too: Characters Who Gallop, Bark, and Squeak 293
Unit 4 Revolutionaries from the Past 305
Unit 5 Stories of the Earth and Sky 317
Unit 6 Literary Heroes 329
Grade 5 339
Unit 1 Playing with Words 341
Unit 2 Renaissance Thinking 351
Unit 3 Clues to a Culture 361
Unit 4 America in Conflict 371
Unit 5 Exploration, Real and Imagined 381
Unit 6 Coming of Age 393
About Common Core 405
Acknowledgments 407
Index of Suggested Works 409
See More
Common Core is a non-profit organization formed in 2007 to advocate for a content-rich liberal arts education in America's K-12 schools. To improve education in America, Common Core creates curriculum tools and also promotes programs, policies, and initiatives at the local, state, and federal levels that provide students with challenging, rigorous instruction in the full range of liberal arts and sciences. Common Core is not affiliated with the Common Core State Standards Initiative. For more information, go to www.commoncore.org.
See More
Learn more about