Trading ETFs: Gaining an Edge with Technical Analysis, 2nd Edition
ISBN: 978-1-118-10913-7
203 pages
January 2012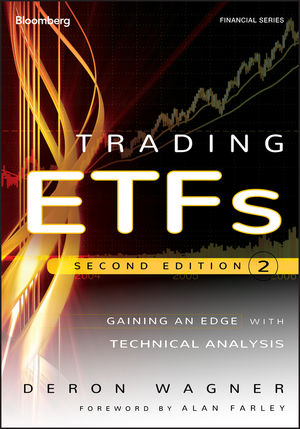 A comprehensive catalog of exchange-traded funds and insights into successful trading techniques
This Second Edition of the bestselling Trading ETFs offers an updated version of the definitive guide to this vital part of the capital markets. It contains numerous new examples of the techniques that author Deron Wagner uses in selecting the most timely ETFs to trade and underscores the core insights of his trading discipline "trade what you see, not what you think."
Written for professionals who are using, or should be using, ETFs as an asset class within their portfolios, as well as the individual investor who wants exposure to wider sectors and geographical regions than those available elsewhere.
This revised edition of the classic resource focuses on the pros, cons, and potential pitfalls of trading the latest class of ETFs
Includes inversely correlated and leveraged ETFs and the dangers, risks, and benefits associated with each new class of ETF
Contains a refresher on the initial concept of ETF selection and new case studies on ideal entry and exit points as well as examples of real trades
This thoroughly revised and updated edition offers a "go-to" reference for understanding exchange-traded funds.
See More
Foreword ix
Acknowledgments xi
PART I: ETF OVERVIEW AND SELECTION
CHAPTER 1 Why Use Technical Analysis with ETFs? 3
CHAPTER 2 Major Types and Families of ETFs 11
PART II: ETF SELECTION THROUGH TECHNICAL ANALYSIS
CHAPTER 3 The Top-Down Strategy 31
CHAPTER 4 Finding Indexes with the Most Relative Strength 39
CHAPTER 5 Selecting the Best ETFs 55
CHAPTER 6 Supplementing the Basics 69
PART III: TIMING YOUR ENTRIES AND EXITS
CHAPTER 7 Strategies for Entry 87
CHAPTER 8 Strategies for Exit 99
CHAPTER 9 Ten ETFs Bought Long 113
CHAPTER 10 Ten ETFs Sold Short 139
PART IV: FINE-TUNING YOUR STRATEGY
CHAPTER 11 Tailoring Your Approach 165
CHAPTER 12 Additional Pointers 177
Afterword 191
Suggested Reading 193
About the Author 195
Index 197
See More
DERON WAGNER is the founder and head portfolio manager of Morpheus Capital LP, a long/short equity hedge fund, as well as Morpheus Trading Group, a trader education firm specializing in exchange-traded funds and stocks. Recently, Wagner launched his Hong Kong–based company, DragonCharts, which helps foster the development of traders through education with live online stock analysis webinars, and includes a proprietary stock scanning platform. Wagner is the author of the first edition of this book and coauthor of The Long-Term Day Trader and The After-Hours Trader. He also appears in the popular DVD Sector Trading Strategies and is a frequent guest speaker at various financial seminars around the world. He has appeared on CNBC and ABC. Wagner teaches his ETF investment and trading methodology through his Wagner Daily and Wagner Weekly newsletters.
See More
More in this series
Learn more about