Therapeutic Delivery Solutions
ISBN: 978-1-118-11126-0
424 pages
July 2014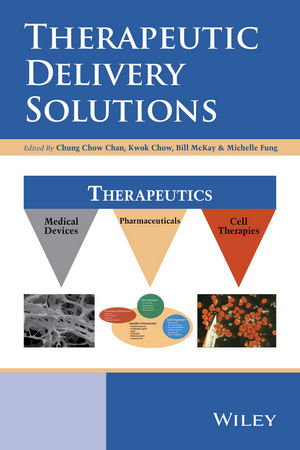 Provides a comprehensive review of all types of medical therapeutic delivery solutions from traditional pharmaceutical therapy development to innovative medical device therapy treatment to the recent advances in cellular and stem cell therapy development
• Provides information to potentially allow future development of treatments with greater therapeutic potential and creativity
• Includes associated regulatory requirements for the development of these therapies
• Provides a comprehensive developmental overview on therapeutic delivery solutions
• Provides overview information for both the  general reader as well as more detailed references for professionals and specialists in the field
See More
Preface vii
Contributors ix
ACKNOWLEDGMENT xi
Section 1 Requirements and Issues encountered in Regulatory Submissions in the Pharmaceutical, Cell Therapy and Medical Device Industries 1
1 Challenges to Quality and Regulatory Requirement in the United States—Drugs, Medical Device, and Cell Therapy 3
Section 2 Traditional Pharmaceutical Drug Therapy Development 35
2 Development of Tablets 37
3 Formulation of Poorly Soluble Drugs for Oral Administration 67
Section 3 Overview, Current Trends and Strategies of Special Medical Device Development 105
4 Overview of Drug Delivery Devices 107
5 Local Delivery of Bone Growth Factors 135
6 Delivery of Insulin: From Glass Syringes to Feedback-Controlled Patch Pumps 163
Section 4 Advances and Innovations in Cellular and Stem Cell Therapeutic Delivery 179
7 Endocrine Therapeutic Delivery: Pancreatic Cell Transplant and Growth 181
8 Cell-Based Biologic Therapy for the Treatment of Medical Diseases 207
9 Development of Stem Cell Therapy for Medical Uses 239
Section 5 Analytical Support Needed For the Research and Development 269
10 Specification Setting and Stability Studies in the Development of Therapeutic Delivery Solution 271
11 LC-MS for Pharmaceutical Analysis 315
12 Biorelevant Dissolution Testing 335
13 I CH Quality Guidelines: Their Global Impact 367
14 Out of Specification/Atypical Result Investigation 381
Index 405
See More
Chung Chow Chan is currently with CCC Consulting/Covar Inc and provides services for analytical method development and validation, pre-formulation, formulation development, and CMC strategy building. He was Senior Director with Azopharma and had managed the drug developments programs for Phase 1 Express projects and analytical development laboratory.
Kwok Chow was the Senior Director of Global PDS Technology and Alliances at Patheon Inc. with the responsibility of developing/introducing new technologies, establishing strategic technical alliances and providing scientific input in the pharmaceutical development of challenging molecules.  Currently he is the Director of Covar Inc. responsible for pharmaceutical consulting and formulation development services.
Bill McKay has over 30 years of product development experience in the Orthopaedic device business developing orthopaedic implants and combination drug/device products. He is currently Vice President of Biologics Research and Development at Medtronic Spinal and Biologics where he has developed and launched several unique bone grafting technologies and is developing novel locally delivered pain therapies.  He has more than 100 patents and applications.
Michelle Fung is currently a Clinical Associate Professor in the Division of Endocrinology & Metabolism, Department of Medicine, at the University of British Columbia.
See More