E-book
Finance Fundamentals for Nonprofits: Building Capacity and Sustainability
ISBN: 978-1-118-11400-1
224 pages
July 2011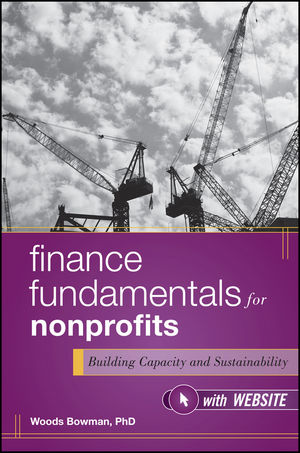 A complete guide to the financial requirements a nonprofit organization must follow to indefinitely maintain the volume and quality of their services
An organization may have plenty of capacity in the long run, but in the short run, donor restrictions and limited financing options are constraining. Here-and-now liquid assets are the only resources available. Finance Fundamentals for Nonprofits: Building Capacity and Sustainability shows how to measure a nonprofit organization's financial capacity in different time frames and how to measure its ability to sustain capacity in each case.
Explains how nonprofits differ from businesses and how they promote values-centered management
Reveals how to improve financial capacity and sustainability
Written by a nonprofit scholar
Filled with real-world case studies and actionable advice relating financial health to financial capacity and sustainability, this book is essential reading for every nonprofit professional.
See More
Preface ix
Acknowledgments xi
CHAPTER 1 Introduction: How Nonprofits Are (and Are Not) Like Businesses 1
What Are Nonprofits? 2
Why Are There Nonprofits? 4
Nonprofits as Businesses 5
Advantages and Disadvantages of Being Nonprofit 8
This Book's Agenda 11
Concluding Thoughts 14
CHAPTER 2 Accounting: Measuring Past Performance 15
Basis of Accounting and Audits 16
Statement of Financial Position 17
Statement of Activities 20
Other Statements and Notes 26
What to Look For 27
IRS Form 990 30
Concluding Thoughts 31
CHAPTER 3 Investing: Looking to the Future 33
Investing 33
Endowment 39
Values-Centered Investing 42
Concluding Thoughts 46
Appendix 47
CHAPTER 4 Budgeting: Taking Control of the Present 49
Budgeting Practices 49
Budget Structure 53
Reconciling Budgets and Financial Statements 55
Reconciling Budgets and IRS Form 990 63
Concluding Thoughts 64
CHAPTER 5 Nonprofits in History and Tax Law: Why Nonprofits Do What They Do 65
Classification 66
Unrelated Business Income Tax 75
Intermediate Sanctions 76
Lobbying and Political Action 78
State Law 79
Concluding Thoughts 80
CHAPTER 6 Ordinary Service Providers: Serving the Public Today 81
Long-Term Objective: Maintaining Services 82
Short-Term Objective: Resilience 85
Current Objective: Paying Bills 89
Application 90
Benchmarking 91
Concluding Thoughts 94
Appendix 94
CHAPTER 7 Membership Associations: Serving People with a Common Purpose 97
Membership Associations 98
Cooperatives 101
Capacity and Sustainability 103
Two Applications 104
Concluding Thoughts 105
Appendix: ASAE/CAL Metrics of Financial Capacity for Membership Associations 106
CHAPTER 8 Endowed Service Providers: Serving the Next Generation, Too 107
Introduction 108
Long-Term Objective: Maintaining Services 111
Short-Term Objective: Resilience 113
Current Objective: Paying Bills 115
Application: Famous University 116
Building an Endowment 117
Concluding Thoughts 119
CHAPTER 9 Grantmaking Organizations: Serving Service Providers 121
Foundation Types 122
Financing Models 123
Capacity and Sustainability 126
Illustrations 131
Concluding Thoughts 131
Appendix: S&P Metrics of Financial Capacity for Grantmakers 133
CHAPTER 10 Beyond Sustainability: Managing Revenue to Maximize Growth 135
Revenue Sources 135
Theories of Revenue Compensation 139
Application 144
Unfair Competition 145
Concluding Thoughts 146
CHAPTER 11 The Nonprofit Difference: Doing Good Well 149
Control Environment 150
Being Businesslike 153
Concluding Thoughts 158
Notes 159
Glossary 173
References 187
About the Web Site 201
About the Author 203
Index 205
See More
WOODS BOWMAN, PHD, is a Professor of Public Service at DePaul University who brings to the classroom a range of experience in public finance and a passion for ethical governance. He is the former CFO of Cook County, a former member of the House of Representatives, Illinois General Assembly, from 1977–1990, and former chair of the Appropriations II Committee. He is a board member of the Association for Research on Nonprofit Organizations and Voluntary Action. He received the Chairman's Award from Goodwill Industries International for his service to a local affiliate. His articles have appeared in Nonprofit Management and Leadership and Nonprofit and Voluntary Sector Quarterly. In addition, Dr. Bowman writes a column on ethics for the Nonprofit Quarterly.
See More