Leader to Leader (LTL), Volume 63, Winter 2012
ISBN: 978-1-118-11503-9
72 pages
January 2012, Jossey-Bass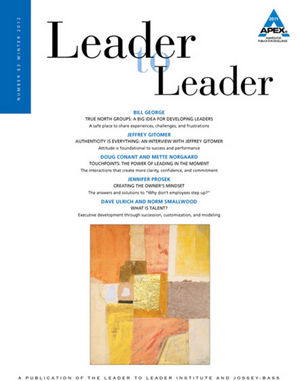 Get insightful articles on leadership, management, and strategy written by today's leaders with this award-winning journal. Brought to you by the Frances Hesselbein Leadership Institute, Leader to Leader brings together a peerless selection of world-class executives, best-selling management authors, top consultants, and respected social thinkers. Leader to Leader poses provocative questions that challenge your leadership assumptions and provides compelling evidence powerful enough to change your leadership thinking while offering thoughtful analysis of complex leadership issues.
See More
HESSELBEIN & COMPANY
Frances Hesselbein 4
The Seasons and Generations of Leadership
Recognizing the importance of new callings and transitions.
Howard M. Guttman 7
Helping Future Leaders Self-Coach to Win
How individuals can take responsibility for their own personal growth.
Kathleen Allen 13
Change Leaders: Creating Resilience in Uncertain Times
Take an options approach to reduce the risk of decision making.
Rajeev Peshawaria 19
Energizing the Organization
Understanding the three "buckets" of expectations in the workplace.
Joseph Grenny 26
Change Anything: The 21st-Century Approach to Performance Management and Avoiding the Willpower Trap
Eliminating career-limiting habits through six sources of influence.
EXECUTIVE FORUM
Bill George 32
True North Groups: A Big Idea for Developing Leaders
Support and confidence to face and navigate difficult situations in life and work.
Jeff rey Gitomer 38
Authenticity Is Everything: An Interview with Jeffrey Gitomer
Lessons from being both prolific and productive.
Doug Conant and Mette Norgaard 44
TouchPoints: The Power of Leading in the Moment
Finding a way to navigate the incessant stream of daily interactions.
Jennifer Prosek 50
Creating the Owner's Mindset
The "Commission for Life"as the cornerstone of an entrepreneurial culture.
Dave Ulrich and Norm Smallwood 55
What Is Talent?
Talent = competence xcommitment xcontribution.
FROM THE FRONT LINES
The Importance of Happiness in the Workplace 62
First become happy; then you'll become successful.
Information Hubs: New Roles for Information Workers 63
Reaching full potential through smarter use of data and information.
See More