Litigation Services Handbook: The Role of the Financial Expert, 5th Edition
ISBN: 978-1-118-11639-5
1152 pages
August 2012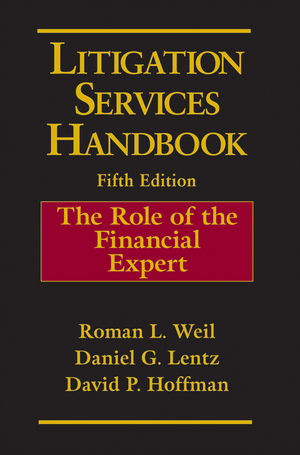 Here's all the information you need to provide your clients with superior litigation support services. Get up to speed quickly, with the aid of top experts, on trial preparation and testimony presentation, deposition, direct examination, and cross-examination. Authoritative and highly practical, this is THE essential guide for any financial expert wanting to prosper in this lucrative new area, the lawyers who hire them, and litigants who benefit from their efforts.
 "This work of amazing breadth and depth covers the central issues that arise in financial expert testimony. It is an essential reference for counsel and practitioners in the field."—Joseph A. Grundfest, The William A. Franke Professor of Law and Business, Stanford Law School; former commissioner, United States Securities and Exchange Commission.
See More
Preface xi
About the Editors xv
About the Contributors xix
PART I: THE LITIGATION ENVIRONMENT
1. A Dispute Resolution Primer, David P. Hoffman, Daniel G. Lentz, Roman L. Weil
2. Serving as a Financial Expert in Litigation, Stephen L. Buffo, David P. Hoffman, Roman L. Weil
PART II: DEVELOPING A DAMAGES ANALYSIS
3. Causation Issues and Expert Testimony, Randy C. Joshi, Catherine F. Madrid, Lee-Anne V. Mulholland
4. Developing Damages Theories and Models, Elizabeth A. Evans, Joseph J. Galanti, Daniel G. Lentz
5. Ex Ante versus Ex Post Damages Calculations, Michael K. Dunbar, Elizabeth A. Evans, Roman L. Weil
6. Use of Statistical Sampling in Litigation, Mark A. Gustafson, Peter P. Simon
7. Statistical Estimation of Incremental Cost from Accounting Data, Michael W. Maher, M. Laurentius Marais, William E. Wecker, Roman L. Weil
8. Econometric Analysis, Mohan P. Rao, Christian D. Tregillis, Sophie N. Yang
9. Estimating the Cost of Capital, Joseph J. Galanti
10. Business Valuation, Joseph J. Galanti
11. Business Interruption Insurance Claims, Daniel G. Lentz, Robert M. Reeves
12. Lost Earnings of Persons, Daniel G. Lentz, Elizabeth B. Sandza
13. Expert Analysis of Class Certification Issues, Christopher Chorba, Mark A. Gustafson, D. Lee Heavner, Peter P. Simon
PART III: LITIGATION TOOLS AND TECHNIQUES
14. Data Management, Joshua Kelly Andrews, Karen M. Cheek, Matthew P. Jennings, David W. Rogers, Vincent M. Walden
PART IV: ANCILLARY ISSUES IN DAMAGES MATTERS
15. Prejudgment Interest, Jeffrey M. Colon, Michael S. Knoll
16. Punitive Damages, Peter A. Bicks Stephen L. Buffo, Rachel M. McKenzie, Stephen M. Seliskar
17. Tax Treatment of Damages Awards, Merle Erickson, James K. Smith
PART V: CIVIL LITIGATION
Intellectual Property
18. Economic Analysis of Nonpatent Intellectual Property Rights and Damages Measures, Elizabeth A. Evans, Peter P. Simon
19. Patent Infringement Damages, Ronen Arad Michael, P. Arnold Christopher, C. Barry, Vincent E. O'Brien
20. Royalty Examinations, J. Shawn McGrath
Ownership and Business Failure
21. Merger and Acquisition Transaction Disputes, Jerry M. Hansen, Christen L. Morand, Gregory E. Wolski
22. The Troubled Business and Bankruptcy, Daniel G. Lentz, Grant W. Newton, Lynda H. Schwartz
23. Alter Ego, Daniel G. Lentz, Lynda H. Schwartz
Regulatory Litigation
24. Federal Securities Acts and Areas of Expert Analysis, Nicholas I. Crew, Kevin L. Gold, Marnie A. Moore
25. Economic Analysis in Securities Class Certification, Cathy M. Niden, Mohan P. Rao
26. Antitrust, Don T. Hibner, Jr. Nels A. Pearsall, Andrew E. Reisman, Roy Weinstein
27. Federal Contract Disputes, Robert A. Esernio, Jr., Nancy J. Harrison
Construction and Real Property Disputes
28. Construction Claims, Bilge Astarlioglu, Stephen P. Lechner
29. Real Estate Litigation, Mariano S. Borges, Steven A. Klett, Mark R. Molepske, Michael E. Straneva
Other Civil Litigation
30. Accountant Liability, Mark A. Carlson, Thomas H. L. Selby
31. Executive Compensation in the Litigation Setting, Eli Bartov, Lynda H. Schwartz
32. Employment Litigation, Christopher Haan, Elaine Reardon, Ali Saad
33. Wage and Hour Litigation, Robert W. Crandall
34. Financial Accounting Experts in Directors' and Officers' Litigation, Stephen D. Hibbard, Timothy T. O'Donnell, John D. Wilson
35. Bank Failures: Regulatory Actions and Litigation, Abe Chernin, Catherine J. Galley, Christopher M. James, Yesim C. Richardson, Joseph T. Schertler
PART VI: CRIMINAL MATTERS AND INVESTIGATIONS
36. Tax Fraud: Criminal Cases, Edward M. Robbins Jr.

37. Financial Statement Investigations, Dean C. Bunch, Karen M. Cheek, Amy M. Hawkes, Randy C. Joshi
38. International Investigations: Successful Planning and Execution, Sergio P. Negreira
PART VII: FAMILY LAW
39. Family Law Services, Donald A. Glenn
Index
See More
Buy Both and Save 25%!
Litigation Services Handbook: The Role of the Financial Expert, 5th Edition (US $255.00)
-and- Handbook of Cost Management, 2nd Edition (US $170.50)
Total List Price: US $425.50
Discounted Price: US $319.12 (Save: US $106.38)
Cannot be combined with any other offers. Learn more.